Contact about the book
For any trade publishing enquiries, please contact Lorella Belli.
Girl on the Net: How A Bad Girl Fell In Love (March 2016, Blink Publishing)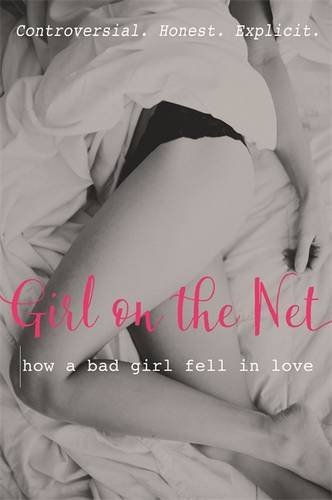 RRP £8.99
Part confessional, part drunken-rant-on-the-bus, Girl on the Net guides us through the lessons a thirty-something sex blogger has learned about sex and love.
This book takes us on a journey that begins with a happy ending and goes swiftly downhill from there, dismantling some of our myths about romance along the way. Girl on the Net weaves her own relationship issues and surprises through candid personal stories and weird facts gathered from three years of sex blogging.
This book explores key sexual issues facing men and women: porn, kink, commitment, the biological clock, why feminist men are hot, and whether sex and love should really go hand in hand, or whether happiness lies in following your true desire…
RRP £8.99
My Not-So-Shameful Sex Secrets (May 2013, Carina press)
My Not-So-Shameful Sex Secrets is an erotic memoir, which begins at roughly the time I first started wanking and ends in 2012. It's a story about sex, for the most part. It's got swearing and filth and BDSM and all the things you'd expect if you've read my dirty blog entries. But it's also got rants and a few of the 'how not to be a douchebag' rules I try, and frequently fail, to live by. It's all of my fucks, and all of my fuck-ups, and it's hopefully funny as well.
You can buy it from any of these places: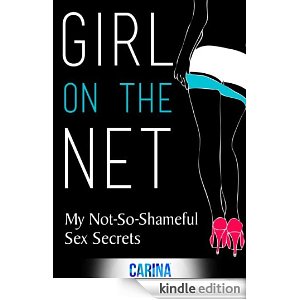 Amazon in the UK
Amazon in the US
Kobo
Identity – an Eroticon anthology (March 2017, Resonance Press)

Identity showcases a diverse collection of personal essays and stories by over twenty sex toy reviewers, non-fiction sex writers and erotic fiction authors. It boasts a breadth of talent from a range of new and established writers alike, featuring a truly representative cross-section of erotic identity.
Buy it from Amazon
Go to Resonance Press
Reviews of How A Bad Girl Fell In Love
London Evening Standard says: "The confessional autobiography of the eponymous, anonymous London sex blogger (and her 13.8k Twitter followers) doesn't pull a single punch, spank or nipple clamp, bonking its way through 25 chapters of threesomes, throatf***ing and piss-play." They also called it a 'romp-com', which delighted me.
Marvelous Darling: "The first thing I'll say is that I only got about a chapter into How A Bad Girl Fell In Love before I had to call for a sex break. If you're familiar with Girl on the Net's blog, you won't be surprised to hear that her depictions of sexual exploits are hot as fuck. They really appeal to my desire for simultaneous hotness and efficiency, which is to say that I never found myself skipping sentences to get to the good parts. It's just… one big good part."
SexBlogOfSorts: "Personally, I'm sick of heroines who are nice, and uncomplicated – scatty, but essentially good – who know what they want, and always get it in the end. Real women *do* 'swing erratically,' though there's not currently much on the shelves that acknowledges that. Girl on the Net does. It's what makes this really worth reading."
This D/s life: "a glorious, fucked up, neurotic, in a very British way, exploration of what it means to be her, and she is just that, confidently her, even when that means she has no clue how this life, love and happiness thing is going to work out (and she seems very sure she will screw it up somehow). I won't spoil the end but I will tell you that you will enjoy the journey she takes you on to get there."
HornyGeekGirl: "It is well written, entertaining, honest, and really fucking insightful. More and more of our generation are choosing to do things differently, to not follow the 'path' people expect, and so much of this book is telling you, "hey that's okay, the people who matter won't care about that stuff". It can be figured out. Both times I read this book I actually hugged it when I finished, that only happens with very special books, with books that I really connected to."
Eggplant Emoji: "I smiled a lot while reading How A Bad Girl Fell In Love. It hit the nail on the head on so many things—from compelling explanations of how differently the world treats men and women ("If… I could have kids without pregnancy, keep my job, and get a pat on the back for doing the odd feed or walk in the park, I'd jump at the chance to have them too") to hilariously honest confessions ("Open relationships look a bit like nightclubs to me: I'd love to be able to enjoy one but I think I'd rather have a nap"). There's also a Rock Paper Scissors story which may be one of my favourite things I've ever read."
Eyes Skyward: "Though she frequently reminds us that she in no way is offering advice on either sex or love, you can't help but envy her frankness, passion and willingness to improve herself without ever compromising her own identity. The book is frequently funny, genuinely insightful, and even moving."
KinkCraft: "The next time someone asks me "What is love?", this is the book I will point them to. I have never read anyone who is able to express what it means to love someone and to be loved more beautifully or with quite so many swear words."
SoWhatNow: "A really well-written book. In her previous volume she mentions that she did philosophy at university, and I see remnants of that in how she puts together her arguments (but without any of the, ahem, impenetrability). Her section on pornography is refreshingly direct and sensible — a real treat. Also, look out for whenever she mentions coffee. Also, the Epilogue is very clever: you'll close the book with a smile on your face."
Reviews of My Not-So-Shameful Sex Secrets
BookCunt says: "This is the thinking gentleman/woman's filth, and will equally delight and disgust you. If you are a fan of the blog then this is a must read. As with all of GOTNs writing, it is a frank and honest, which are two of the best qualities for a memoir to be, in my opinion."
Martin Robbins, who writes The Lay Scientist at the Guardian says: "It's like Twilight, if Twilight were about sex instead of vampires and didn't hate women."
Curvaceous Dee, awesome hot sex blog writer, says: "Girl on the Net's amazing memoir is just as hot as her blog, while adding what every memoir needs: a whole lot of wanking, some impressive sexual shenanigans, expanded stories that we never quite got to read enough of on her site, and some of the terrible rotten no-good very bad things that she did too."
Christopher Mansell of 'A Writers' Side Quest' says: "It's delightfully filthy, throwing around the sort of language that would put my mother off reading with a casual glee. Stories of so-called normal sex, debauched sex, and even borderline rape in one disturbing case are all thrown in here, and there's absolutely no holding back. What really elevates it for me is that it comes with its fair share of pathos too. GotN is not perfect by any stretch. She fucks up just as often as she gets things right, and it's all recounted here, with seemingly nothing left out."
Fred, of the similarly named blog, says: "G.O.T.N. gives a chronological description of her various lovers, male and female, from her early teens through to present day. Witty, clever, filthy, dirty descriptions. There is a bit of background information about her but mostly it's just sex. Did I mention it was FILTY, DIRTY, SEX?"
CD Foxwell, of the 'Erotic Den of Erotica' says: "This is a memoir that shatters lazy cliches and misguided preconceptions. We all know the notion that women don't masturbate is preposterous, but here, in e-print, Girl on the Net finally kicks that myth in the knackers with her irresistible memories of her teenage self frantically frigging off at the thought of being tied up by lascivious pirates. Meanwhile, her insights into what was going through her head as she talked dirty with 'First Love', or as she encouraged 'Number One' and 'Number Two' to explore her body so she, in turn, could get her hands on them, are fantastically realised – women are sure to nod and smile, while for men it's like getting to peer behind the curtain."
Sex-toy site Bondara says: "This isn't just a blow-by-blow (pun intended) account of GOTN's sex life but a funny and often heartbreaking story of a real woman not so different to a lot of us. She's just more honest about what she wants. And she wants sex. A lot of it. With different people. On her terms. I felt empowered by the end."
Sean Ellis, reviewing for The Pod Delusion, says: "What makes this work as a genuinely engaging book, rather than just a series of pornographic vignettes trussed up tight in a slick jacket (ahem)… is the emotional underpinning. Girl on the Net writes with genuine love, as well as lust. You can feel the highs and lows, the hope and the heartbreak, as well as the hot and the heavy."
The excellent website dedicated to writing by women, For Books' Sake, says the book is: "a frank, confident, explicit, at times combative and often deeply witty read about her life as a stalwart sex and BDSM fan; a book that is equally at home talking about her triumphs as she is admitting her very human, very real fuck-ups."
Left Turn 4 Records zine says: "Refreshingly honest, pretty much every aspect of your mental and physical being is given a soothing cuddle – whether you think you're too geeky, too awkward, or just plain repulsive, here is a girl telling you that you're pretty much perfect as you are, and here's a clutch of evidence to back that up as she goes into the detail of exactly how that night with your foible-type went. Life affirming indeed."
I'll add reviews here as and when they come in. My lifelong dream is that it will receive a review of 5 stars on Amazon, with a comment that simply says 'utter filth'. Fingers crossed.