Tag Archives:
no one will ever i.d. you for booze if you chuck three bottles of lube and a cucumber in your basket alongside it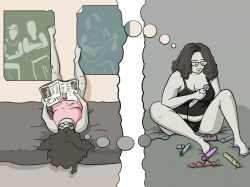 As a certified grumpy bastard, I can tell you that it's always much easier to be negative than positive. As someone with access to web stats I can also tell you that if you want to get clicks, and you're not writing porn, you're always better to be critical than optimistic. I'm throwing all that out of the window today, though, because of a conversation I had the other day that went a little something like this:
"Know what's brilliant?"

"What?"

"We could have sex now if we wanted to."

"I'm not really in the mood, but…"

"Ah, but you don't have to want to, you just have to appreciate how cool it is that we totally could if we wanted to."
Sometimes I go through miserable phases when I look down at my body and think 'huh, there are some things that have happened here that are basically irreversible.' I worry about stretchmarks or consider the fact that I'm no longer able to do the things I did when I was eighteen. I may still be able to get my ankles behind my head to brace against the bedposts, but I'll no longer do it without a groan of effort. I can bend over sexily, but I'll say 'oof' when I get up. Cramp is not so much an occasional visitor as a permanent unwanted house guest.
But, while it's easy (and certainly more clickbait-friendly) to snark about the negatives, it's also worth remembering the benefits of having sex in your thirties. This post is about giving credit to all the things I often take for granted…