Tag Archives:
please don't leave a comment telling me this post is 'obvious' because if it really were i would not keep being asked this question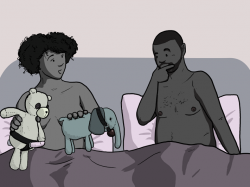 If you're not British, you might not be familiar with Marmite. It is either:
a delicious brown substance created during the brewing process, which you spread on toast with butter before having a mouthgasm OR
diarrhoea brewed in the anus of Beelzebub.
For me it's the former, for others it's the latter. I pick Marmite because not only is it a great example of something that has divided a nation (their literal slogan is 'you either love it or you hate it') but also because there is no moral value in either liking or disliking Marmite: you're not a better person if you choose to try it. However, you are a bit of a dick if you try to sneak it into someone's breakfast without them noticing.
Pretty much all sex acts are like Marmite. Oral sex? Some love it, some don't. Probably a larger group of the former than the latter, but whatever. Likewise hand jobs, using sex toys, doing anal, bondage: any act that two or more people can take part in.
Here's where sex acts diverge from Marmite: sometimes you really want your partner to try something. No one really cares if I like Marmite or not. It won't break my heart if Jon Hamm announces, on our wedding day, that he won't be eating any of the brown stuff. Sex, on the other hand, is something you can enjoy with your partner, and so if you have a particular kink and your partner's not keen, that can be pretty gutting. If Jon Hamm tell me that he really hates spanking, I'll be very upset (as well as surprised, tbh, given how much he loves spanking in all those dreams of mine he's shown up in).
Anyway, given the Marmite nature of various sex acts, I can see why people often ask me the following question: