Once a month blood trickles from my vagina. I do beg your pardon for this – I know I should hide my monthly shame from you, because this is a sex blog and menstruation is grotesque, so I should really only talk about it in whispers. But it's worth mentioning because a new product has arrived on the market that could mean I never have to show evidence of menstruation ever again – even when I am shagging the guy I am closest to in the whole wide world! Joy! Celebration! Let's all pretend that periods don't happen because if we think about it too much we'll never fuck again!
Sometimes you don't share someone else's kink, and you just want to leave it at that. Other times, you don't share someone else's kink but you really love exploring it with them because you want to find out exactly why it gets them so hot under the collar. This week's guest blog, by a filthy girl who wishes to remain anonymous, is about the latter thing, and it's an example of sex writing so powerful that as soon as I read it I had to have a vigorous shag to work through my horniness. What I'm saying is that this guest blog – about sploshing – is hotter than the actual sun.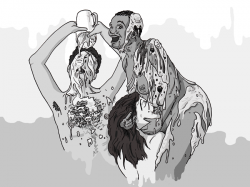 All hail people with cool fetishes. Splosh fans: I'm talking to you.
In case you're not aware of the utter and delicious beauty of splosh, it's essentially a fetish that involves getting extremely messy in gunge, custard, cream cake, and anything that takes your fancy.
Smearing it all over yourself, sitting in it, pouring thick gloopy liquid over your face and neck, and generally making the kind of mess you haven't been allowed to make since you were two years old and smearing banana all over your high chair.
Amazing.
YKINMK but fuck me splosh is sexy
I have a mental list of fetishes which I've never partaken in, yet which I find deeply hot and really want to have a good go at. Splosh is one of them. Pony play is another. Furries…? Maybe not for me, but I'd love to watch someone who was really into it have a satisfying wank through a blue fuzzy costume.
Splosh is top of my list though, because not only does it often involve custard (second only to rice pudding as one of my favourite things) it also has an awesome air of genuinely gleeful play. When I 'play' it's usually pretty dark: serious, straight-faced stuff where guys will stand sternly over me and I'll pretend to cower as they whip me with belts and tell me I'm dirty and wrong.
Splosh, on the other hand, feels genuinely 'playful'. Like, the actual point is that things just feel good, and damn whether you're presenting yourself properly or maintaining the proper straight face: your face is probably an inch thick with cream anyway, so no one will notice. What's more, it has overtones of the kind of messy sex that I rarely get to indulge in but that makes me properly happy.
I like sex where I get fucked up. Hair messed up, clothes stretched or ripped, eyes red from watering and jizz dipping from whatever bits of my body are available to squirt on at the time. Messed. Up. I like kneeling in the mud to give stealthy outdoor blowjobs, drooling spit down my chin and the front of my clothes after a throatfuck.
So when I met a guy who was into messy sex, I wanted to do something awesome.
Messy sex
"If you're on your way over, drink some water," I told him. "One hour before, then again half an hour before. Get really desperate."
This dude was into mess, and the idea of getting to cover me with piss pushed a fair few of his buttons. He turned up at my door horny and bursting, so I led him into the bathroom.
"Kneel down," he told me, between slightly bitey kisses. I stripped to my underwear and did. Staring up at him with a grin I couldn't suppress. Maybe he wanted me to look more nervous.
"Are you ready?"
"Of course."
I waited. Then a bit more. Then more. He held his stiff cock in one hand and a bottle of water in the other, and with my tits out and a weird grin plastered across my face, I couldn't help but feel a bit of a dick.
"It's hard to piss with a boner," he told me, unnecessarily.
We fucked instead.
But because we'd failed so hard at the messy-fucking-while-covered-in-piss plan, I wanted to do something a bit cool for him at a later date. He loved messy things, and wanted to watch me get covered in something – piss, mud, custard, it didn't really matter. The key thing was that he'd watch me as I tore my clothes, poured gunk all over myself, and touched myself until I was smeared and covered with slime.
Sweat, spunk and custard
Initially I thought a paddling pool might be a good purchase. But apart from the fact that I have no rooms big enough to accommodate even a small one, I think I'd end up worrying about splashing stuff outside the pool and ending up spending half the day after shampooing the carpet. The only option: a wet room. I looked online for hotels nearby that had proper wet-room bathrooms. I wanted to make a proper fucking state of things and be able to hose it all down with the shower head so the cleaning staff wouldn't know, or hate me.
I found one or two, and began saving my money. For the room as well as a whole crate of Ambrosia custard – the stuff that comes in cardboard cartons and pours all thick and gloopy. I knew exactly what this guy wanted: he wanted to touch himself while he watched me, in knickers and a tiny top, pour custard from the cartons onto my face, my neck, my tits. He wanted to watch me writhe on the bathroom floor and squish around in it, getting sticky mess all over my body, and slipping in the splodgy stuff.
Watching from nearby, he'd sit touching himself, getting harder as I got dirtier. Pulling his dick out of his trousers as I opened the first carton, and gripping tighter as I poured. Frantically rubbing at himself as he watched the mess slip down my skin, and tangle up in my hair. As I sat in puddles of it and felt it squish between my thighs and in my crotch.
When I was good and sticky he'd stride across the bathroom, barking orders that I shouldn't touch him: I was far too filthy.
'Put your hands behind your back,' he'd tell me, as he pushed his cock into my mouth. He'd grab my mess-streaked hair with one hand, keeping the other hand far away from the dirty creature he was holding, and face-fuck himself to completion, pulling out at just the right moment. Squirting come onto custard, then rubbing it in with the one hand he was willing to get dirty.
Then he'd push me back onto the floor, where I could lie satisfied, feeling humiliated, degraded, sticky and spent. Licking my fingers and squeezing my legs together, and running my hands through a mixture of sweat, spunk and custard.
If you're wondering why this story is peppered with 'would haves', it's because the guy dumped me before it happened. I still haven't fulfilled this fantasy, and I often think of it with one hand down my knickers, and a sense of overwhelming regret. Still, it's hard to get really sad about a break-up when you're surrounded by delicious cartons of leftover custard.