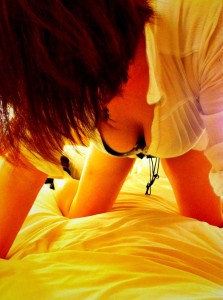 I'm a girl. I'm on the internet. This is some stuff I do with my life.
If you recognise me from the pictures and think you know me, please keep quiet about it.
If you love the pictures as much as I do, you might also appreciate other pictures taken by the exceptionally talented and gentlemanly @BinaryDad.
The pictures on more recent posts (from June onwards) were taken by Fforbes, a friend of mine who does not have a website, but has an excellent camera and an eye for good shots of my tits.
Why am I doing this?
The most obvious answer is 'because I'm a pervert' – I like sex; I like talking about it, reading about it, doing it, watching other people do it, and hearing other people's stories.
This is a place for me to talk about it. Sometimes well, sometimes badly. Mostly with an arrogant tone that's sure to grate after a while.
I'd like to add a teeny tiny extra voice to the horde of women screaming "WE ACTUALLY LIKE THIS." Women have come pretty far in terms of sexual liberation, but it still seems far more acceptable for guys to moan about how little head they're getting than for girls to wish they had a dick to suck.
Girls can talk about sexual problems, techniques, or desires. But if they go too far and start speaking with the glazed-eyes, drooling lust that we'd expect from men at the end of a webcam, people shut off. If I try to do this in polite company, even if that company happens to be a crowd of guys explaining the filthy things they'd love their girlfriends to do, I'm usually met with disbelief or awkward banter: you don't really mean that, do you? They think it's weird. Women can have a healthy appetite for sex, but they can't be perverts.
I'd like to show you that they can. It's not always pretty, but it is always true – spit in my mouth, pull down my knickers, drench me in lager and throw me to the boys.