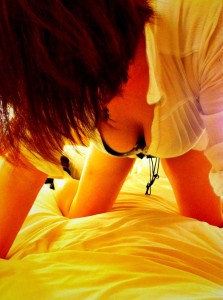 Professional sex blogger, audio porn producer and pervert. Amateur anxious mess.
I write real-life sex stories and occasional horny fiction.
I also ramble about feminism, consent, online dating tips, mental health, the business of sex blogging and other topics that are vaguely adjacent to these things.
If you recognise me from the pictures and think you know me, please keep quiet about it. If you are a journalist or potential client, get in touch here. If you want to advertise with me, read the advertising page. All other questions are covered in the FAQs.
Since 2017 I've been producing ethical audio porn, and as of 2023 the audio porn project is now by far the most visited section of my site, so technically there should be two 'about' pages here: one for the audio project and another for the blog.
What's GOTN [the audio porn project] all about?
Many years ago, a couple of blind website users got in touch to let me know it wasn't that sexy hearing erotica read aloud in the robotic tones of their screenreading software, and they asked if I'd start recording them. Six years, dozens of contributors and hundreds of stories later, the audio project now provides a huge bank of aural smut that's completely free to access. Please do link to it, share it, and support the project on Patreon if you'd like to help keep it going.
The aim of the project is to share as much fabulous smut as possible while also paying creators, showcasing a broad range of other incredible sex writers, introducing readers/listeners to horny new perspectives and ideas, and generally embracing the variety and beauty of human sexuality.
What's GOTN [the blog] all about?
The blog itself is a personal one – I, GOTN, pull my heart out through my cunt and smear it all over the internet.
In the process I hope to challenge sex stigma and spark fucky joy: not everyone is going to have or want sex in the same way, but everyone should be allowed the freedom and space to explore consensual fuckthings with a giant grin on their face and a bucket of lube by their side should they so desire.
That's not to say I'm relentlessly 'sex positive' though: often embracing sex means reflecting critically on the ways in which we do it or discuss it. Also, I am firmly of the belief that introspection and obsessive navelgazing about the 'why's of what we choose to do with our bodies is fun and valuable in and of itself.
Who is 'Girl on the Net'?
I'm an incredibly average London-based woman on the threshold of 40. Fan of DIY, cider, punk rock, and cheap dates. I appreciate any and all support you can give me, because this really is all run on a shoestring budget and a hell of a lot of goodwill.
If you can support me on Patreon, you get a tonne of bonus content and my eternal gratitude. Even if you only ever give me £20/$20 (roughly one year's annual subscription at the lowest possible tier) you are more supportive than 99.9% of all other site visitors, and your contribution truly does make a huge difference!
If you can't afford to do the Patreon thing, please don't worry: that funding and the generous help of my sponsors helps to keep both the blog and the audio porn free for you. If you'd like to shower a bit of love on my work or that of the incredible guest writers/readers you find here, shares are incredibly welcome too. Plus, of course, any lovely comments you care to leave below the line.