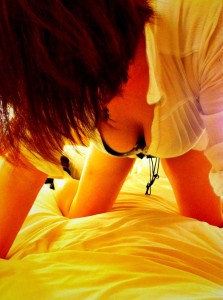 I'm a girl. I'm on the internet. This is some stuff I do with my life. The primary purpose of this blog is to challenge sex stigma. Sex is not shameful. Masturbation is not shameful. Watching porn – if it's ethical porn you've paid for to support those who create it – is not shameful.
Most of this 'about' page was written when I first began sex blogging. Now, after eight years being a sex blogger, it's probably time to update it. But I enjoy having the older 'about' on the site, because it shows what my aim is when I first started writing a sex blog.
Why am I sex blogging?
The most obvious answer is 'because I'm a pervert' – I like sex; I like talking about it, reading about it, doing it, watching other people do it, and hearing other people's stories.
This is a place for me to talk about it. Sometimes well, sometimes badly, always with love.
I'd like to add my voice to the horde of women screaming "WE ACTUALLY LIKE THIS." Women have come pretty far in terms of sexual liberation, but we still often come up against the same myths (that we're not meant to enjoy sex, that our sexual pleasure is unimportant, that we're probably only in it to find True Love one day) that have been swirling around society for years.
And talking about something is the best way to drag it out of the shadows. Exposing myths is often the best way to tackle them. So that's why I'm here.
I've been blogging since 2011, and in that time I've also written two books, produced a lot of audio porn, hosted hundreds of guest blogs and lots more besides.
If you recognise me from the pictures and think you know me, please keep quiet about it. If you want to hire me, get in touch. If you want to advertise with me, read the advertising page. All other questions are covered in the FAQs.
Now let's fuck.