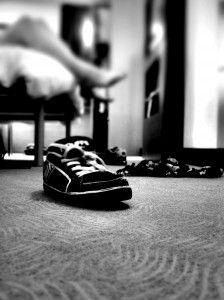 Writing about sex on the internet creates a dilemma, if you've got a career or a family who would probably rather not hear about the in-depth details of your sex life. At the time I started writing this sex blog, I had both of those things.
Nowadays, sex blogging is my career and not just my hobby (pinch me!) so the risk of getting fired for sex blogging has disappeared. That's not to say I don't still have good reasons to stay anonymous, though. I've explained a few of those reasons in this blog post: Yes, you can run an anonymous blog and still be accountable.
Because I prefer to be anonymous, I'd appreciate it if you could not try to find out who I am, or share information about me that might crack the fragile anonymity that I've worked quite hard to preserve.
Although you may well be able to find out who I am (internet nerds are generally pretty good at that) all you'll achieve by doing it is to make me panic, potentially put me in danger, and encourage me to shut this blog down. And I'd really rather not do that. I enjoy my job, and I love writing here. So if you know me, or think you know me, I'm asking you to please try to keep my secret as well as you can.
If you're a member of my immediate family (Hi, Mum!) know only that every single thing I say here is a lie: I have never had sex, and have very little understanding of the mechanics behind it. I imagine you're in the same boat.
Do you see yourself here?
You'll likely have been consulted if you're a significant person in my life who may be identifiable if my anonymity gets stripped – ex-partners, for instance, or people with whom I could be easily associated. You've also probably been consulted if we were dating when this blog began, and I wrote a 'number X' post about you. However, there are a few people who (very anonymised and unidentifiable) may still want to object if they think they recognise themselves. If you think that's you, please do get in touch. If you recognise yourself in one of these posts and need me to modify for anonymity purposes I'm more than happy to.