A couple of weeks ago I put up the first instalment of a 2-part sex story involving a bondage kit, and the sexy anticipation of the build-up to getting something hot delivered to your door. In it, the main character falls for Zoe – a dominant with a penchant for spanking and bondage. Click the link above to read part one, which is filled with sexy shivers of anticipation, then read below for the climax, so to speak. It's by the brilliant @waitingirl13, and I think it's a gorgeous way to round off the tale…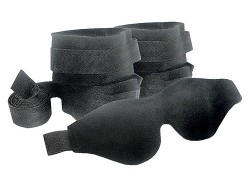 One of the things I love about buying things online is the anticipation between ordering and receiving. While a new pair of black ankle boots provides me with a thrilling tingle, when it comes to sex toys the build-up is even greater. Particularly if it's something that could be used in more than one way, and you get to plan all the different ways you'll use it.

The next installment of the Sex Fairies project (in which SexToys.co.uk gives people free toys and then they write hot things about them), the brilliant @waitingirl13 has a sexy story for you. It's the first of a 2-part erotic story inspired by the Sportsheets Bondage Fantasy Kit, which you can buy from Sex Toys for less than £20. Use the code GOTN10 to get 10% off anything on their site.

I'm delighted to be able to host it here because not only does it capture that delicious build-up of anticipation, it also neatly demonstrates that if you want to join in with Sex Fairies you don't have to just write a review. You can put pen to paper and write what makes you hot…
If you've been following the criticism of the oppressive changes to UK porn regulations, you'll probably have seen one or two (or thousands of) people spitting outrage over the definitions of 'moderate' pain and consent. While consent in porn is absolutely vital, the censors have made a pretty huge mistake in how they categorise it – believing that consent is something which should be determined by an objective third party, rather than the people who are playing.

It's for this reason that they've said porn with a bound and gagged subject will be censored – apparently there's no clear means of withdrawing consent.

Please welcome Jenny, who is here to demonstrate just how utterly ridiculous that assumption is.