Tag Archives:
doughnuts doughnuts doughnuts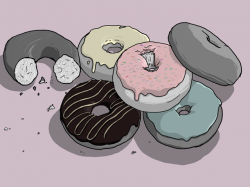 This blog post was written in response to the question: are there any sex things that you don't like? Here's where my mind went first.
I am probably similar to a lot of British people who grew up in the late nineties, in that I first encountered rimming on Queer as Folk (the UK version, which is categorically better than the US version because of Stuart Alan Jones). In the first ever episode, Nathan (played by Charlie Hunnam when he was young and pre-beardy) gets naked and thoroughly fucked by the stunning Aidan Gillen. Amid the sweat and the panting and the deafening thud of my aching, hormonal cunt, I heard Stuart (Aidan Gillen) ask Nathan what he was into. Nathan pauses so Stuart prompts:
"Rimming?"
There's a pause, as we realise that the young 'un has absolutely no idea what that is. Still, he's as horny as a teenager with a hot guy sweating all over him, so obviously he says yes. And the sight of Stuart's tongue sliding wetly up and down Nathan's back, eventually coming to rest in the crack of his buttocks is something I still occasionally kill kittens over.
But of course, alongside all my other thoughts – are there nerve endings there? Is it really pleasurable? If I asked him really nicely, would an Aidan Gillen lookalike ever do the same to me? – was the most important rimming-related question: what does it actually taste like?