Tag Archives:
it could be worse because imagine what david cameron's o face looks like after he's peeled off the mask during foreplay to reveal the terrifying cyborg skull beneath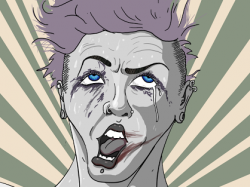 I once knew a guy with the best orgasm face in the entire world. He really let himself go – screwing up his eyes, opening his mouth, and tensing seemingly every muscle he had. It was sexy, and utterly involuntary, as if his orgasm was being milked out of his dick even as he tried to hold it back. Hot as fuck.
My own? I have no idea – many's the time I've tried to catch the look on my face at the moment of orgasm – usually when fucking in front of a mirror. Luckily, no guy's ever caught me doing this. Unluckily, like Scroedinger's cat, the very act of observing it will alter its state. Just as you can never take an un-posed selfie, so you can never look at your own face at the point of climax without either killing the orgasm or making subtle changes to your own expression.
I used to worry deeply about my orgasm face. Occasional comments from guys that I looked, you know, like I'd simultaneously been electrocuted and handed a winning lottery ticket, meant that I feared killing the sexiest moments with a face like the winner of a gurning championship. For some reason this occasionally translated into closing my eyes for a fairly large proportion of a shag. Like a toddler who believes they can't see you if you can't see them – I'd assume that my partner would follow the cues and close their eyes too.