Pic by the awesome Stuart F Taylor
Hotness doesn't always come in movie-length bursts. Short sex stories and tiny elements of the bigger picture are usually the things that kick off a more solid fantasy. If you've ever spent the morning after a great night being ambushed by images and snapshots of the sex you had just hours before, you'll know what I mean. Filthy memories and stories pop up in small bits – like the sliver of a song that goes round in my head, sometimes I'll remember just one tiny element of a fuck that'll leave me frustrated and wet for the rest of the day.
That's why, when BeingBlackSilk posted a miniature erotic short story earlier this week, I nearly cried with delight. She wrote a tiny tale of filth on a post-it note, and by limiting the tale to 55 words managed to capture exactly that horny kick that I get from flash-memories of times gone by. This idea isn't just up my street, it's straight up my garden path, halfway in the door and fucking me naked in the hallway.
So here's mine – a tiny story from a long time ago.
You know where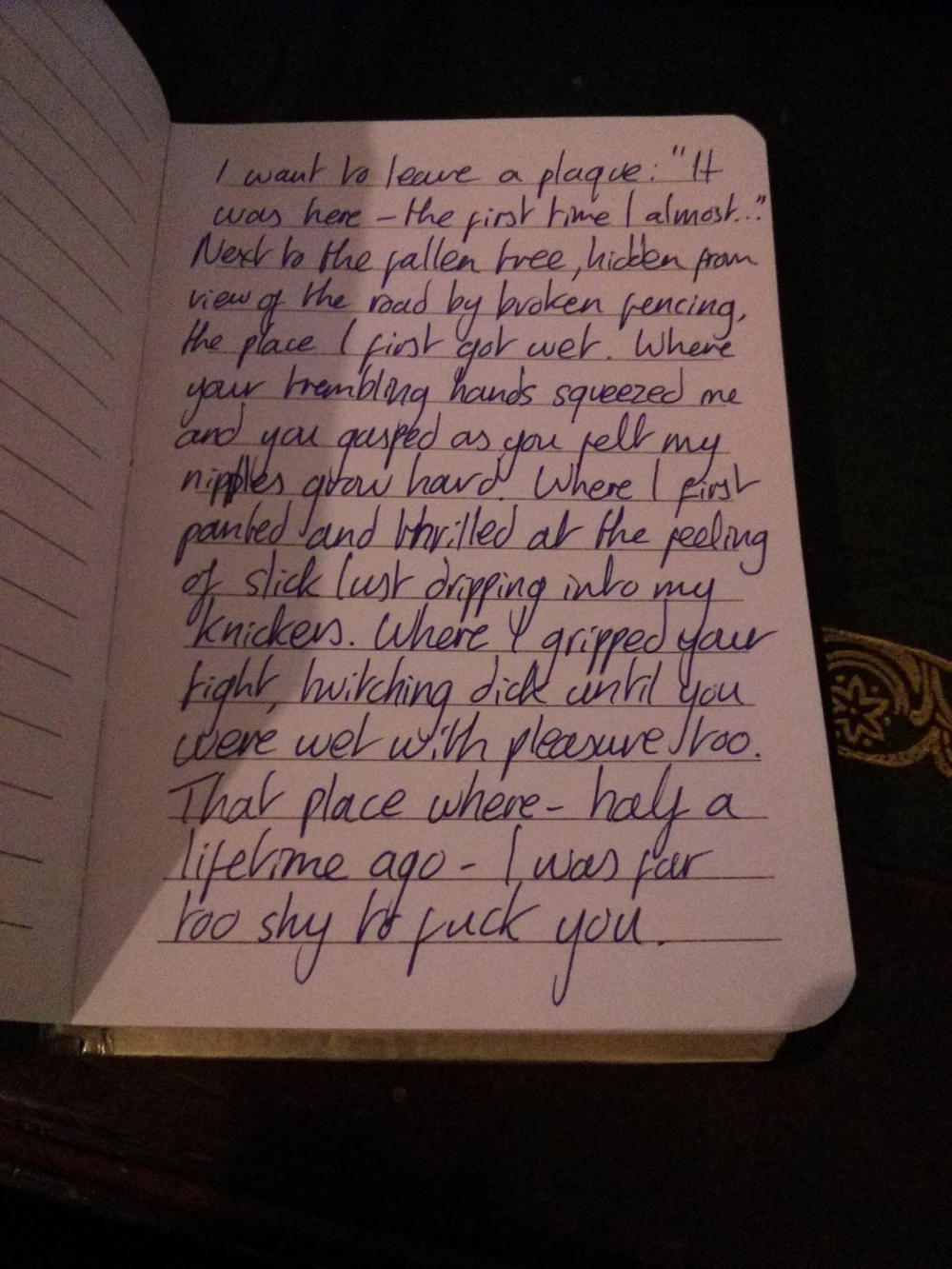 I want to leave a plaque: "It was here – the first time I almost…" Next to the fallen tree, hidden from view of the road by broken fencing, the place I first got wet. Where your trembling hands squeezed me and you gasped as you felt my nipples grow hard. Where I panted and thrilled at the feeling of slick lust dripping into my knickers. Where I gripped your tight, twitching dick until you were wet with pleasure too. That place where – half a lifetime ago – I was far too shy to fuck you.
Plenty more sex stories where that came from…
If you'd like some more substantial sex stories, check out the filthy stories section on this blog, or head to the audio porn hub to hear sexy stories read aloud…