If you hate graphs and stats and nerdy things, please look away now. If you run a sex blog, or you're just curious as to how one works, step a little closer.
I've always had a theory, based on what I tend to see on Twitter and Facebook, that despite billing this as a sex blog, the most popular posts are actually the ones that are fairly tangential to sex acts themselves. Posts about feminism, dating, the Friend Zone – anything that falls roughly into the category of 'ranty ones.' These posts tend to get more retweets, shares, comments, and all the things that a wanky social media manager would irritatingly call 'engagement.' But when it comes to traffic, the filthy blog posts get far more, by quite some margin.
When I've chatted to other bloggers about this on Twitter, some of them have been as curious as I am. If you're a sex blogger, is it worth sprinkling some politics in with your filth? If you're a different kind of blogger, is it worth expanding your reach with some well-targeted sex chat?
And, the thing I'm most intrigued about: despite occasionally being annoyed when I link to filth, are people on Twitter actually more likely to click a link if they think it's #nsfw?
Let's have a look.
Most popular posts
Here are the five most popular posts published between October-December 2014 (I've gone with this older period because posts which were published last week won't have had much search traffic yet, so it wouldn't be a fair test).
This graph shows pageviews for that 3 month period, alongside the pageviews of an average post published during that period.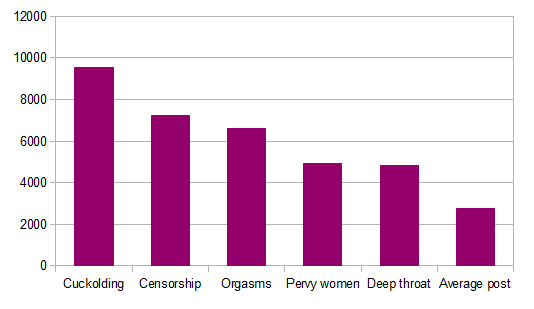 A pretty decent mix of filth and ranting, although probably not representative: the most popular post got around 9,000-ish pageviews, of which 1,600 came from search and around 5,000 from referral. The third post (orgasms) was as a result of a competition, and got way more referrals than an average post would too. That's pretty unusual. Referrals can skew the numbers, because just one link from a popular website can throw everything else out of whack.
The vast majority of 'top' posts each month aren't ones which Reddit has found, they're ones which hang around quietly getting traffic from Google, which kind of makes sense based on my own… err… habits. Google visits have a tendency towards filth, as you can see from this – the top posts across the whole site for that same 3 month period, based purely on search traffic.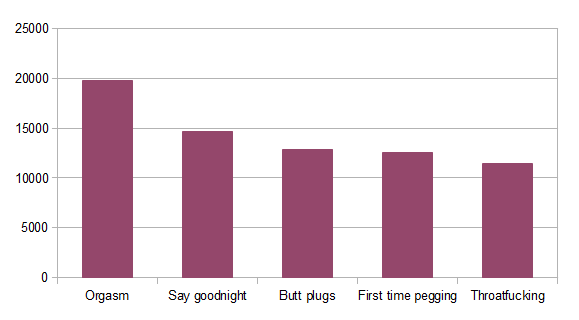 'What does an orgasm feel like' has a slightly higher filth rating (3/5) than the 'What does an orgasm look like' post mentioned above (it contains more text that I'd count as pretty porny), but apart from that each of these posts comes in at a stone-cold 5/5. Search loves filth. Who'd have thought?
But the original question, and the theory I really wanted to test, was whether Twitter people are more likely to have a cheeky click on a filth tweet than on one which is vaguely safe for work. So let's look at Twitter referrals.
Most popular posts from Twitter
Here are the most popular posts when looking at Twitter referral traffic, via Google analytics. This means no one who comes from search engines, direct, or via other sites or networks. Just the people who visit from Twitter.
Censorship (filth rating: 2/5) – this one featured on the top for that period overall
What does an orgasm look like? (filth rating: 3/5) – likewise
Sex and anxiety and panic (filth rating: 3/5) 
Good2Go consent app is shit (filth rating: 0/5)
Cuckolding (filth rating: 5/5) – this one featured on the top for that period overall
As you can see, when you look purely at Twitter referral, two blogs sneak in. Sex and anxiety is a bit dirty but also partly emotional, so I've scored it fairly low, and the consent app one is pure rant and no shagging. Is this a good way to measure that stuff though? No: it's shit. Looking purely at Google Analytics, you can't easily see how often a blog was tweeted. If Censorship got promoted more (which it did), and other blogs didn't get promoted at all (ditto: sometimes I forget), then Google Analytics won't give a clear picture.
Let's move over to Twitter's analytics, and compare RTs and clicks directly.
[If you want to do this yourself, just hover over your avatar in Twitter, and go down the menu to 'analytics' – you can get an absolute shitload of data about your tweets, and you can export it all into a lovely shiny spreadsheet]
Most retweeted posts
A dilemma here: posts which get the most retweets will naturally get more clicks (because they'll have been seen by more people – duh). So I took the top 100 tweets which contained a url, and worked out their 'click-to-retweet' ratio. You're right – I should get out more.
Anyway. A high click-to-RT ratio indicates that people are likely to be interested in a particular tweet, but less likely to want to publicly reproduce it on their timeline. On the left are the least-clicked tweets (with an average click-to-retweet ratio of 8:1). On the right are the most-clicked tweets (with an average click-to-retweet ratio of 71:1).
I gave each tweet a score from 0-5, depending on how filth it was, then colour-coded the cells so you can see at a glance. The redder a cell is, the filthier the post. I think you can probably see what I'm getting at.
If you're nerdy, you'll be smashing your head into the keyboard in frustration that I haven't adjusted this data to include the baseline stats for a tweet which gets NO RTs. Don't worry, I have. A tweet which gets no RTs gets an average of 93 url clicks, so here are the two columns adjusted to take account of that.
Again, on the left are the low click-to-RT tweets, and on the right the high ones.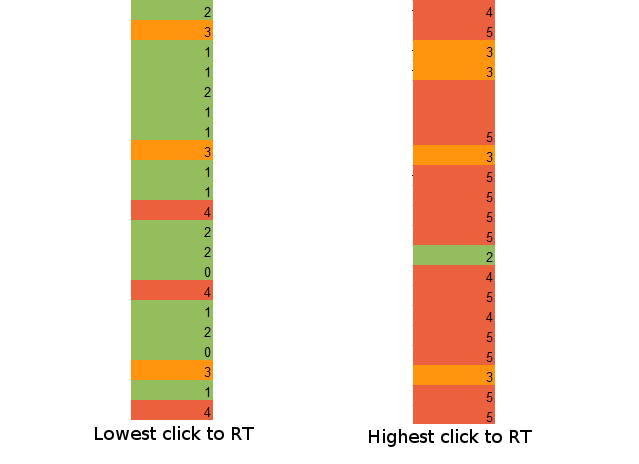 So, what makes a popular sex blog post?
The answer depends on how you define 'popular.' If you count retweets, then you'll want to avoid writing erotica about your latest threesome, and consider instead how you can put a political, philosophical, or downright ranty spin on it. If you only care about clicks or pageviews, then no matter which way you cut it, the filth will win hands down.
However, I'm not going to tell you to stop writing other kinds of posts, because if you genuinely want to build a decent blog audience, you need to do more than just tittilate for clicks. While my most popular posts will probably always include words like 'throatfuck', and bring hopeful wankers in from Google, there's a huge value in posts which do something different.
I live in a fairly niche filter-bubble, and I reckon my writing reflects that: part angry lefty, part horny girl wanking at the back of the bus. And yet I've seen any number of bloggers worrying that if they branch out too much from that niche, they'll turn off a bunch of people who are following for one particular reason. So if you're wondering why I've bothered writing this blog, it's partly as an encouragement: something outside your sex blog niche may not get as many clicks, but it'll probably get retweeted more, putting you in front of a new audience – curious people who wouldn't normally follow a sex blogger.
It's partly also because I fucking love spreadsheets. And analysing things that no one else has thought to study yet. If I'm honest, it's also because – as I discovered when wading through all this – things with graphs tend to get retweets too.