Ah, The Apprentice. One of my favourite cheap telly treats, and a hotbed of ridiculous posturing, comedy reality-TV characters, and occasional gratuitously sexist remarks. Lord Sugar begins most seasons by splitting the candidates into 'boys' vs 'girls', as no other serious employer would even dream of doing, so the easy answer to this question is 'yes.'
But I wanted to see if that made a difference to the end results. Yesterday was not only Equal Pay Day – highlighting how, despite appearances, there's still a huge discrepancy in male and female pay in the workplace. It was also the day when Apprentice candidate Sanjay hauled two of his female teammates into the boardroom to face Lord Sugar's interrogation when it was obvious to everyone that he should have blamed James.
While I'm sure Sanjay is a nice enough fellow, it got me thinking: are Apprentice candidates inherently biased? Is the show's general knockabout sexism translating into boardroom appearances and wins? Luckily, there is 9 seasons worth of info on Wikipedia now, including names of project managers, who they brought into the boardroom, and who was eventually fired. So is The Apprentice sexist? LET'S FIND OUT.
The following is based on all seasons of the UK Apprentice up to season 9, with gender-segregated episodes (boys team vs girls team) and late-in-series episodes (where there was no choice about who to bring to the boardroom) discounted. If I've made any mistakes I'm sure you'll let me know, and rest assured that I am not going to be starting a petition off the back of my incompetent curiosity, so please take this in the farcical spirit of the show itself. I am not a Scientist, I am just a girl having amateur fun with graphs. 
Do more men than women win The Apprentice?
This one's easy – the answer's yes, but only just, and not in any significant way. In the first 9 series, 4 women and 5 men have won.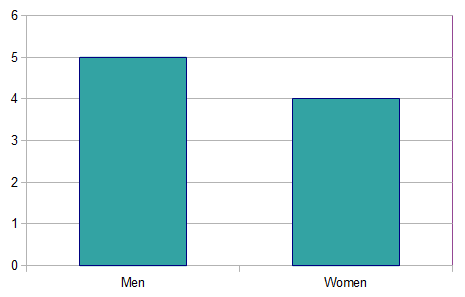 Women are in fact more likely to reach the Apprentice final – making up 11 out of the 18 finalists, and 7 of the 9 runners-up.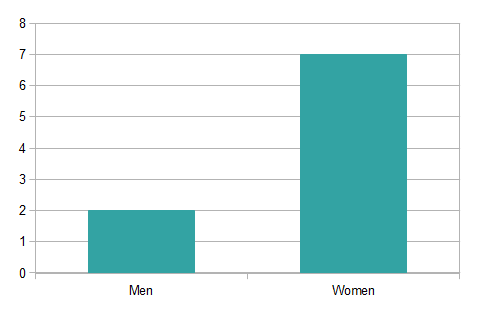 Which gender is The Bestest At Project Management?
You'll be pleased to know that, judging by who project managed the winning tasks, the split is fairly even: of the winning teams, 30 of them had a female project manager and 32 had a male one.  Although, that might mean that women are ever so slightly better because…
Do more men than women become project managers?
Yep! Remember I'm only taking info from those episodes where the teams are not split by gender. Of those episodes where the teams were mixed, 58 of the Project Managers were women and 67 were men.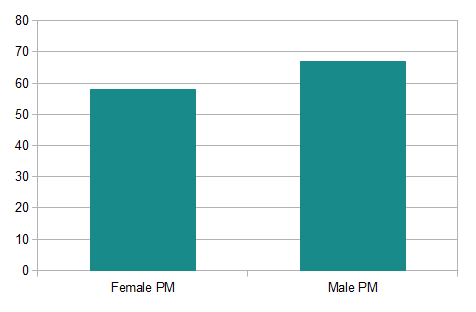 Do more men than women get brought into the boardroom?
Until now, all the things mentioned above are those which could potentially be manipulated or influenced by the fact that it's a TV programme. If there's not a great mix of winners, the producers can decide to change up the teams, fire someone for balance, get Lord Sugar to nominate a project manager, or do any of that other nefarious stuff that people never suspect them of doing because it's TV, and TV is truth.
But now one of the few things that is based purely on candidate's choice: the boardroom. For those unfamiliar with the Apprentice, if your team has failed the task, the project manager chooses who comes into the boardroom based on who he/she thinks is responsible for the task's failure. Overall, more women than men end up in this position: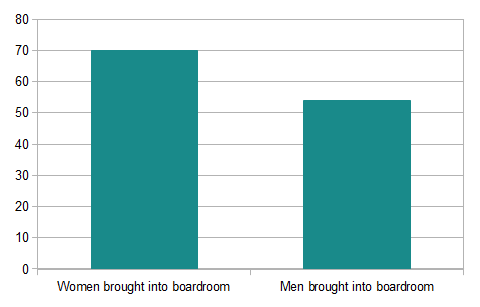 So: 70 women vs 54 men. However, what originally prompted my Wikipedia scan was the question of whether the gender of the PM influences who they bring in. Do male project managers bring female teammates into the boardroom more often? I'm afraid the answer is 'yes.'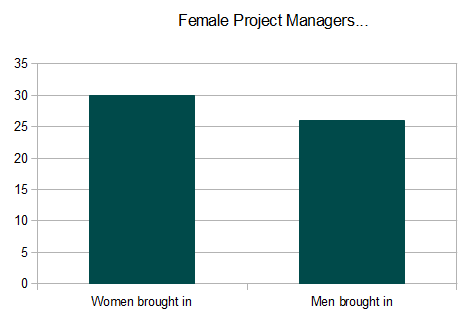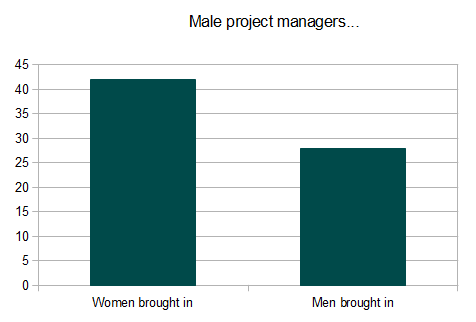 Do more men than women get fired?
This is a tricky one because, as we've just established, women are more likely to be brought into the boardroom than men. Including project managers, 97 women and 89 men have faced the wrath of Lord Sugar. Who won out?
No one.
Exactly 32 men and 32 women were fired. As women were slightly more likely than men to end up in the boardroom, that means that any given woman sitting opposite Lord Sugar has a lower chance of getting shown the door, but it's probably not significant.
So, is The Apprentice sexist?
Of course it is. And you don't need a blahddy graph to see that. Nearly every season of the show begins by splitting them into 'boys' vs 'girls' (as far as I can gather, the only season in which this didn't happen was season 3, and that only because it had a female PM leading guys and vice versa). Moreover, if you're looking for casual sexism you could do a hell of a lot worse than perusing the UK Apprentice Wikiquote page:
"Give a woman a position of power and they go fucking doolally. All of a sudden they think they're Adolf flamin' Hitler." – Week 5, Series 1

"I was thinking maybe bringing one of the girls over here as a bit of eye candy." – Week 7, Series 9
But is this sexism insidious as well as overt? Men are more likely to be chosen as project managers on any given task. Moreover those male project managers are more likely to point the finger at their female colleagues when something goes wrong, so you'd think the answer would be 'yes.' However, not only do I have no sodding clue what would count as a 'significant' finding here, I am compelled to point out that everything above is based on some graphs I made based on Wikipedia information.
My conclusion, then, is that the Apprentice is obviously sexist, but the boardroom numbers don't show quite as much bias as I expected. It's not worth marching to Downing Street about, but hopefully interesting enough that you'll share it with people on the internet for a laugh. Sexist or not, this shit took AGES.