Tag Archives:
hands free orgasm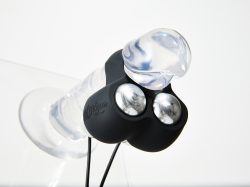 It's time for another epic sex toy adventure, courtesy of my site sponsors Hot Octopuss. As regular readers will remember, they offered to send out some samples of their awesome sex toys to bring people joy during lockdown, and give them the chance to share their experiences here as guest blogs. Today I'm delighted to welcome Air (@boybecomesfree) who tried out the Hot Octopuss JETT with his partner, S. The JETT is a unique penis vibe that consists of two bullet vibrators and a silicone case to hold them against the head of your cock. The bullets vibrate at different frequencies – 'treble' giving high-frequency vibrations, and 'bass' giving lower-frequency, deep and rumbly vibes. This makes for some exceptional orgasms (as I can attest from my recent adventures with the Hot Octopuss Kurve, which uses the same tech), and what's more the fact that the toy can be strapped to a dick also allows for some really fun orgasm control and edging scenarios. As Air found out, when S decided he could be tied down and edged with the Hot Octopuss JETT…
I've always been quite fascinated by the idea of a hands free orgasm. I once found a video of a guy twitching his cock so the head rubbed gently against his stomach, over and over again, for ages, until he came in intense and powerful squirts all over himself. I watched that video so much that if it had been VHS I'd have worn out the tape. This is a fictional story based off an idea that occurred to me while I was out for a walk, which just kind of hit me and felt so ridiculously hot I had to write it to get it out of my head. I don't know if it's actually possible, but if you try it and it turns out it is, let me know.
This week's guest blogger is talking about something I have never done but would love to try: hands-free orgasm. Hot? Fuck yes. I might even have a go at writing a script myself one day.Please welcome George, whose words I hope can inspire you to give this a try yourself… He's rather skilfully combined a how-to guide (so you can learn how to have a hands-free orgasm of your own) with some excellent filth that should give you an idea of how and why it works for him.