Tag Archives:
nonmonogamy
Today's guest blog pressed a lot of my buttons – and not the ones that are normally pressed when someone tells me a horny thing. As a mostly-monogamous, keen-to-be-more-open person, I have struggled a lot with my internal double-standard. My ideal relationship consists of one guy I love very much, who gets off on letting me fuck other men. Fucking other men is, it seems, something I truly want to do. Hearing about him fuck other women? Not so much.

Today's guest blogger is Sir, who tweets with his partner Subbie @SirandSubbie on Twitter. He wants to talk to you about Subbie fucking other men, and I'm grateful not just because he's sharing some pretty raw, emotional stuff, but because he's managed to sum up quite a lot of my feelings (both rational and irrational) about this very thing…
Blog removed at the author's request.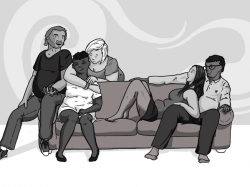 Here is a can of worms. Please sit down, make yourself comfortable, and watch as I try to sort them into delicate piles without squishing any of them.
I'm in a monogamous relationship. For me, that means that my partner and I both lust desperately after other people, but we try not to do anything about it, save sighing and making the odd comment about how beautiful those other people are.
When I tell people this, often they're surprised, and some of them make efforts to persuade me that I really should consider opening up my relationship. That it'd be healthier if my guy and I could see other people, or that polyamory is actually the best course of action for everybody in the human race. I like the sound of it: I do. I like the idea that there's a hell of a lot of love in the world, and you get to share lots of different kinds of love with lots of different people.
Thing is, I've tried it, and it sucks for me. It really sucks. I get jealous, angry, upset, and anxious. I feel worthless. My rational brain tells me that he can fuck other people without it having any bearing on how he feels about me, and that if he goes for a drink with a girl he fancies with a view to potentially snogging her at the end of the evening, that act itself isn't sapping any of the fun or love that he and I share together.
Unfortunately, my irrational brain is a tedious Iago – piping up and screeching "I like not that!", and ruining everyone's fun.