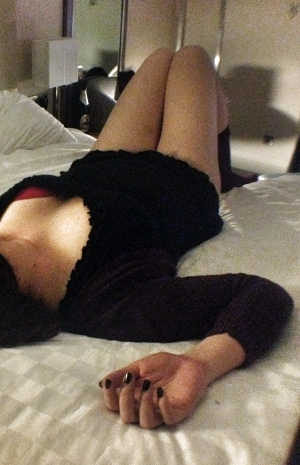 I'm a terrible wanking hypocrite.
I write this in the desperate hope that some of you will send me pictures of your cock, and while imagining others partaking in the most creative, beautiful boywanking, yet I myself am the blandest wanker you'll ever hope to meet.
First I unzip my trousers…
Sometimes people email me to tell me their sexy details – how they wank, where they come, what they do to bring themselves to a frothing, jizz-splattered conclusion. It's fantastic to hear, but almost always followed by a question I dread: "what do you do when you're looking at these pictures?"
It's a perfectly fair question, but I hate answering it because my answer will probably bore you to death. When I'm alone, I'm not that creative: no frills, no embellishments, no hanging upside-down from a doorframe with one hand tied behind my back and half a carrot up my arse – I just… well… I rub my clit until I come.
Dull, I know. People want more – filth and fantasy and girljuice spraying over a terrifying collection of sex toys. But I can't lie – I wank boringly. I am a boring wanker.
The thing is, although it's incredibly tedious to relate, it's not that tedious to do. Rubbing my clit until I come is one of the most exciting things I can do without either leaving my flat or setting fire to it.
Wanking with sex toys
The one small concession I have to proper creative wanking is a rabbit. I don't care that it's a cliché – I love it to death.
Much as I hate to give credit to Ann Summers – the sex shop that sells clothes so hideous and flimsy that it's physically impossible to actually have sex in them – the rabbit is spectacular. Of all the objects in the known universe, this is the one that has been best designed to make me jizz myself.
While I'm on a roll with this, I'll answer the question thousands of men have asked: yes, it is better than your cock. Countless light-years better. Obviously. Millions of years of evolution cannot hope to compete with the sexual engineering genius that has produced this, the most powerful cunt-fucking equipment I have ever had the pleasure of sampling.
But it's not the same
And yet, although it's infinitely better than your cock, it is still not actually better than having sex with you. On the grounds that… well… it's made of fucking plastic and won't bring me a beer afterwards. On the grounds that it doesn't make that delightful moaning sound or ask me for a blow job, or spank me until I weep.
And likewise, no matter how good the rabbit is (and did I mention that IT REALLY FUCKING IS?) it still doesn't beat just rubbing my clit until I come. I rarely ever use the rabbit when I'm on my own. Although it's ruthlessly efficient in helping me to knock out an orgasm in the time it takes most people to whip off their socks, it's never going to be my favourite.
Perhaps it's laziness – it is, after all, all the way over there in that drawer. Contentment? More likely – I have a routine and habit, and desire for the familiar. I know exactly what I like, how to do it, and exactly how quickly it will get me off.
I just… you know… quite like rubbing my clit until I come.