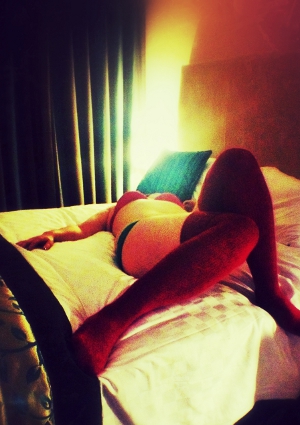 God I loved number 2. Brash, funny, intelligent, and – to my unfading delight – a virgin.
We were frustrated friends. I had a boyfriend, and he'd never had anyone. We'd joke, and play, write filthy notes during English lessons, and brush up against each other on the bus. When we hugged I quivered at the feeling of his thick, satisfying erection pushing against my hips.
I wanted him so badly I utterly ached. We'd sleep at friends' houses at parties, me lying next to him panting with longing, while he slowly ran his fingers over my nipples. He never tired of the feel of them – the miracle of keeping me on a knife-edge of desire for so long. By the early hours when we finally managed to sleep, my nipples would be red-raw and throbbing with pain.
One night, in bed with a few others asleep beside us, he got brave enough to inch his hand lower. Tentatively, he slipped it down into my knickers. I was slick with frustrated desire – wet as only a teenaged girl can get. He was trembling with lust, and fear, and guilt. He was so hard I worried I'd hurt him if I squeezed his dick with any kind of vigour.
When his hand reached my cunt and he realised how wet I was he couldn't keep silent – he moaned.
Just remembering number 2's surprised, lustful moan is one of my hottest memories.
Taking his virginity
After hearing his stifled cry, I couldn't leave without doing something. At that point I'd have traded my money, my youth, even my as-yet-unfinished A-levels just to have him in me.
I whispered to him, grabbed his hand. We left our friends sleeping and scurried into an empty bedroom.
We fell onto the bed – me in a panting, aching heap and he in a trembling, terrified one.  I kissed him, I told him I wanted him. I fluttered my 17-year-old eyelashes and begged him to fuck me.
He couldn't fuck me.
He was so scared that he couldn't get hard. I sucked him gently, I told him he was hot, I told him I was desperate for it, and eventually I got him just hard enough to roll on a condom and try. I climbed on top of him, slipped him into me, and sat down slowly on his semi-hard cock. But it was clear that it just wasn't happening.
He'd lost his virginity – just. But he'd mislaid a fair portion of his dignity, too, and it broke my heart to think that instead of remembering me with a gleeful nostalgia, he'd look back on the whole thing with shame.
Taking his virginity far more successfully
A couple of weeks later, at his house, he was relaxed. Not calm, as such – his cock was straining at the fabric of his jeans – but he was much readier to fuck.
"What do I do?"
"Whatever you want."
"Can I do this?"
"Yes. Please."
"What if I'm crap?"
"You're not."
He rubbed himself frantically against me, touching wherever he thought he was allowed. I pulled up my top, unhooked my bra, guided him. I wanted to show him he wasn't just allowed – he was needed – I needed him to touch me, to fuck me. I needed him inside me, to quell the aching hurt in my cunt. He didn't need to make me come, he just needed to be in me, to give me some release.
He panted, and moaned, and struggled to take off his jeans – his hands shook with lust and he moaned with frustration. I helped him get them off, wrapped my legs around him, and held myself up – nice and wide and easy so he could slide himself in.
With his hands each side of my head he pushed his cock into me – deep and rock hard. Hard like I longed for. Hard enough that I felt it stretch me out, open me up – scratch the itch that he'd created during those long nights of furtively stroking my nipples. The itch he'd created with that anguished desperate moan.
As he fucked me he looked surprised, confused and delighted. I was relieved to be rid of the throbbing, aching need to fuck. I grinned, forced myself up – thrust angrily against him so he could feel every movement. As he sped up he let out a strangled cry – "Oh" – so I squeezed him with my cunt and my thighs as I felt him come hard inside me.
It was possibly the best five seconds of my entire fucking life.