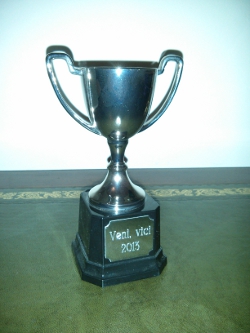 I'm a girl of my word. And if I promise a prize for someone who writes an amazing description of their orgasm then by the God whose name they scream when they have it, I shall deliver a prize.
A while ago I encouraged people to write a description of their orgasm. For two reasons, really:
it's an interesting challenge for any erotic writer, and I wanted to see if people could do it better than I could (spoiler alert: they definitely can)
I like reading about other people's experiences, especially if they're beautifully and sexily different to mine.
So, I've finished sifting, re-reading, and generally wanking myself raw, and was utterly bowled over and delighted by all of your entries. There were some stunning things in there, and if you've got time I'd strongly recommend you read the past entries.
Orgasm competition – top 5 entries
Because I don't like the idea that my opinion comes top purely because I'm the one with the blog, I'm going to ask you to help me narrow down from the top 5 to the winner. I've chosen the five that – in my humble opinion – felt like the best ones, and that give an idea of the range of different feelings and sensations people described. I'm really sorry if yours isn't in there – I would utterly love to have given a prize to everyone. All you need to do is read some entries and rate the ones you read on a scale of 1-10. Those scores will be averaged with the scores I've given them, and the winner will be sent the amazing trophy pictured above. I can take no credit for the amazing "Veni, vici" (Translation: "I came, I conquered") joke – that was suggested by @Aug24 on Twitter.
(I'm not yet sure if he'd like to be credited, so if he wants to be I'll add a link to his Twitter profile above)
But there you go – five very hot and very varied descriptions of people's orgasms. Please do peruse them, rate and share with your more open-minded friends. The more people who do it, the better idea I can get of which ones people love the most.
Voting closes this time next week (6pm GMT Sunday 11th August) – have at it!
Editor's note: I know that it's often possible to game competitions that include voting, but I don't think that will happen here: I have access to the back end of the system, so if I see someone's rated everything low except one, those votes won't count. It's uniquified based on IP address, so you can technically vote and rate more than once via a proxy if you give a massive and substantial shit about winning. However, I'm working on the basis that most people who read this blog (and those who entered the competition) are lovely enough not to cheat. Well, that and the fact that the prize isn't worth much money.