Brace yourselves, I'm doing a special thing. Long time readers will know that for the last few months the fantastic Bondara has been supporting me. This has helped pay for hosting and domain stuff, pass a bit of money on to guest bloggers, and hire an amazing illustrator to create pretty images for some of my posts. To say thanks to Bondara and to you for your support, I'm running a sex toy competition to give away a £100 shopping spree at Bondara. You can buy anything – whether you want to wear it, smear it all over yourself, or turn it on and let it buzz deliciously against your sensitive bits. When you get to the bottom of this post, there's a widget that you can use to enter the competition.
So what's this post about? Well, I don't really do toy reviews, but I wanted to do something that gives a bit of an insight into sex blogging, and also appeals to my nerdier sensibilities. So I've done some very top-level analysis of the kind of toys people buy via my site. A sort of 'if you like my blog, you might like some of this stuff too' – like Amazon does with books, but for fucktoys. The following graphs have been created using anonymised data based on purchases at Bondara via my website.
Which sex toys are the most popular?
I had a look at the percentage of toys sold for different genital uses. As you can see, my readers are generally a big fan of arses, which makes sense given the number of posts I've written about butt plugs. Penis and vagina toys sold equally, which I am pleased with, because it shows a delightful sex toy equality in the discerning audience of this blog.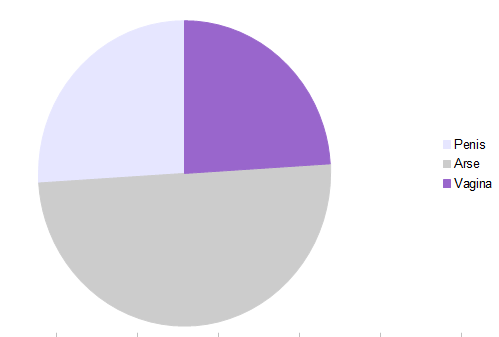 Which sex products are the most popular?
Of course, it's not just about things you put in/on/up yourself – there are other types of products too. While toys are by far and away the winner, plenty of people have been stocking up on bondage equipment, underwear and accessories too. For this, 'accessories' includes things like condoms and lube, as well as sex toy cleaners and things.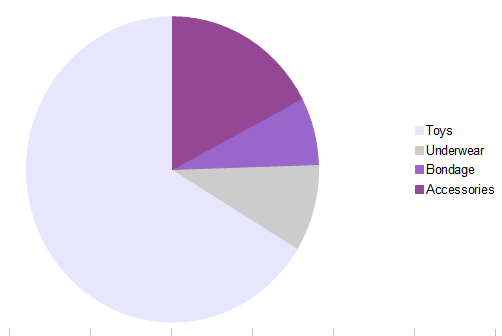 Sex toy sales by day of the week
Statisticians, please shield your eyes, because this one's a fucking mess. I don't think the data was significant enough to make a guess on the day that sales were most likely – apart from anything else, my traffic's always higher on Sundays, Wednesdays or Fridays when I post. Still, in case you're interested, it looks like Friday is officially the least sexy day, with Wednesdays and weekends being far more popular.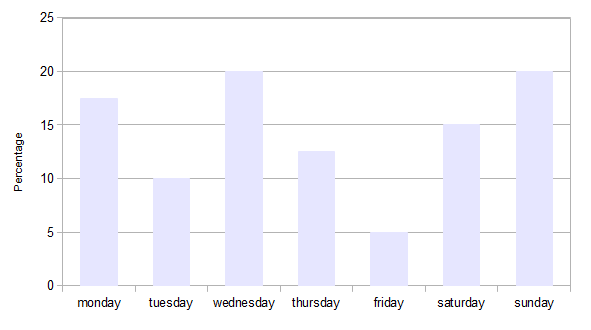 What are the most popular sex products?
I'd hoped that at least one person would have bought the fucking machine that I have on my sex toy wish list. Sadly not, but if you're after something new, and you fancy following in the footsteps of other readers, here are some of the most popular products (or product categories) from the last three months:
– Cock rings. A solid and admirable choice.
– Male masturbators. I'm not surprised these are near the top of the list because I am obsessed with them – Tenga eggs came through as a strong favourite, which is handy because I have recently got the hang of using them without breaking them due to overenthusiastic wanking.
– Butt plugs. Again, solid choice,and I hope these hot butt-plug stories helped some people make their decision.
– Coquette knickers. I am 100% sure this came about as a result of this post about the sexiest types of knickers.
– Jessica rabbit vibrator. A classic. Also very cheap. I am impressed with your money-saving expertise.
Sex toy competition – win a £100 Bondara shopping spree!
Now on to the exciting bit – all you need to do is enter the competition using the magical widget below, and you'll be entered into a draw. The comp will run for exactly two weeks – until midday (UK time) on the 11th of August, with the winner chosen the next day. If you win, you can spend £100 on whatever you like from Bondara. I'm afraid you have to be UK resident and over 18 to take part, but if this is popular, I'll see if I can run something separate for US-based people so you can have sexy things too.
Best of luck, and thank you again for all your support.
a Rafflecopter giveaway

[Note from GOTN – I have never run a competition like this before, and in all probability I am a bit incompetent at it. I've tried to make it so there are plenty of easy ways to enter, but if you have any feedback or you're not sure how to use it please drop me an email]