GOTN custom dildo made by the dildo scientists at Godemiche. Logo made by Black Heart Creatives
At this year's Eroticon, there was a table covered in what I can only describe as a rainbow of dildos. In a huge variety of colours, with gorgeous designs and occasionally beautiful things actually encased in the silicone. The company, Godemiche, is run by Adam and Monika, who are not only geniuses but they're super-passionate about dildo-making.
I squealed and marvelled at their amazing creations, then eventually asked if it was possible to make a dildo with my logo in it, because I am a professional blogger now, so I have to consider my #brand. They are dildo scientists, so the answer was 'of course', and a couple of weeks later I'm the proud owner of a super-cool handmade custom dildo. And you can win it, because I am nice like that and I like running weird competitions. See below to find out how it could be yours…
Win a custom dildo
Complete this sentence: 'If I were a dildo scientist, I'd make…' in fewer than 50 words, and leave your answer in comments.
So, for example:
If I were a dildo scientist, I'd make a dildo that doubles up as a light sabre so I could battle Darth Vader.
If I were a dildo scientist, I'd make a dildo with my name on it so my girlfriend wouldn't keep nicking mine when she goes away for the weekend.
If I were a dildo scientist, I'd make a dildo in the shape of a donkey penis because reasons and ssh and it's none of your business.
Etc etc. They can be funny, romantic, ingenious, run-totally-contrary-to-the-laws-of-physics, whatever. The only rules that apply are these:
You must be over 18, and have an address in the UK that I can send the prize to you if you win (sorry gang, it's expensive for me to post dildos outside the UK).
You must use a real email address when you log your comment, so I can contact you if you win. For the ease of administering this comp, any comments that aren't entries will be deleted – if you have any questions you can contact me or Godemiche on Twitter.
You must be happy for me to use your suggestion in promotion of the comp.
Closing date for comments is the 22nd July (midnight, UK time) and voting will open on the 25th July, then close at midnight on 1st August.
By entering, you confirm that you're over 18 and that you're happy for me to use your email address for the purposes of administering the comp (i.e. letting you know if you won or lost). You won't be announced as the winner unless I get your express permission, and your email address will stay private, but feel free to use a throwaway if you're unsure.
When all the comments are in, we (i.e. me, Adam and Monika) will judge which are the best, and we'll put the best 5 to a vote. Voting will last a week, and the winner will get a unique, GOTN-branded custom dildo, so you can literally sit on my face. Or strap me on and use me to shag someone. Or give me to your partner for Christmas. It's a talking point.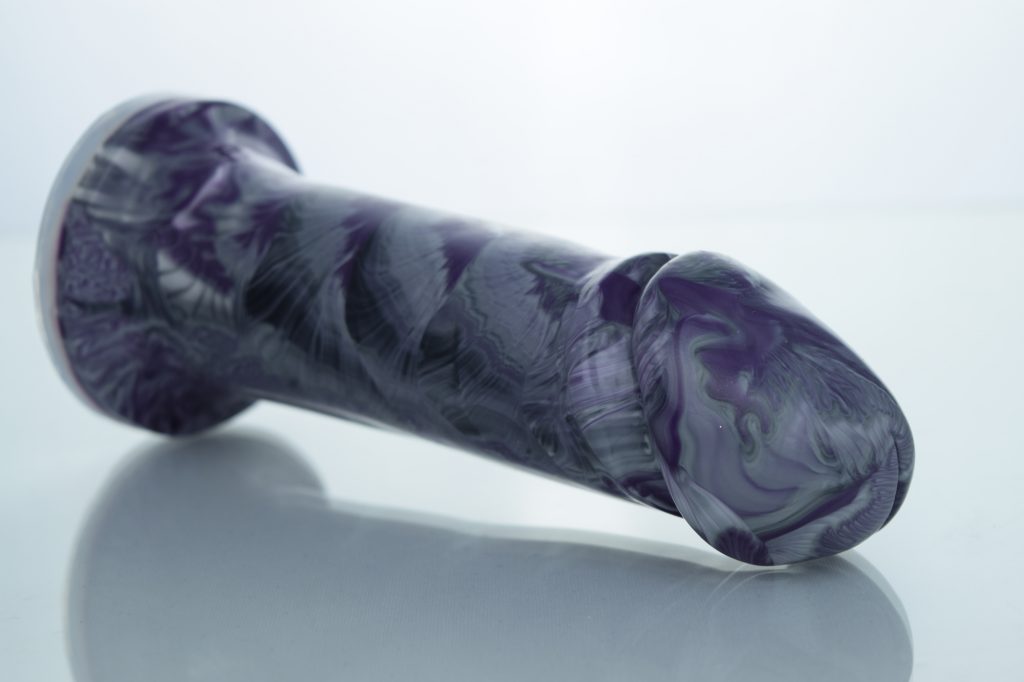 The custom dildo prize
If you want to find out more about the process of making hand-crafted silicone dildos, check out the Godemiche Twitter feed @GSilicone, where they post cool updates on their latest projects and pictures of dildo science as it's happening. You can search 'godemiche' on Snapchat where they do fun updates into all their behind-the-scenes dildo science or sign up to their newsletter via their website – they email special offers and cool new designs when they become available. Like this amazing pearlescent design, or this limited-edition dildo with hearts embedded inside.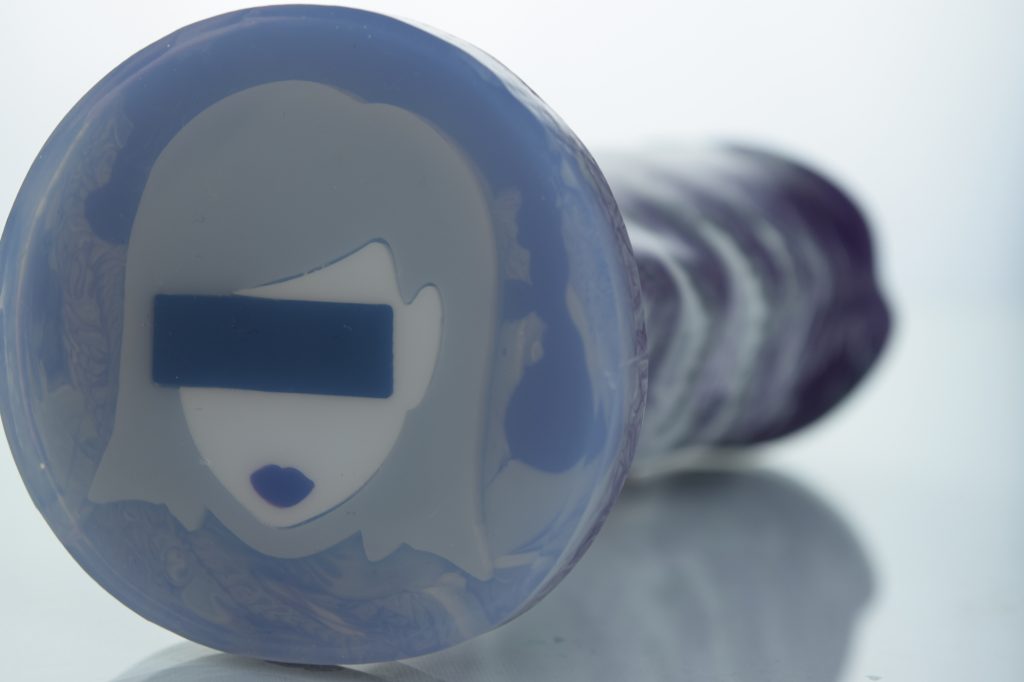 The GOTN custom dildo is made from different colours of silicone, swirled together to create the overall marble effect. Then once that has set, the laser-cut acrylic GOTN logo (custom-made by Black Heart Creatives, who are also incredible) was placed into the base. Then transparent silicone was poured over the top to cover and seal it – similar to how this cute heart-base one was made. The finished product is made of silicone (so body safe, obviously, because the logo is encased in the silicone, and you should use it with a water-based lube).
Pretty amazing, right?
Full disclosure (did I get paid to write this?)
No. Godemiche didn't pay me anything to write this blog or promote them. I just think they're fucking awesome. And they made me a BRANDED DILDO. That should be enough to warrant all of you going and buying incredible stuff from them, right? If you're wavering on dildos themselves and want something a bit extra, why not try this actual, literal fuck stick? That's what I'm saving up for.
Win a GOTN custom dildo
Meanwhile, if you want a totally unique custom dildo, just enter the competition in the comments below…
"If I were a dildo scientist I'd make…"