Image by the mighty Stuart F Taylor
What do you get if you take six masturbation sheaths, two pairs of hands, a blindfold and a bottle of lube? Well, apart from 'an excellent Saturday night' you also get to learn some surprising new things about what makes a good stroker. Regular readers will know that I'm on a neverending quest to gather every possible piece of data on how to pleasure a dick. So naturally, strokers are one of my favourite sex toys. Having tested out a variety of them – from the Rolls-Royce pricey strokers to simpler, bargain strokers and even stroking machines I've customised myself – the time was ripe to inject a bit of science into the selection. Welcome to the Bargain Stroker Blind Wank Test.
This test is brought to you by SexToys.co.uk – they sponsor my site, and I also write copy for their weekly blog (come join me for regular discussion of sex toys, as well as weird and wonderful sex news that I have found when rummaging in the knicker-drawer of the internet!). They asked me recently if I'd be up for testing out a few of their strokers (also sometimes referred to as masturbators, masturbation sheaths and – annoyingly – male sex toys), and I said something along the lines of 'hell yes.'
However, there was one slight snag. One of the toys they wanted me to test was the Loving Joy Real Feel Blow Job Stroker, and another was the Doc Johnson Main Squeeze Sasha Grey. They look like this: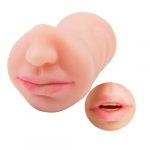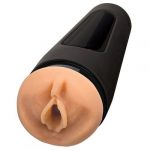 While I know there will be some people for whom the mouth or vagina shape at the entrance to a stroker adds a certain real-life atmosphere to a wank, my partner doesn't really go for that. He prefers sex toys that don't look like human body parts – abstract things like Tenga, for example. While he was more than happy to make allowances for the Sasha Grey ("It's Sasha fucking Grey. Of COURSE I will try it."), he was a bit less keen on a wank sheath that looked like a human mouth.
He's not the only one: I've seen plenty of people who would otherwise be very positive about the use of sex toys baulking at the biological strokers. I've done the same myself for some of the more unusual samples on offer in this section of the market: ones which look like miniature arses with a pair of tits positioned somewhere in the vague vicinity, for example – like a pocket-sized sex doll, minus limbs. They're generally looked down on as the least erotic kind of stroker, and occasionally heaped in blame for actively contributing to male sex toy stigma, thanks to their offputting looks.
Thing is, though, their looks are only offputting to those of us who don't want to use them. There must be thousands of horny people eagerly seeking out these toys, because they continue to sell really well. So after a chat with my partner about practicalities, we eventually decided to go ahead and try out not only the Sasha Grey ("It's Sasha fucking GREY") but also the LovingJoy Blow Job one, because we could hopefully answer an important question: fuck what these look like, do they feel good on your dick? So we set out to compare them based purely on the texture and sensation inside the sheath.
The Bargain Stroker Blind Wank Test
The rules: my partner had to lie on the sofa, naked from the waist down, blindfolded so he couldn't see which stroker was being used on his dick. I lined them up in a random order, mixing the three we'd been given by SexToys to test with three old favourites from our sex toy drawer.
Old favourites in the running: Fleshlight Flight Pilot, Tenga Spiral 3D and Tenga Air Tech
New toys to try: Doc Johnson's Main Squeeze Sasha Grey, Svakom Hedy Reusable Egg, Loving Joy Real Feel Blow Job
If you're a fan of strokers you'll have spotted an instant problem with the test: some of these toys are simple, flexible sheaths that you hold in your hand and squeeze as you use them to wank, while others are designed to sit within a hard case. The Fleshlight Flight, Sasha Grey and Tenga Flex are all of this latter type. To ensure my guinea pig couldn't guess just from feeling the rigidity of plastic around the sheaths, we took all of them out of their cases, so we could get a result based purely on the sensation of the texture on the inside of the toy. Incidentally, I can recommend trying any masturbator this way, as well as with a case if it's provided – playing with them out of the case gives you a different experience as you can squeeze and twist the sheath around your dick. One hand at the head giving a tighter squeeze/twist while the other hand keeps a tight grip on the base seems to be pretty fun, if my volunteer's 'unngh yeah' noises are anything to go by. What I'm saying is if you've got a masturbator, mix it up and fuck about with it until you've tried all the different ways. Go on – get your money's worth.
Once we'd set the test up, and spent a couple of minutes telling each other how freaking excited we were to be doing this, and congratulating ourselves on our excellent Saturday night entertainment choices, we then proceeded by going through each masturbator in turn. I'd lube up his dick, announce which one this was (numbered 1-6, obviously, not by name), then gently wank him off for a while. He'd assess how good it was, and whether it was better or worse than the previous one, and I took notes. We then repeated the process going from number 6 to number 1, to refine the ranking. Then I took him all the way through from the one he thought was 'worst' to the one he thought 'best', letting him switch out or refine where each masturbator sat in the heirarchy. Then I took the blindfold off him, sucked his cock for a bit (this had nothing to do with the experiment – it was very hard and just too tempting), then revealed the results and listened to him gasp in shock.
Because it was a shock, gang. It was quite a shock. Are you ready for the results?
Bargain Masturbator Blind Wank Test: The Results
Before I announce the results (which I'll do in reverse order, as with all good competitions), I should note that he wanted me to stress how good all the strokers felt on his dick. "I am literally lying here getting a dick massage," he explained. "And every single one of these is better than nothing at all." Testament not only to the excellence of strokers but also his overall disappointment at my own hand job technique, there. Hand jobs are hard. Strokers make them easier and way more fun. So don't go thinking that number 6 is not good: number 6, on a bad day, is still better than any hand job I could ever dispense on a good day.
Ready? Let's do this.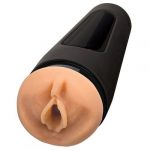 Honestly, I don't have the words to express how upset he was that a masturbator mimicking Sasha Grey's vagina didn't come higher in the ranking. It's partly because this was one designed to be used within a plastic cover, so some of the suction fun that you get from using it normally was lost. But while my partner is keen to stress that all the masturbators felt fucking brilliant on his dick (I think he's worried that Sasha Grey might read this and be offended, and the pain of potentially upsetting one of his heroes is too great), this one gave the least in terms of internal sheath texture.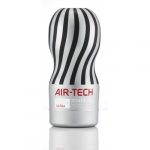 Also designed to be used in a plastic tube, but I threw it in because my partner has very much enjoyed it in the past. Again, he loved it – it's a squishy, textured, pleasurable thing to stick one's dick in after all – but it didn't quite reach the squirming-intensity status of some of the other toys.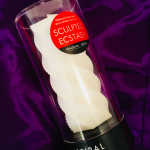 I included this one because the pattern on the inside is so completely unique that I figured it would be easy for him to tell which masturbator it was. I wanted to hear him declare 'Tenga Spiral!' with a knowledgeable smirk, like a Sommelier announcing a Chateauneuf du Pape. It's hot to think of him as a dick-toy conoisseur.
Sadly he didn't recognise it, but during testing he did praise it's 'good head feel', explaining that the sheath gave the most sensation to the head of his dick.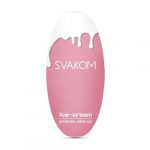 Stand up from whatever chair you're sitting in right now and dance with me, for this absolute bargain stroker – the Svakom Egg. It sells for the absurdly low price of £7.95, and it made number 3 in the ranking. NUMBER 3! While I love a luxury sex toy as much as the next person, I always root for the underdog, and generally prefer to recommend super-cheap toys that most people can afford.
There was a point during testing where my partner said this felt most 'real', and if I hadn't been holding on to his dick I'd have keeled over backwards in shock. It's just a tiny little egg, which stretches over your cock as you use it! And yet… it is apparently better than two of our favourite Tenga toys and even Sasha Grey's muff. I bow to you, Svakom, you have done very well indeed.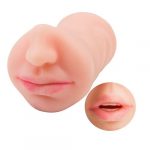 I'll let you in on the most jaw-dropping secret from this bargain masturbator test: on the first round of the trial, my partner rated this toy at number 1. And not just in the 'maybe' sense, either: it was his favourite one, hands-down. This toy! This stroker that he would never have looked twice at if he were buying for himself! This stroker that he probably wouldn't have agreed to fuck if he hadn't had the benefit of a blindfold: this toy was his initial favourite! During the second and third rounds of testing, it got pipped to first place, but I'm still chalking this one up as a massive win: it rocked his dick so hard it's a solid second place.
And if you're wondering how he felt about the whole 'mouth' thing, he was genuinely up for playing with it even after I took the blindfold off, explaining that the tongue inside the toy really does feel like it adds something. He did not even notice the teeth.
1. Fleshlight Flight Pilot (RRP £46.95, currently £39.95 from Sextoys)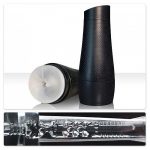 This has always been our favourite masturbator, so if anything the fact that it's won is fairly annoying, because there is absolutely no surprise there whatsoever. So I'm not going to talk about it in detail other than to say
it's the best no-bullshit stroker we own
Fleshlight really are at the top of their game when it comes to making wank toys and
if I have to recommend it one more time I might end up screaming.
Even just using the sleeve without the plastic case, even blindfolded, even when I was rooting for it not to win and therefore probably giving the most lacklustre handjob of the bunch, even through all this the Fleshlight Flight Pilot came out on top. If you like strokers and you don't own one, add it to your wish list.
Which stroker is the best?
The reason I kind of hate doing sex toy reviews is because pretty much everything will provide pleasure to someone. Even if I think a certain toy is rubbish, there'll likely be someone who really loves it, and I don't want my 'yuks' to spoil whatever you 'yum.' Vice versa, too, and with much more feeling: when I rave about a sex toy as The Best Thing Ever, there's always a chance that someone will try it and hate it, thus leaving them feeling a little left out and even potentially broken: "my body doesn't like this thing, but GOTN said it was awesome! What's wrong with me?!" That's why usually when I write about sex toys from my sponsors you'll get 'massive dildo orgies' or 'poetry read aloud while I'm getting wanked off' rather than the kind of straightforward ranking I've done here.
But occasionally I think I have something to contribute when it comes to straight-up reviews, and with this post I wanted to see if my (and my partner's) antipathy towards biological-looking strokers was unfounded. I'm pretty chuffed to find out it was. Not only that, but it also supports my broad theory that if you like nice dick sensations, you'll probably get on with the vast majority of masturbators on the market.
If you've already got a collection of strokers, hopefully this list has given you one or two more to add to your wishlist. And if you've never tried a stroker before? Get started with the Svakom Egg: it's cheap as chips, and as solid an introduction as any to the joy that these lovely things can bring.
The 3 new strokers were given to me for free by SexToys.co.uk – who also sponsor my website, thus keeping me in lube and tissues for the post-wank-test cleanup. If you'd like to buy these toys – or anything else – from their site, use the code GOTN20 for 20% off.