Photo by me, sorry I suck at photos.
Intimidation is hard to distinguish from excitement, especially when the two so often come hand in hand. That look you shoot me which says 'you're in trouble' can sometimes make the blood drain from my face, tricking me into thinking I'm afraid, before the flood converges in my beating crotch, reminding me that this only happens because I really really want it to.
The whip yields a similar reaction – and the cane, too. That delicious swish as it flies through the air, punching both my 'yes!' and 'no!' buttons simultaneously. It's like a knife-edge: fear or excitement. Alarm or arousal. Panic or pleasure.
That dark night when you threatened to leave me standing topless and exposed at the edge of a loch – that did it too. You carefully peeled up my shirt, yanked down my bra, then pinched my nipples, ordering me to stay like that for what felt like half the evening. I revelled in the chilly prickles and humiliation rising in my face, as I panicked about who might bear witness to my shame… my excitement… no, my shame.
Those colourful, silicone dicks lined up on the coffee table give me that exact same feeling: they made my mouth dry and my heart race, as my body tried to decide whether to be terrified or thrilled.
Thrilled won.
I don't just choose the best dildos for me, you know. I chose at least two of these because – alongside the girth and the length and the texture and all the things I wanted – I knew that you would love to fuck me with something truly huge. Something that will make me look up at you with big, wide eyes, biting my lip to keep from squealing. Something that will make me whimper 'please please please yes no oh God no stop DONT FUCKING STOP.' That you can use to balance me on that knife-edge moment between agony and ecstasy: terror and tittilation. In short, I wanted dildos that wouldn't just give me a thrill of intimidation, but which would also give you an elevated sense of power.
Power that you could thoroughly and eagerly abuse.
I'm going to tell you about a night that my partner and I now refer to as the Massive Dildo Orgy. Should you wish to partake in a Massive Dildo Orgy of your own, or indeed just wank along with the story, the dildos featured in this post are all handmade by Uberrime, and available from my site sponsor Peepshow Toys, who gave me some for free in the hope that I'd write something cool about them. And I hope you'll agree that this totally suffices as 'something cool.' If you'd like to buy any, perhaps to recreate your own Massive Dildo Orgy, use the code GOTN10 to get 10% off.
Massive dildo orgy
The first thing we do is put on porn. Gang bang porn, naturally. The kind of porn I enjoy the most when I'm with him: it seems to sit perfectly in the centre of the Venn diagram that describes both our tastes. Lots of energetic fucking, by a variety of different guys, and one or two women in the middle looking like they've hit the jackpot.
It's also the perfect way to set the scene for the Massive Dildo Orgy, because I really want him to use these dicks on me like I'm in the centre of a vigorous fuckfeast.
He strips me naked and orders me to lie back on the sofa, legs spread and bum resting just on the edge of the cushions for ease of access. He starts off naked too, with one of his big arms wrapped around my shoulders – either to get the feeling of my skin on his or to restrain me slightly as I wriggle under his touch. Probably both.
He rubs my clit and whispers in my ear. I can't remember what he said now, but it made me breathe faster and murmur 'yes please' as he reaches for the lube. Something about being a slut and needing cock, and wanting desperately to be fucked. Something else about how wet I was, and how he couldn't wait to start fucking the panic into my eyes with something thick and hard and satisfying.
The first one he tries is the pink: satisfyingly squishy and just right for a warm-up. He lubes it up and croons 'good girl' at me as it slides easily into my cunt. I keep my eyes on the screen, the better to enjoy the effect as he hand-fucks me in time to the porn we're watching. When the men on the screen speed up, so does he, and when one leans in to suck the nipples of the woman in the centre of the gang bang, so my partner leans his head down to do the same. Sucking hard enough to make a smacking noise when he comes up for air, a noise that's almost-but-not-quite drowned by the slick-slick-slick of him dildo-fucking my cunt.
I breathe. I clench. I love him for doing this. I brace myself for the next.
The next he picks up is the Helios: textured with spirals around the shaft, heavy and pretty and oh so fucking thick. I look up from the porn to watch him smear lube onto it, catching his face breaking into an evil and promising grin.
"Can you take all this for me?" he asks, like I'd say anything other than 'yes.' Then he holds it at the entrance to my cunt, puts his left arm back around my shoulders to hold me still, and waits for the perfect on-screen moment of penetration before he shoves it roughly inside.
I squeal.
He likes it when I squeal and wriggle. Likes to watch me ride that line between pleasure and pain. Likes to hear me whimper 'ouch' and 'don't stop' within a single breath, and turn my head to look at him with wet eyes that plead for something I can't quite articulate.
"Please," I ask him.
"Please what?"
I do this a lot, this pleading. I don't know what I'm pleading for. He uses his hand, and this thick, fat dildo to punish me like I'm in trouble – slamming it in and out of my cunt in time to the porn on screen. Whipping me into a frenzy of whimpering and squealing and breathless gasps of the word "please."
"Please what?" He fucks me harder – deeper. So now I can feel not just the juddering thrill of the spiral texture at the entrance of my cunt, but the smooth head of this cock pounding against my cervix, and that delicious almost-orgasmic clench that tells me I'm near the edge.
"Please… Please…" No more words than that. I don't know what I'm pleading for, only that I know I don't want this to stop, and I also really need this to stop – reach a climax. Give me release. Whatever you'd like to call it.
But he's sick of wordless pleading now. He has the power to wrench my words from me even when I've forgotten how to speak, so he uses that power: he stops.
Just stops. For no more than a second he holds the dildo perfectly still in my cunt, and I howl with delighted agony.
"Please let me come!"
He passes me a clit vibe and puts it in my hand, the better to let him focus on more thoroughly hand-fucking my cunt. He drops to his knees on the floor for a better angle, and grips the base of the dildo tightly in his right. Then he stares straight at the swollen, dripping cunt that he's ravaging with this dildo as he pounds me with speed and power.
I come. So quickly – too quickly – I come. I come hard enough that I'm worried I broke it, but as he draws it out of me dripping in lube and my wetness, he grins and tells me:
"Now for the next one."
The next one is the Night King: longer than the last, this is the dildo I picked for no better reason than greed. But when it comes to picking dildos, there are far worse reasons to choose one than greed. Maybe 'hunger' is a better word: hunger to see what it's like being fucked with a dick so big that the pain could outweigh the pleasure.
I don't know if this is a metaphor or if it also happened at the time, but as I'm writing this I just licked my lips.
It's not time yet, though: not my turn yet. First he slides the dildo into the strap-on harness, and slips his feet through the straps. He's not going to use his hands this time, he'll go one better: fuck me the way he usually does, with strength and energy. Use his hands to grip my hips and pull me back further – deeper – onto this brand new cock.
He slides his own erection out of the harness, so it sits just beneath the dildo – thick as fuck, hard, and ready to fuck me too.
"Bend over," he orders. "Properly. I want to see your face on the carpet and your hands spreading your cunt."
When I touch my cheek to the carpet I feel wetness, and realise I'm crying. Nerves, excitement, terror, arousal: all of the above.
When he slides the dildo inside me he says I'm a good girl. And I am. I'm good. I bite my lip and feel each bump and ridge and curve as he slowly pushes it into me. And I feel the moment of resistance when it hits the back of my cervix, nudging the bruises that are already blooming from before.
"OK?" he asks, like he wants me to say no.
"No," I say, and "it hurts." Because all this is part of the game. When I tell him 'no' I wriggle onto the dildo further, inviting him to give it back to me good and hard.
Which he does.
There's a relentlessness about being fucked when he's wearing the strap on. He'll pound me with an almost robotic speed and efficiency. Faster and harder than he would with his own dick. I guess he's not having to worry about holding off from coming – there is never a need to pause and regroup if my cunt twitches too tightly for comfort. He can bang me as hard as he likes, for as long as he likes, with nothing but safewords to stop him.
I don't use a safeword, but I do squeal and moan. I press my face hard into the carpet, and use my now-twitching hands to grip and scratch at the fabric – using nervous energy to distract me from the pain the way I sometimes pull my hair if I stub a toe. This is painful, but good, but painful, but good, until I forget which bit hurts and which makes me happy. Up is down, down is up and I can't tell which as I paw at the floor and keen with joy-misery-happiness-agony as he slams the full length of this silicone cock deep and hard inside me.
For a finale, he orders me up. And I haul my weeping, trembling, post-and-pre-orgasmic body over to the sofa so I can bend over the arm of it. Presenting my ravaged cunt for him to inspect and croon over:
"Good girl." He tells me, with genuine approval and pride. "You can take so much fucking cock, you know that?"
I nod and whimper.
"Do you want some more? Because I really want to get my cock inside and feel just how wet you are."
And I am rendered incapable of communicating in anything other than gestures and breathless sounds, so I nod and whimper one more time.
He pulls the strap on dildo to one side, and slides his own dick into the twitching wetness of my cunt. And it feels so good and warm and perfect. The hardness of it. The texture. The smoothness of the skin and the way it twitches. I wriggle back onto it with pleasure, letting out a sigh that comes right from the pit of my stomach – after the relentless, oversized perfection of the silicone dildos his own cock feels so refreshingly alive.
I stop whimpering and instead start to moan, as he plunges in and out in smooth, firm motions, crooning at me that I'm a good girl and my cunt feels so good around his dick. Then just as I am starting to relax into the familiar, homecoming sensation of his own cock inside me, he pulls back and slips the Night King in again – shoving good and hard so I can feel it smacking the back of my cervix.
I yelp. I squirm. I scrabble again with both hands at the fabric of the sofa, an involuntary response that serves no purpose I can discern other than the output of excited/terrified energy. Just as I'm getting used to the length and curve and all-powerful punch of this dildo, he pulls out again and slips in the next one – the Helios – and I am stretched out again and so fucking full and overwhelmed with the tingling rasp of texture at the entrance to my cunt.
My only regret at this point is that we're not fucking in front of a mirror, where he could better see my eyes rolling back and me holding my breath till I go red: the better to focus on every atom of sensation as he takes it in turns to fuck me with each cock. One. Then the other. Then the other. Starting slowly, just giving me enough time to get used to one of them before he switches out – practically begging me to try and guess which is which.
But soon he senses me slipping too far into 'pleasure', losing the sense of intimidation which I had at the beginning. So he decides to change tactic and take back the power he was so enjoying wielding over me. I'm wet enough for it now. Hungry for it. Begging him for it. So he gives it to me: each cock for three or four strokes, slamming as hard as he can shove it into my cunt. I get just fucked enough by each that it makes my eyes bulge, then before I have the chance to identify what it is, he's whipping it out of me and leaving my cunt to spasm at the agony of the loss. Then back in with the next one: thick, squishy, textured, smooth… I can barely tell any more which is which.
All I know is that there's cock. Then more cock. Then a different cock. As he fucks me with his dick, a strap on, two dildos and a relentless drive to give me everything I want and more.
Over and over. Taking it in turns until I can't remember which is the best, or my favourite, or the biggest, or the hardest, or any of the tedious superlatives that make no sense when you're in the middle of a fuck that's leaving you breathless.
He fucks me with four dicks, comes inside me with one.
And when we are spent, I collapse.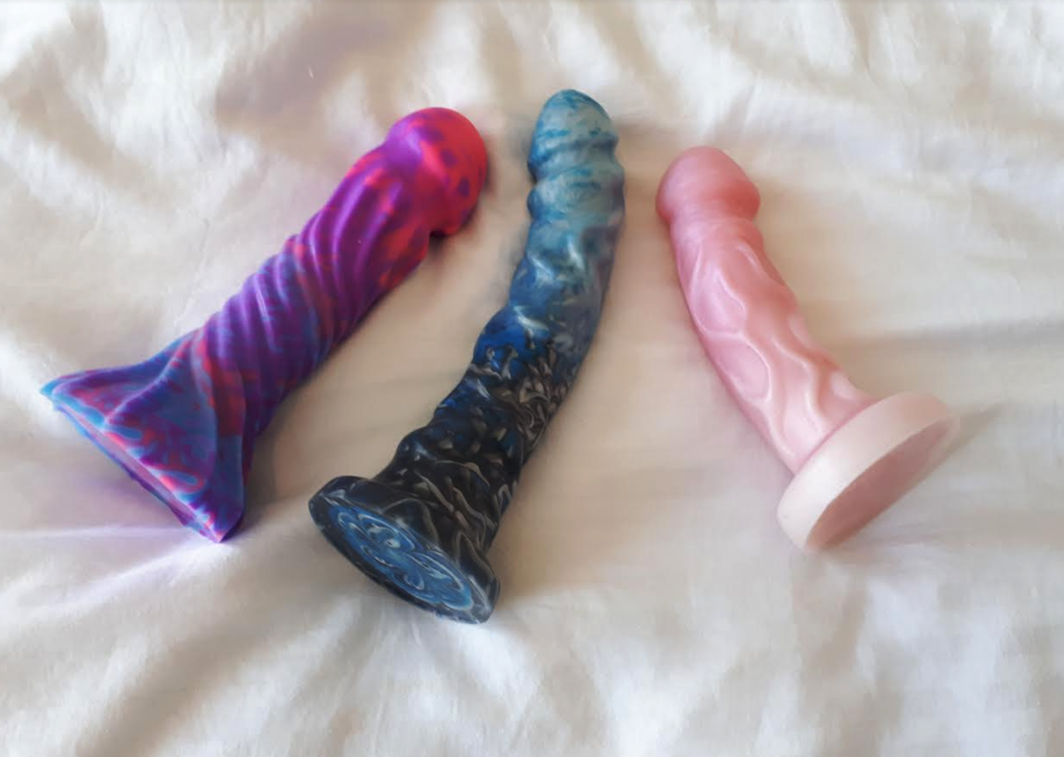 This post is also available as audio porn – click 'listen now' above, or head to the audio porn page to find more sexy stories read aloud.

Big thanks to Peepshow Toys for sending me these amazing toys – this will certainly not be my last massive dildo orgy. If you'd like to buy one (or three) of your own, head to their website and use the code GOTN10 for 10% off.