It is categorically none of my business what you stick in your cunt. As long as it is a) not going to cause you (or anyone else) damage and b) not something which you have stolen from my house, then I wish you the best of luck and happy wanking.
However, I have a minor personal gripe with the sex toy industry, and it goes a little something like this:
WHY IS SO MUCH OF YOUR STUFF SO FUCKING CUTE?
Sorry, correction: why is so much of your girl stuff so fucking cute?
I'm not saying no one likes it, or that it should be banned – I'm sure there are plenty of women who are happy to stuff bright pink menageries up their vaginas. And to be honest, I'll do the same if there's nothing else to hand and I fancy an executive wank.
But I resent it, deep down. Because my usual method of shopping online, no matter what I'm buying, is to sort it into colours and then pick the least sparkly. I'm with Henry Ford: it should come in any colour, so long as it's black. And at least 7 inches. And powerful enough to bruise my cervix.
I'm pretty sure that's a direct quote.
No, I do not want a face on it
Pink things aside (because I know I am in a minority in my general hatred of colour) could we at least stop pretending that in order to get a woman to insert something into herself, it needs to have some sort of animal on?
It's as if, when Ann Summers invented the never-bettered Rampant Rabbit, the head of their marketing team (let's call him Dave) said "hey, it looks like women like rabbits. And cute things. Let's give them more animals to fuck!" and everyone shifted awkwardly in their seats and didn't say anything because Dave was the boss and they didn't want to embarrass him. Well they should have embarrassed him. Someone should have stood up and said:
"Look, Dave, I don't want to make things awkward for you, but women don't like fucking rabbits, OK? I mean, maybe one or two women like fucking rabbits, but the majority of women don't like fucking rabbits."
"So," Dave retorts, with a smug 'you're almost fired' smirk on his face "if they don't like fucking rabbits why are they buying the Rampant Rabbit, Trevor?"
At which point Trevor leaps to his feet and shouts "BECAUSE IT DOES GOOD THINGS TO THEIR CLIT, DAVE. WOMEN LIKE IT WHEN WE DO GOOD THINGS TO THEIR CLITS."
And there you have it. The Rampant Rabbit is awesome because it has a bit that goes inside and is all swirly, and makes your cunt feel good, and a simultaneous bit that goes on the outside and buzzes against your throbbing clit. The fact that the outsidey bit looks like rabbit ears is no more relevant to your orgasm than whether the box it came in is made from recycled cardboard.
Does cute do it for you?
There's a movement recently towards more abstract sex toys: shapely things that could just as easily be an ornament as a fucktoy – I wholeheartedly approve of these. I also approve strongly of the ones that look like plain, old-fashioned cock. These are excellent.
But I don't understand why there are still so many that have been Disneyfied. Whether it's making them vaguely dolphin-shaped, branding them with Hello Kitty, or giving them the face of a creepy mutant smurf.
As with everything I write this comes with a gigantic flashing neon caveat that says 'some people will disagree with me.' Because there is no single sexy thing on which all humans can agree, there may well be people who are more aroused by a sex toy if it comes with a grinning face.
But these people – and I don't think I am going out on a particularly shaky limb here – are almost definitely in the minority. How often have you heard someone say 'that's hot, but it'd be totally hotter if it had a tail like a chinchilla'? It's just not that common. What's more, if these products really are catering to a significant group that gets aroused by cute things, surely we'd see a slight overspill into the male section of the market. And yet, as far as I know, no sex toy manufacturer has captalised on this particular opportunity by sticking googly eyes on a Fleshlight.
It's marketing, yeah?
No one at Lovehoney has yet offered me a lucrative blogging contract, so I do not have access to amazing data on what people do and don't want in terms of sex toys. It is possible that the reason they are making these products is because there is huge demand for them. When they send people out to accost women on the street and ask them what they would like to stick in their vaginas, many of those women might say:
"I don't mind, as long as it looks like a furry rodent."
And their market research people rush back to the office to get Dave all excited about the Clit Squirrel.
So, it's possible. But again, if cute fucks are so popular, why is this phenomenon mostly limited to female-solo toys? After all, we don't paint smiley faces on strapon belts, or market sex swings as 'cuddle harnesses'.
If women are genuinely more likely to buy things because they're cute, that suggests toys need to be made unsexy before girls will feel confident about clicking the 'buy' button. Is this because women are naturally more squeamish about sex? Or is it because women are constantly told that we should be more squeamish about sex? That we should be virtuous and innocent, and the only possible reason why we might buy something that is sex-related is not because it makes our cunt throb with a need to be fucked, but our ovaries squeal in appreciation of how adorable this particular sea horse is.
I'm not going to say I know either way, because I'm just speculating. But I'm speculating pretty fucking hard that it's the latter.
How do we solve a problem like a sparkly dolphin dildo?
As ever, I'm not calling for a ban, because the inside of your vagina is no business of mine. However, I am going to publicly and loudly state that the only things I care about with sex toys are:
safety
price
whether it does good things to my sticky bits
I not only don't care if it's cute, I'll be actively turned off if it is. I don't want people to stop making them, or those that genuinely like them to stop buying them. I just want Dave in marketing to have a think, when deciding whether to shape a new vibrator like a creepy smurf thing, why exactly he feels he needs to.
As for the women who prefer our sex toys without My Little Pony-style packaging, who get annoyed when something that provides a genuinely nice wanking experience (i.e. the Rabbit) has to look like a Happy Meal toy – I'd like us to be louder and more honest in our feedback. We need to send a message to manufacturers that, for many of us, this cuteness is not only unnecessary but – if their goal is to make us come like a freight train – actively unhelpful.
I don't want to rub my clit with a gerbil, I just want to rub my clit.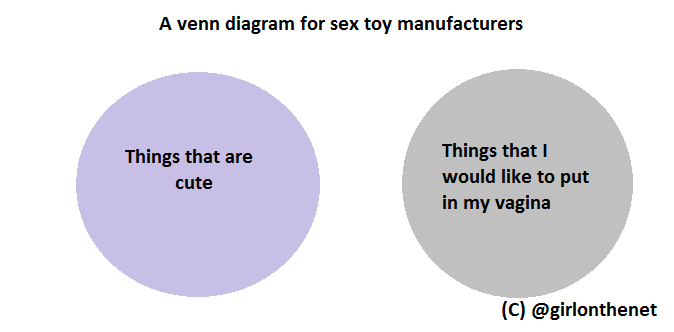 Some of the links in this post are affiliate links, so if you buy toys from the companies I get a small cut of the money which helps me keep this site running.