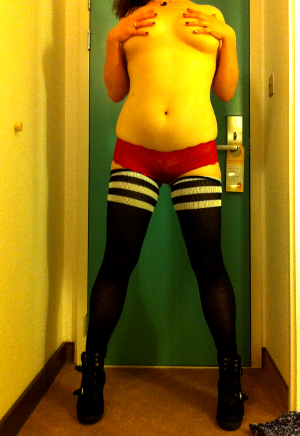 I usually rock up to dates in jeans. Jeans say 'I'm not necessarily going to fuck you'. This might come as a surprise given that apparently I'm the sort of slapper who would solicit pictures of erect cocks via a mediocre sex blog.
But I don't shag everyone – I'll only sleep with guys I actually fancy. Wearing jeans as opposed to short skirts and hooker boots helps to reinforce the idea that we're having a casual drink which might lead to sex rather than a swift half-pint and hello as a prelude to guaranteed sex.
But once the initial introductions and the first few shags are out of the way, it's fun to surprise someone by changing from a scruffy, chubby, late-twenties goth figure into a stunning hellcat beamed in from the alternative sex dimension. Or a poor man's version of it, at any rate.
Here are some clothes that are sexy:
Stockings
And not fucking silky ones with suspenders either. Proper massive old wooly stockings (see fig. 1), that you can roll right up to the crack of your butt-cheeks and get on and off in less than 7 seconds. Stockings you can tear at without them falling to bits. Stockings you never need to worry about ruining.
Frilly/colourful pants
Proper pants as opposed to insubstantial bits of string. Burlesque-y. Lacy. Frilly. Pink. YES I SAID PINK. On the outside I'm grey and black and beige and denim and drab. But underneath my pants will usually be brilliant, with little pink hearts or turquoise stripes and bows and bells and whistles.
OK, maybe not whistles.
Necklaces
They frame the neck nicely, decorate my décolletage, make me look feminine and gentle. They also give you something to aim for when you're jizzing on my tits.
Massive fuckoff boots
Look at me! I am gigantic, and my legs look shapely and brilliant! I will crush you beneath the heels unless you do me this instant! Boots rock. If you let me keep them on I'll let you stick it wherever you like.
Fishnets
Tights, I mean – they make my arse look spectacular. These you can rip to your heart's content because they never last long anyway. Reach up into the crotch, tear a hole in them and then slide my knickers to one side so you can touch my cunt. Mmm. Fishnets.
Corsets
Oh god. Oh god. Oh god. You know how it's lovely when you squeeze my tits? A corset does exactly the same thing, but harder, and more permanently. If I'm alone sometimes I'll put one on, tie it nice and tight, and fuck whatever I have to hand until I reach sweating, writhing, deliciously restricted orgasm.
As an aside – gents – if I'm wearing a corset it's because (brace yourselves) I want you to fuck me in it. It's always a bit disappointing if I've got all dressed up and a guy wants to take it off – my slightly disappointing naked torso is never worth removing a beautiful corset for. So bend me over, grab hold of the laces, and fuck me like an 18th century chambermaid.