Last night I walked into my flat, dumped a backpack overloaded with swag and very sweaty shirts onto my bed, and then hauled my exhausted body to the bathroom. Everything was weirdly dark, save the flicker of a few candles. On the windowsill my other half had placed a bottle of wine, a glass and a bluetooth speaker blasting 'We Are The Champions' by Queen. How does this even happen? What bizarre luck leads to someone doing such a lovely thing, for me?
One hour earlier, I'd slipped quietly out of the upstairs room of a lovely London pub. It was hot, and filled with chatter, and I suck at goodbyes. I left old friends, new friends, and people who fall somewhere in between – whose words I'd read and loved on Twitter but whose faces were new to me. This, too, is a strange situation. I'm anxious and antisocial – as bad at saying 'hello' as I am at 'goodbye.'
Three hours earlier, I gave tentative (and probably sweaty) hugs to people who had traveled miles just to assemble in one place. Lovely bloggers, writers, educators, adult performers and journalists from all over – the U.S., Canada, Europe… we even had someone from New Zealand! And that's weird too. Like, how does this even happen?
It happens because two days before that, I watched over a hundred people file excitedly into Arlington House for the start of Eroticon 2017. Which in turn happened because in the months running up to the event, people shared info about Eroticon, chatted about it on Twitter, bought tickets and got excited. Because sponsors took a punt on some ambitious plans and offered us the money to help make them happen. Because speakers from across the world were generous enough to share their time and knowledge.
Because Molly Moore and Michael Knight decided to pick up the Eroticon torch from Ruby Kiddell, and I offered to help out, and then lots of other people joined in to make it happen.
I'm going to write more posts about Eroticon, but for now I wanted to give a quick overview of some highlights, following the excellent idea proposed by @writtenbyjenny.
Ten things I took away from Eroticon 2017
10. Amazing swag
I like freebies as much as the next person, but sadly I tend not to do much freebie-getting because I'm such a hermit, and I can't give out my address. So I was bloody DELIGHTED with the amazing swag given to us by sponsors and fellow attendees. I also picked up a couple of beautiful new toys and some books recommended to me by Victoria Blisse.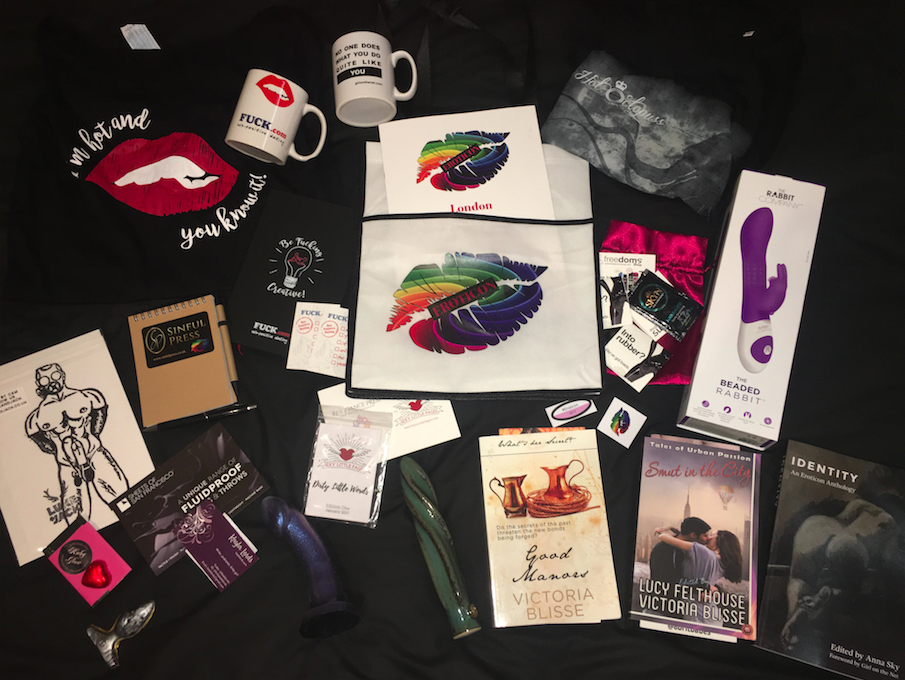 Ready? From top left – kickass t-shirt, mug and 'get fucking creative' notebook from Fuck.com, Girlonthenet mug with 'no one does what you do quite like you' slogan, gorgeous Hot Octopuss t-shirt.
From middle left: handmade printed cards from Luke and Jack, notebook from Sinful Press and pen from The Rabbit Company, Eroticon bag and programme, condoms + lube from Freedoms Shop, fantastic beaded vibe also from The Rabbit Company.
From bottom left: chocolate from The Ruby Glow, butt plug fridge magnet from Godemiche, cards and condoms from Kayla Lords, promo stuff from Sheets of San Francisco, sparkly dildo also from Godemiche, mini book of erotica from Sexy Little Pages, beautiful ceramic dildo from Ceramic Pleasure, sexy books from Victoria Blisse, Eroticon stickers and the brilliant Eroticon anthology.
9. New friends
There are so many people to include here, but of particular excitement for me was getting the chance to meet and chat to Emily Rose Yates, whose work I have been following for a while, @19syllables who once wrote an astonishing and moving guest blog for me. And there are many many more people – old friends and new, who I want to write about/talk about more in a later post. I also need to do some proper thank yous to all the people who volunteered and helped out.
8. Work opportunities
I think I have a couple of fun ideas to pitch to sponsors Fuck.com, and over the course of the weekend I've also gathered lots of new ideas for articles to pitch, blog posts to write, and even a short story and a poem or two.
Anyone who's been to Eroticon before knows that my main message in my talks is usually 'pls take my tips and use them to earn some cash' – so one of my weekend highlights was having a lovely chat and catch-up with F Leonora Solomon, who told me that she had used advice from a previous talk I gave to make money to cover her next Eroticon ticket. This makes my soul happy, and I hope others can do the same thing using some of the tips from my talk this year.
7. A call to action
Sadly didn't get to attend any session in full, except the ones I was hosting, because I had to spend so much time running back and forward to make sure things were running smoothly. But I managed to get to most of Jasmine and King Noire's session which was a huge eye-opener in terms of not just the level of racism in porn, but the blasé attitude that many white performers and producers seem to take when confronted about it. There were lots of practical tips in this session for writers, on how to spread the word and advocate for change. I love talks which I can walk out of with tangible ideas and actions, so I'm going to write on this more as soon as I can. Meanwhile check out their (NSFW) website Royal Fetish Films and follow them both on Twitter (links above!).
6. A new hero
On Saturday night we were joined by comedians Ros Ballinger and Chris Coltrane, who made us laugh about sex (and got us to cheer a Doxy held aloft like a giant trophy) as well as burlesque performer Rubyyy Jones who I had never seen before, but who I now really want to be. Unfortunately no one can be Rubyyy quite like Rubyyy, so I will have to settle for admiring her from afar.
5. Money
Thanks to Victoria Blisse, we had a book stall up and running this year, so that writers could bring their work and sell it at the conference. So I have come home with actual cash from the sales of Eroticon anthologies. We sold out the anthology in about 2 hours, so huge apologies to anyone who didn't get one. You can buy a printed copy direct from Amazon, and I will make a note to have more available next year!
4. Resolutions
I've been emailing back and forth with the other organisers today, and we're fired up with ideas and resolutions for next year's event. There are a few fairly obvious things in my mind to tweak, but we will have a survey up soon to get people's feedback, and will be actively encouraging everyone to state even the very obvious so we can make sure we take everything on board, and consult closely with the venue as well.
3. A mission
One of the most wonderful things for me – I think I've mentioned it twice already – was just how many people came from far away to join us. Val Prozorova all the way from New Zealand, My Tickle Trunk from Canada, Marvy Darling and Sarah Brynn-Holliday from the US blog squad, and so many more. Being able to introduce some of these fab people to our UK writers (and vice versa) was genuinely one of my favourite experiences of the weekend.
I would love to do this the other way round – one of my many missions now is to help UK bloggers attend the Woodhull Sexual Freedom Summit in the US which I was lucky enough to attend last year. If you're a company who might be willing to help make this happen, please do get in touch. There were lots of companies who helped get people to Eroticon this year – HornyGeekGirl was sponsored by Lustery and Sheets of San Francisco, for instance, and supporting bloggers to attend events is a good way to get mentioned even if you don't have budget for a full stand and presence at the event.
2. Aching muscles
I have never been quite so exhausted in quite such a satisfying way. I slipped into my bubble bath when I got home and cry-laughed for about twenty minutes. In between cry-laughing, I told my dude all about the weekend, and he listened as I poured out all the love I have for the amazing people who came.
1. Two very valuable hugs
OK, I'm cheating here because this wasn't technically something I took away – it's just something I had. At the end of the weekend, just after I drained the rest of my pint, I snuck up to Molly and Michael (co-organisers of Eroticon) to say goodbye and thank you.
Over the last nine months, since Eroticon 2016, I've got to know both of them a hell of a lot better. Seen their delight when things come together, and their determination when things looked like they might be going wrong. They've been fiercely supportive not just of me but of so many others in the Eroticon community, and worked so hard to bring so many good people together. We've had our moments of stress, and our long nights of planning, and a whole lot of help from other people too. And though there are bits and pieces we'd like to improve, it was nice to share a moment together to reflect on what went well – to hug, and say thank you to my amazing friends, who let me be a part of a really wonderful thing.
There'll be more posts inspired by/about Eroticon coming up soon, I just wanted to add something quickly before I go and have a big old rest. Keep an eye on the Eroticon tag here and on Twitter for more info. And if you'd like to join us next year put the 17th/18th March in your diary – tickets will be on sale soon.