Image by the fabulous Stuart F Taylor
It's that time of year again! You know the one, where you run around shopping centres or scroll listlessly through Amazon hoping inspiration might strike. If you're a bit like me, you'll be a very last-minute shopper. If you're a lot like me, you'll be thinking 'shit, I have to get my other half something really good because last year he got me a selection of thoughtful treats and I just panic-bought some Lego Technic.' Fear not. If you're shopping for someone you're boning, I've compiled a selection of some of my sex product highlights from 2018: NSFW Christmas gifts that come with my personal seal of lust.
Before we begin, you need to know two important things. Firstly, anything you buy from this list will give me either kickbacks or kudos – some are links which are affiliated (which means I get a small cut of the money if you buy them), and others are links to my sponsors (which means they can see their advertising money has been spent wisely at my site, and thus be more inclined to buy more ads off me in future). In the past, I've done gift guides which are mixed between these kinds of links and other links just to random stuff I think is cool. But there was too much brilliant sex stuff this year for me to cram in other shit just for the sake of it, so this year it's NSFW Christmas gifts all the way down.
As with all sexy gift buying, make sure you're doing it considerately and consensually (Hot Octopuss has a great guide on how to buy sexy Christmas presents here – I promise it's good, I wrote it).
Now lube up, scroll down, and buy some NSFW Christmas gifts for the lucky folk you're banging.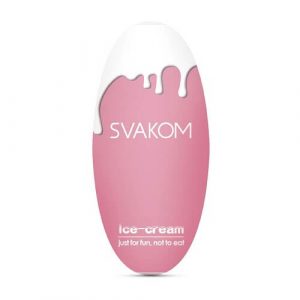 YES, it is more than possible to discover the total delights of dick toys without shelling out tonnes of money. This year I did a fun experiment in which I pitted different strokers against each other in a blindfolded wank test with my partner, and this adorable little egg scored incredibly good marks.
Get the Svakom egg masturbator from SexToys.co.uk, and use GOTN10 for 10% off anything on their site.
In case you want to splash out a bit more on a masturbator, I can also recommend the Fleshlight Flight Pilot. It's the masturbator that's seen the most use in my house, and I have a LOT of masturbators.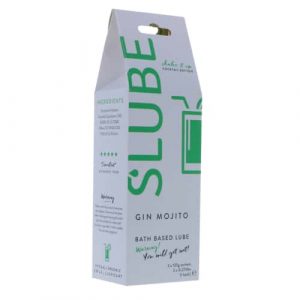 Remember a while ago I wrote about having slippery, sploshy sex after bathing in a tub of green goo? You too can experience this unique and surprising joy, with your own Slube bath gel. You just run a bath of warm water, pour in the stuff which looks like bath salts, and it magically (OK, scientifically, but I don't know the details) transforms your bath into a lake of sexy sploshy slippery stuff. It's totally body safe and degradable, so when you're done you just wash it down the plughole like so much spent jizz. I love it.
Grab some strawberry daquiri scented Slube from SexToys.co.uk, and use GOTN10 for 10% off.
They also have Gin Mojito (pictured), Pina Colada, Black Leather, or unscented if that's more your sort of thing.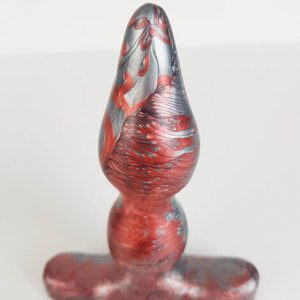 It's a really beautiful butt plug, in swirly/pearly colours, and it's only £14 (or £20 for the large). What's more, this was literally designed live and in person at Eroticon a couple of years ago: the Godemiche folks were talking to sex writers and shaping clay at the same time, and the eventual design turned into this gorgeous creation. I wrote about it recently in this post on butt plug training, and I really love mine.
Grab an Apex Bi-Pearlescent, and pick up some other fun Godemiche stuff at the same time – use code GOTN10 for 10% off.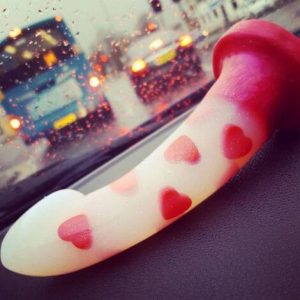 I've written about the Ambit dildo before – it's one of my absolute favourites for G-spot stimulation, because the curve suits me perfectly. I have a purple and white sparkly one, but seeing as I could always do with more (most days my Ambit spends at least a couple of hours sitting drying by the side of the bathroom sink) I would also like to own one of these romantic fuckers.
Pick up the Ambit hearts directly on their site, and use the same code as above – GOTN10 – for 10% off.
If you're not into the hearts, they have LOADS more lovely dildos on their site, including some really clever new designs in the 'Colourflage' range.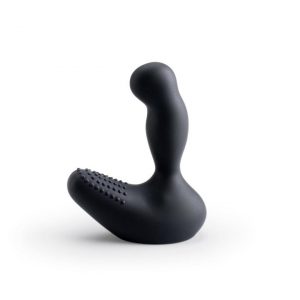 I wrote before about how fantastic the Doxy Number 3 is – it's a smaller, lighter version of the intensely powerful Doxy massager, and to be honest that alone should be enough to recommend it. But now, Doxy's teamed up with Nexus to offer a whole load of different attachments for it. They're really easy to switch over – you just unscrew the Doxy Number 3 head and screw on whichever bauble you fancy using at that moment. I really want this prostate massager.
Grab this prostate massager attachment, or any of Doxy's other amazing things (they're all brilliant: fact) directly from their site, and use GOTN15 for 15% off and free shipping.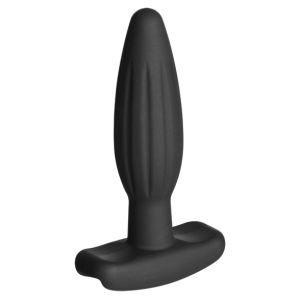 As I might have mentioned one or two or three times before, I really love butt plugs. For me, they enhance PIV sex, because I get to have someone really fucking pounding me while I feel full and stretched out everywhere. Butt on top of this they can be awesome to play with on your own too, especially if – like this one – they come with extra features like the ability to be connected to a Flick Pack and used to deliver intense, tingly sensations.
Grab a silicone noir rocker plug (and a Flick Pack if you don't have one already) directly from ElectraStim. Use code GOTN10 for 10% off.
Atom Plus cock ring – £69 (nice)
If I gave out awards for 'sex toy that has had most impact on my life', this would be tied with Zumio in first place as the winner for 2018. See Zumio stuff below, but for the Atom Plus cock ring I feel like maybe all you need to do is go and read the story I wrote back in March about the delight of getting fucked with a taut, shiny, super-hard cock. It's got two powerful motors, and if you ever run into the boss of Hot Octopuss at a party, he will happily explain to you in delightfully nerdy detail how tricky it was for him to invent a cock ring that had dual motors running off the same battery, but which also had just enough stretch to be able to fit it over a cock. Short version: it was hard. Almost as hard as your cock will be when you wear this.
Get the Atom Plus cock ring direct from Hot Octopuss for £69, or the Atom (with just one motor) for £49.
Zumio – £134.99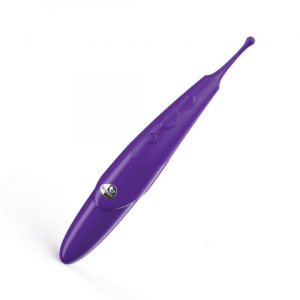 As I may have mentioned already, this sex toy – along with the Atom Plus – is one of my toys of 2018. For the simple reason that honestly, wanking with it is an absolute dream, and I was genuinely shocked by how much I enjoyed using it. It gives really pinpoint, precision stimulation, which is the exact opposite of what I enjoy with my Doxy, so it's introduced a welcome note of variety into my vag-rummaging. Also recently I went away for a week and forgot to properly charge my Zumio before I left. It didn't stop dead, just slowed its pace a little, and I was introduced to orgasms that took slightly longer (5 minutes as opposed to 1), and made me feel like I was entering a genuinely different – and even more intense – plane of orgasmic existence.
Pick up a Zumio from Peepshow Toys in the US and use code GOTN10 for 10% off. You can also find some amazing dildos at Peepshow, as discussed in this post – Massive Dildo Orgy.
Or if you're in the UK you can get Zumio from The Pleasure Garden
These are the only two links on the page that break my 'kickbacks or kudos' rule – I can't find Zumio on any of the sites that sponsor me, so I'm linking you to two kickass ethical sex toy shops who've sponsored me in the past. They are both awesome and thoroughly deserve your custom, check 'em out. 
A sexy holiday in Cancun – £1,400+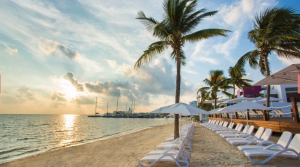 I said I'd allow myself to include one or two really blow-out items on this year's list, if only because there are two things I really want the rich people amongst you to buy. First up is this absolutely amazing-looking holiday courtesy of Temptation Holidays. It's in Cancun, it's all-inclusive, and it's an adults-only resort which hosts themed play evenings, sexy pool parties, and loads more. I really want to go, and also I am kind of shy and broke. But also I am saving up and investigating whether I can juggle some old airmiles my partner has to make it so we can fly out there. Watch this space, but in the meantime check out their website and see what other sexy adventures Temptations have to offer…
Check out Temptation Resort Cancun
See other adult trips offered by Temptation Holidays…
The Cowgirl – £1572.80
As promised, here is the second of ONLY TWO super-expensive things I'm allowing myself to add to the Christmas list. It's on here because ever since I got one, and wrote about it, I have had a fair few people asking if they might be allowed to borrow it. It's a giant, sit-upon vibrator which comes with silicone attachments for you to ride, and it fucks you absolutely relentlessly. For the record, you can't borrow it unless you know me, but if you are one of these people I've heard of who gets a huge regular salary as opposed to a freelance writer's income, you might want to buy one of your own.
Pick up The Cowgirl from SheVibe for £1,572.80 (or $2,000ish) and use the code GIRLONTHENET10 for 10% off.
Door jam cuffs – £14.95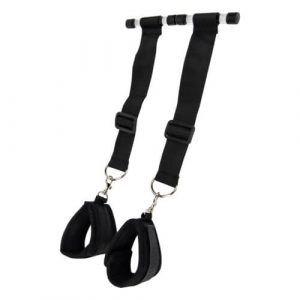 I'll end with something cheap again, because I don't want to leave you feeling like Christmas is cancelled just because you can't spend fifteen hundred quid on a Sex Pony. Most of us can't. But some of us can afford these awesome things: door jam cuffs. So called because you jam the metal bits in a doorway, and then cuff your favourite submissive to them while you whip/spank/tease/bang living fuck out of them. I adore mine, and I've spent quite a lot of my 2018 telling anyone who'll listen that they're the best value per £ spent of pretty much any of the bondage equipment I own.
Grab some from TabuToys in the US for $29 (use code GOTN20 for 20% off) or from SexToys in the UK for the almost absurdly cheap price of £14.95 (again, code GOTN20 gets 20% off)
Buy NSFW Christmas gifts, support my site
Don't pretend you didn't know this was coming: the bit where I try to sell you on supporting my site by buying stuff through the links. If you're a regular reader you'll probably be aware of some of these fab companies already thanks to the sparkly adverts that adorn each of the pages. Well, now's your chance to say 'thanks' to them for keeping me in food and jumpers and internet access throughout the year. You don't have to buy from them, of course, but if you buy anything through any of these links, you're supporting my work and making sure I can keep fucking, sucking, wanking, and then eagerly telling you all about it throughout 2019.
Not found what you're looking for? If you are hankering for a NSFW Christmas gift for someone but nothing on the list above leaps out at you, leave a comment below and tell me a) the sort of stuff they like and b) your rough budget and I'll see if I can recommend something that might work. Think of me like one of Santa's elves, if Santa's elves were sweary and best kept away from children.