I want to write a quick '10 things I took away from Eroticon 2018′ – thanks to The Other Livvy for kicking it all off this year! But before I get into my 10 things, I wanted to explain the one big thing that's been going round and round in my head since I collapsed, exhausted, on my living room floor on Sunday: I want to be more like other people.
Writing is quite a lonely job, and I often forget just how different it is to the jobs I used to have in offices across London. When you're a freelancer, people often ask if you miss the office gossip and chatter, if you miss having friends and colleagues with whom you can dissect the latest news or moan about the workload. And the answer is 'yes', but I can find many of those things on Twitter. What I miss – what I really miss – is learning from people by watching how they work. In my last 'real' job, I had a truly incredible boss, who managed to combine professionalism, kindness, and efficiency in a way that I'd have struggled with myself. And that kind of thing is tricky to learn from the words someone writes on a page.
But at Eroticon, I got to meet people whose work I've admired for years, and hear them talking about the ways in which they do it – the thought processes, the ambitions for the future, and the important mistakes they made along the way. Just before I left for Eroticon, I wrote about how I'm a much more frightened person than I used to be. I'm working on it. And one of the most important ways I'm working on it is in trying to learn from other people – those who are braver, more knowledgeable, kinder and more forgiving than I am, and who make me think 'yep, I wanna be more like you.'
There were a lot of those people at Eroticon. In fact, everyone I met made me think 'oh wow, I wish I was a little more X' where X might be their kindness, their bravery, their insight, their work ethic, their enthusiasm, or simply their heartfelt acknowledgement that they have made mistakes, and are always learning.
So with that in mind, here are 10 things I took away from Eroticon 2018.
Books to read!
Hey, it's a writing conference, so I have to come away with some amazing things to read: this year I failed to browse the book stall properly before the end of the con, so I asked Victoria Blisse to recommend me a few brilliant books – Rule 34, Tender, and Goodbye Moderation (Gluttony). These, along with this year's Eroticon anthology, should keep me busy for… oooh, at least two weeks.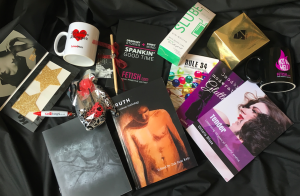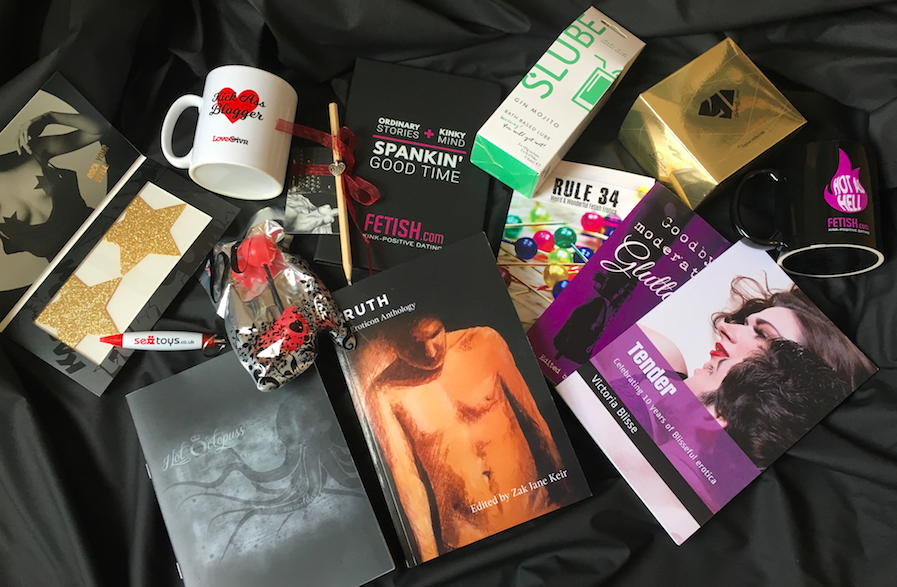 A renewed love for my favourite people
It's not an exaggeration to say that without Molly and Michael, I would not have made it through Eroticon this year. I struggled a lot on Saturday, having not slept on Friday night, so I was a bit frazzled (sorry!) and found it hard to focus on things for most of the first day. And that sort of sums up how I've been for the last couple of months, to be honest: leaning very heavily on these two incredible people to try and push through the difficult bits.
And yet every single time I see them, there is laughter, and fun, and kindness, and love. When I'm ready to flop, Michael's there with a hug, and when I'm two seconds away from exhausted tears, Molly's there with a big smile and a joke. I wanna be more like both of them.
An appreciation of our pals in the sex industry
Obviously our Eroticon sponsors need some love here: I can't tell you just how grateful we are for their support in putting on the conference. Not just financial support, without which we wouldn't be able to run the conf at all, but also their enthusiasm in getting stuck into the talks and workshops, and their positivity and enthusiasm in the run-up to the event. Here are all our official sponsors:
View a twitter list of all our 2018 sponsors.
On top of that, we had lots of people from companies buying business tickets and coming along to see what Eroticon was all about – thank you to them for getting involved, and I hope some of you will think about sponsoring next year if you'd like to be more involved! Thanks also to Nina Saini, who – like Eroticon – bridges the gap between companies and bloggers, and is always on hand to offer sound advice and kindness.
And I want to do an extra shout-out to a particularly amazing person. Aly from Hot Octopuss not only came along as a sponsor, but also gave advice and feedback behind the scenes on how we could improve the conference space. We didn't succeed in doing everything (which is my fault!), but we did manage to do some things better than last year thanks to Aly's advice. They are a really valuable person in our community and I hope you everyone got the chance to have a chat to them at the HO stand over the weekend!
Amazing swag
I'm always bowled over by the awesome things that people send for inclusion in the Eroticon goody bags – we get some fantastic contributions and I hope that everyone can get the chance to try out the samples and products that were sent! Here's a selection of what I took away (with apologies to the things I've missed from the photo above – some have already been consumed/used/etc):
Slube Goo (I literally have a BIG PLAN for this, combined with my Sheets of San Francisco throw, which I am going to do on Friday night. I have had it planned for ages as my post-Eroticon treat)
ETO Magazine (which hopefully will serve as a timely reminder for people to subscribe and come vote in their ETO awards this year!)
Nipple pasties, lollies and other lovely things from Bijoux Indiscrets
A lovely Doxy beanie hat (did Doxy KNOW it was going to snow? How?? They are clearly magic)
A gorgeous mug and notebook from Fetish.com
Pens and lube from SexToys.co.uk (seriously I can never ever have enough of these little one-shot lube packets, they're like sweeties for me)
Coffee from Coffee and Kink which is so on-brand it hurts
A super-cute pencil from Tabitha Rayne with a gorgeous etching in the wood (see below!)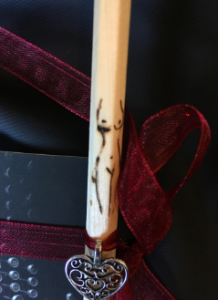 And in 'perks of the job' news, I managed to get hold of one of the Zumio toys brought by our fab sponsors Eropartner. These things are… kind of indescribably incredible? They look like smaller versions of electric toothbrushes, but they oscillate in a really thrumming, thuddy way.
A reminder that no one knows everything
On Sunday I managed to have a better day than Saturday – I'd had a few hours' sleep so I could appreciate more of what was happening. And on that day I got to listen both to Dr Jamie Lawson's talk on queer anthropology and host a panel with the wonderful Meg-John Barker and Justin Hancock about how to give responsible sex advice. Both of them really affected me. Jamie Lawson's because he was so candid about the things he used to believe, and the ways he's grown and changed. Hearing him talk about becoming as a continuous process was really important to me, and makes me feel more ready to challenge myself, as well as talk more openly about the things that I have said or done that I no longer agree with, and hopefully show others that we're all going through this process, all the time.
And Meg-John and Justin's talk affected me for similar reasons. At one point someone asked a question about bad advice they'd given in the past, and Meg-John talked about becoming too, and the importance of recognising (and acknowledging) the fact that you're on a journey. They also gave some incredible advice on how to answer sex and relationship questions – and the fact that too many people offer 'answers' when in fact sometimes the most helpful thing you can do is challenge and unpack the question. This gets to the heart of what I love most about their work: they don't sit on a pedestal dictating what people should do with their bodies or their lives, they encourage people to question and consider what they really want, rather than what they've been told they should do. Follow @megjohnjustin on twitter and keep an ear on their podcast.
A picture of my sweaty arse in a vac cube and a silhouette of my face
This was ridiculously fun, because I had previously been ridiculously terrified of the very idea of vac play. But thanks to Mac the Vac's enthusiasm, care and gentle encouragement, I decided to have a go in a vac cube. It was incredibly fun, and well worth swallowing my nerves for!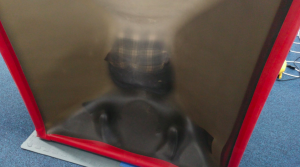 I'm not going to post a picture of the silhouette because Alison Russell, the fabulous silhouette artist who joined us for Saturday night, is genuinely so accurate in cutting them that I think someone might recognise me. But I'm going to treasure it forever, it is amazing. And if it weren't for Alison and the lovely, magical Daniel Barker (who joined us to wow us all with some often very sexy-themed magic tricks!) I'd have been a whole lot more stressed on Saturday when it turned out we couldn't use our full space due to snowmageddon.
A lot of love for freelancers
I've been a big fan of Kayla Lords' Smutlancer project for a while – she gives tips and advice on writing for money, as well as an insight into how she plans and organises her work. It brings a level of professionalism and nerdery to something which I've often struggled to see as a 'real job' – I think that's quite a common challenge when you turn your passion project into your day job. I couldn't make it to her talk but I did get the chance to chat to her in the pub afterwards and gush over the work she does to help me work more effectively.
I also could not stop grinning throughout Sarah Brynn-Holliday and Sarah Jane's talk on financial wizardry for sex bloggers. The tone was set pretty much immediately, when they flashed up a slide which said 'Your creative work has value, you deserve to be paid for it' and everyone started applauding.
Massive round of applause for the message at the start of financial wizardry talk @SarahBHoll @sarahjanedoes <3 #Eroticon pic.twitter.com/yOir4HJYOJ

— Girl on the Net (@girlonthenet) March 18, 2018
I make a lot of the mistakes they mentioned, I charge too little, and I do too much for free. And hearing this from them has (I think) given me a little drop of the bravery I need to begin doing this a little better.
Dirty thoughts
Sometimes I'm so busy with the conf that it's really tricky to actually chat to people. I kept having to tear myself away from interesting conversations to go and sort out coffee/room changes/water and all the little things that need sorting when the conference is in full swing. So thank you to the lovely people who managed to take me out of that for a little while and chat to me about filthy stuff. Victoria in particular, with whom I spent a very pleasant few minutes talking about the hotness of being grabbed in a sexy way (swoon), and Hy who thanks to a minor yet hilarious misunderstanding ended up getting my tits a little bit too out in the pub.
And of course thanks to the amazing people who read their work aloud on Sunday during the erotic reading session. So many of the stories were intensely hot, and hearing them read by the person who wrote them adds a powerful extra dimension to the emotion and sexiness of much of the work. It's one of my favourite parts of the weekend, and I'm really glad I managed to see nearly all of the readings this year – they're a massive highlight for me!
A to-do list
There were plenty of things that came up during the conference that I want to explore further. Things I need to mull over or work on as well as ideas I really want to get started with. Emmeline Peaches' talk in particular gave me a lot of food for thought, although I'm not sure I articulated it well in my sleep-deprived haze on Saturday afternoon. It resonated with me, and challenged me, and I'll hopefully have the mental energy to give it the time and thought it needs for its own blog post when I've had a rest. Elsewhere I had other really useful conversations with other bloggers about building bridges, an idea or two for collaboration, and an absolute tonne of amazing blog post ideas to get cracking on.
But it's not just about the practical things: it's the personal things too. As I said at the beginning of this post: I wanna be more you. I met so many people who inspired me on a personal level, and I'd like to take a leaf out of other people's books to help me do more cool stuff with my writing and my life. I'd like to be more thoughtful like Meg-John and Justin and Jamie Lawson. I'd like to be able to start discussions the way Oloni does, be able to tune out the trolls and engage with new things like Hannah Witton, and be prolific enough to have the reach that either of them has! I'd like to be able to see the world with fierce clarity and perspective like Miss Eve E, whose talk I absolutely loved and will try to write more on soon too. I'd like to be brave like activist bloggers Emmeline, Sarah and Sarah Jane. And brave like Charlie, too, although she doesn't think she is. Be more assertive like Hyacinth, who I love and admire and want to be in exactly equal measure. Have just one tiny drop of Jadis's potent enthusiasm. Be warm and friendly and creative like the lovely folks at Kinkcraft. And so much more.
These posts are always hard to write because I'll never manage to mention everyone I met or listened to over the weekend. But ambition will always exceed possibility – that's a thing I've learned from Molly and Michael. They call me the Moon Queen because I always want to do EVERYTHING, including deliver the moon on a stick, and if things went my way we'd end up doing nothing because I'd be too flustered about making it all perfect. They make sure that the important things are covered, and that we have the mental and physical space and energy to push ourselves to do more than each of us could ever have done alone. Every year we want to make Eroticon better, and do more with the limited resources we have. But if we achieved every single thing on our ambitious wish list, there'd be nothing to learn from and improve upon next year.
Thank you so much to everyone who came to the event – you made it awesome, and we love you. And hopefully we'll see you again in 2019!