A selection of awesome stuff from the ETO Show 2019. Photographed by me, so apologies for the terrible pic quality
Few things would induce me to haul my hungover arse out of bed and all the way to Coventry first thing on a Sunday morning, but the ETO Show is one of them. It's a trade show, hosted by the lovely people of ETO Magazine (subscribe on the website to get physical copies or register to read it free online), at which a bunch of sex industry companies gather to show off their wares, and cheeky fucks like me pop in to have a nose at all the latest genital gadgets. Here are some select highlights from this year's show, including a fuck machine that I am desperate to have a go on, and a bunch of sex toys that you lot can win.
Let's begin with a cheesy appetiser: I really love the sex industry. I like the people, I like the atmosphere, and in this industry I have made lots of friends who have interesting and cool takes on sex, life and the stuff we buy to facilitate both of those things. One of the reasons I struggle to do sex toy reviews is that I don't want to be an objective observer, carefully weighing the benefits of this fuckstick over that one: I want to play with the sex toys that appeal to me, and let my inner sex nerd burst out as I gleefully exclaim "I NEED a go on that FUCKMACHINE!"
I am not a rigorous and impartial observer, carefully weighing the pros and cons of each dildo, I am Julie Andrews leaping around a bedroom during a thunderstorm singing platitudes about her favourite things. So with that in mind, here are some of my highlights from the ETO Show 2019…
Where possible I've tried to include links to my current sponsors/affiliate links, so you can buy stuff if you like and I get a cut/kudos from the sale. If the link is a sponsor or affiliate one, I've included a * so you know. But click on all of them, because they're all worth checking out!
A two-person fuckmachine
Although I've been lucky enough to ride The Cowgirl, I have never tried a fuckmachine quite like this one made by Hismith. Not only can you use just one side of it for relentless machine fucking, you can also get two people – one at either end – and have a tandem fuck that involves you getting alternately pounded. Fully in sync. Sharing an experience that – let's face it – only a tiny percentage of people ever get to try in the course of their lifetimes. Not sure I would be able to handle the DP it could dispense, but perhaps with a little more butt plug training I'd be able to give it a go.
It was my absolute favourite thing at the ETO Show. Pretty please please please may I try one?
"But GOTN! How could you possibly go to a trade show and not take a video of a badass fuckmachine?"

Don't worry, I have not let you down: pic.twitter.com/KAmJHMzMpG

— Girl on the Net (@girlonthenet) March 10, 2019
SystemJo candy lubes (and spunk-looking lubes)
Is there a technical term for 'lubes that look like spunk'? I should know this, not only because it's my job but because these are some of my very favourite lubes on the market. I spent quite a lot of time at the SystemJo stand, because not only did I get to play with their spunk-looking lube – part of a new range of lubes called Bucked – I was also quite hungry so I settled down and tucked in to all their candy-flavoured ones. Butterscotch FTW. If you want to try them for yourself, they'll be available on Harmony* very soon.
Some absolutely stunning new stuff from @TENGA_PR – including a flip-style masturbator with textured 'orbs' inside and the SPINNER which literally twists round your dick when you wank with it. pic.twitter.com/KoxBNM6nfb

— Girl on the Net (@girlonthenet) March 10, 2019
SystemJo also have a range of delightful-smelling massage oils, which is handy, because I recently became a teeny bit obsessed with the scene that features tonnes of slipperiness. The scene won best Comedy Release at the Xbiz awards this year – Metal Massage (EXTREMELY NSFW link) and features hot tattooed performers Romi Rain and Small Hands. In it, they use a lot of lube/oil, liberally pouring it basically everywhere, and I want to recreate it. So… yeah… I need more oil in the future.
And some massage oils from @system_jo, one of which smells exactly like beach holidays I am OBSESSED pic.twitter.com/q4bSiDFuet

— Girl on the Net (@girlonthenet) March 12, 2019
The ElectraStim Axis
If you're not already familiar with ElectraStim, this won't make much sense to you, so I advise you to head over to my blog post in having an electric vagina or electrifying my boyfriend's dick to get an idea of what e-stim is before you read on. Basically they make toys that run electric current through certain parts of your body, giving you anything from a fizzy tingle to a crack of electric pain, depending on how intensely you like to play.
The Axis is their new bit of kit* and holy fuck does it do some cool stuff. It has a number of different modes, each of which is designed to give you a creative way to deliver the tingles/zaps that make e-stim so fucking sexy. Some modes have pre-programmed pulse patterns, which build over the course of your play. Others include things like motion sensors. In this video, I'm showing off the 'proximity' mode, where the intensity of the stimulation increases the closer you get to the control. Consider: if you had a submissive kneeling on the floor, with an ElectraStim dildo* inside their ass, you could tell them to hold still while you delivered a sexy beating. Hot, right? Even hotter, perhaps, to place the control pack in front of them so that if they moved they'd bring themselves closer to the pack, and have a zap of intense electricity shot through the dildo inside them.
I say 'them', but obviously you know I mean me.
*arrives at #ETOShow*
*immediately runs to @ElectraStim*
*begs for a go on Axis*

It's awesome. Here's me trying to show you the proximity mode – intensity of stimulation increases the close you get to control pack. pic.twitter.com/lSOhXi1yr7

— Girl on the Net (@girlonthenet) March 10, 2019
There are lots of other modes too, including one where you can increase the intensity if your sub cries out in pleasure, and another where you can hook the pack directly to audio output from a stereo. If you have one and you can try this with some of my audio porn, I would love to know how it goes – get in touch!
The CockCam
It's a cock ring with a camera attached. That's all you need to know, really, but for extra info I'll also tell you that the picture quality seems very good for what is essentially a fairly small camera, and it comes with a night-vision mode too. I've seen what I look like getting fucked from behind, and I'm not particularly bothered about that, but I definitely am intrigued by the idea of someone wearing this backwards, with the camera pointing up at their face, while they either railed me or had a powerful wank.
If you're worried that all you'll end up seeing is blurry shots of someone's wrist as they beat themselves into a stupor, welcome to the club. But having played a little with this at the show I think all you'd need is a bit of practice to make videos that show what you need.
For the exhibitionists and voyeurs among you, this is @TheCockcam: a cock ring with camera (and night vision) so you can record yourself at some very special angles. What do you think? Would you try it? pic.twitter.com/fG9BD1CVLy

— Hot Octopuss (@HotOctopuss) March 10, 2019
Tenga Spinners and a NEW flip toy
As you all know, I am obsessed with dick toys. I like being able to give hand jobs with superpowers, and Tenga is constantly coming up with new superpowers for me to wield on the dicks in my life. This is a video of the Spinner – a masturbator that includes a coiled wire embedded in the soft material, so all you need to do is pull on the tip of it, and as it slides up your cock it'll twist around, giving you an extra dimension of sensation. It can spin faster than this, it's just by the time I made this video I'd used up most of the lube in my enthusiasm to repeatedly try it.
Just writing up a blog on it, so here are a few more highlights from the #ETOShow on Sunday, including this amazing masturbator from @TENGA_PR which twists when you pull on it… pic.twitter.com/EdER5tNjcJ

— Girl on the Net (@girlonthenet) March 12, 2019
The lovely folks at the Tenga stand also showed me these toys – flip-open masturbators which have hard 'orbs' embedded, to give more intense sensation as you shove your dick through them. The blue ones act like a slalom course, so your cock nudges them to the sides when it slips past them. The orange ones act more like rows of intense ridges. Both of them feel fucking great on my fingers, so I expect they feel INCREDIBLE on your cock.
Some absolutely stunning new stuff from @TENGA_PR – including a flip-style masturbator with textured 'orbs' inside and the SPINNER which literally twists round your dick when you wank with it. pic.twitter.com/KoxBNM6nfb

— Girl on the Net (@girlonthenet) March 10, 2019
Temptation Holidays
These lovely people sponsor my site – they're a travel company that specialises in sexy holidays. Nude, swinging, and other kinds of sexy play. I am very keen to go, not least because I have never ticked off that obvious bucket list item "have sex on a beach", but perhaps more importantly because they have hotels with beautiful rooms that would be genuinely delightful to bring another couple back to.
I've talked about them a lot here before but what I haven't mentioned yet is that they've just launched an affiliate program for bloggers/writers/others who are likely to nudge their mates towards sexy holidays. Check it out on their website if that sounds like you!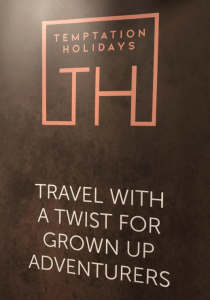 LoveGivr
My other half is always delighted when I come home from sex events with Yet Another X-rated Mug, so I know he's grateful that LoveGivr were at the ETO Show to dispense mugs which say 'Another day, another dildo.' These folks are also incredibly supportive of sex bloggers – sponsoring Eroticon for the last two years and generally bigging us up. They're going to launch their website soon, which will be a hub for sex writers, sex toy companies, and everyone who is interested in sex. Seeing as sex is suffering more and more platform censorship in places like Twitter and Facebook, it's a genuine joy to see a company striving to create space for us where we can speak openly and honestly about the sticky fucking we love.
Some brilliant mugs by @LoveGivr which my other half is DELIGHTED to add to the x-rated mug collection he now has to hide whenever his mum comes round. *evil laugh* pic.twitter.com/UOvrW3eWhU

— Girl on the Net (@girlonthenet) March 12, 2019
Rouge Garments – gorgeous flogger
The person I spoke to at Rouge Garments obviously knows how to hit it off with bloggers, because the second I approached and introduced myself she said 'let's see what I have to give you.' My cup ranneth over when she gave me this beautiful leather flogger that just-so-happened to be in my favourite colours: purple and black. Naturally I'm delighted by free things generally, but I'm especially excited about floggers because I have been missing BDSM and on a mission recently to encourage my other half to beat me more often. This will be the perfect tool with which to continue my master plan.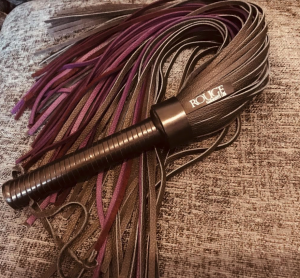 Satisfyer – sex toys which YOU can win
Satisfyer are one of the most generous sex toy companies I have ever encountered, because it seems every trade show I go to I end up walking away with a bunch of their toys – and they're not cheap either! At Erofame I left with a delightful clit-sucking penguin (no, really) and a C-shaped partner vibe that I was excited to find genuinely blew my other half's mind. In my goodie bag for Eroticon, I got five Satisfyer sex toys including two Satisfyer Pro-Travellers* (like the clit-sucking penguin only not shaped like a penguin), a Satisfyer Master Vibe*, a Satisfyer Men Vibration*, and a Satisfyer Partner Multifun*. Because I am desperate to win your affection, I'm going to give some of these away in the 'free things' slot in my newsletter. Subscribe to the monthly newsletter here and keep an eye on your inboxes for the next one, which will go out at the end of March.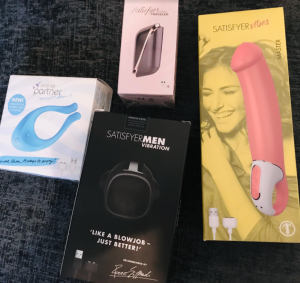 ETO Show and ETO Magazine
I need to end this post with a big shoutout to the lovely people at ETO Magazine, who put the show on. They're a great bunch of people, and they have always been really kind and supportive of me and other bloggers, as we navigate our way through the delightful Willy-Wonka-tour of shagging that is the UK sex industry. On top of that, they provided a space where I could catch up with old friends – Horny Geek Girl, Tabitha Rayne, the lovely guys from Luke and Jack, Zak Jane Keir, Ruth from Imp Ideas, Violet Fenn and no doubt loads more people who I will horribly offend by forgetting to mention, for which I am sorry in advance. I also got to meet Joanne from sexmachinereviews.co.uk, who is amazing and absolutely prolific when it comes to reviewing awesome toys! I got to meet her, her Stunt Cock and sub 'r' who features in this incredible guest blog Joanne wrote for me here, and I'm properly gutted that I didn't stay until day 2 of the show so I could chat to everyone a bit more, and go to the drinks event (yay booze!) that was sponsored by Net1on1 Wholesale. Next year I am going to scrounge the cash to pay for a hotel so I can stay for the full event.
For those who've been to an ETO Show before but couldn't make it this year, I'll tell you that I think this year's was more fun and intimate than previous ones I'd been to, and also that the companies who had stands there seemed even more keen to chat to bloggers than they have been in previous years. I met loads of fun folks, and while I'm sure their priority was to chat up the buyers who would actually, you know, buy their stock, there were also lots of opportunities to make contact with companies who just wanted to spread the word about their cool new invention.
Sign up at their website and keep an eye on dates for next year's show if you're in the industry, and if you're not in the industry then… well… I'll do my best to keep you updated here, in my typically scattershot sex-nerdy way.