Attention everyone! Doxy has released a bullet vibe! To be honest, I reckon I could end the blog post there and quite a few of you would buy a Doxy bullet purely on the basis of the fact that we've all heard of Doxy and we know they're great. You would be correct to do so, because it's excellent, but I'd be abandoning my duty of care to your genitals if I didn't also tell you a bit about it. Namely: it's powerful, shiny-as-fuck, and the vibration patterns appear to have a chaos mode.
If you want to buy one of these you can get 15% off – use the code GOTN15 which should also get you free shipping (in certain countries).
First thing's first: not enough people know about the Doxy bullet vibe yet. I can tell you this for a fact because not only did it take me by surprise as I was idly browsing the Doxy website to gather some links to add to posts, the news was also greeted with all-caps delight and shock when I mentioned it to other sex bloggers.
Me: did you know Doxy has a bullet vibe out??

Them: WHAT?! WHY DIDN'T I KNOW Doxy has a bullet vibe out?!

Me: I KNOW RIGHT, I DIDN'T KNOW EITHER.

Them: I MUST HAVE ONE.

Me: ME TOO, I HAVE EMAILED THEM.
Anyway. Apologies to Doxy if they were planning a 'soft launch' with a more concerted marketing push later, because I am going to be shouting it from the rooftops: Doxy – makers of the best wand toy ever invented and the best metal butt plugs I've ever tried as well – have decided to shine the light of their genius on the bullet vibe, and I'm going to celebrate this in the appropriate way: by masturbating vigorously then telling You Lot all about it.
What is the Doxy bullet like?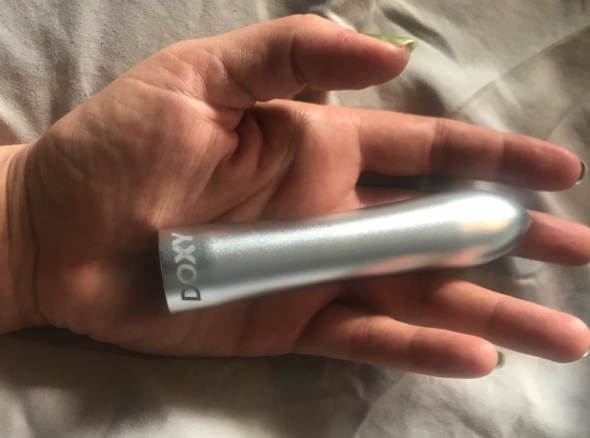 First up: it's really pretty. I don't normally care what sex toys look like – I am very much a 'vibes over visuals' kind of girl. But the prettiness of the Doxy bullet isn't just in its appearance (brushed metal, nestled within a really stunning matching metal case), but also in the way it feels. It feels just weighty enough that it's satisfying to hold yet light enough that it's easy to wank with. And it comes with one single button. One! Hooray!
I say 'hooray!' because I'm a simple creature and (these days especially) I want my sex toys to be as instinctive to use as possible. When I was in a relationship, spending a bit of time pre-fuck to mess around with settings could be absorbed into shag time. After all, my partner and I shagged loads because we lived together, so an extra five minutes of fumbling wasn't the end of the world. These days, though, I don't get to see any of my dudes very often, and when we do hang out I'm still often in sex-as-performance mode, so I don't really want to kill the impulsive, joyful, let's-fuck-immediately vibe of our coupling by pissing around with settings when I whip out my vibrator.
The Doxy bullet has one button. You give it one long press to turn it on, and then one short press to move to the next function in the cycle.
The cycle, for what it's worth, goes like this:
Steady vibrations at a lower setting.
Steady vibrations at a higher setting.
(Rolling pulses, like the pattern you get on a standard Doxy if you hold the power button down when you switch it on) VrrrrrrRRRRRRRRRrrrrrrr. VrrrrrrRRRRRRRRRrrrrrrr. VrrrrrrRRRRRRRRRrrrrrrr.
(Long pulses) Vrrr vrrr vrrr vrrr vrrr vrrr vrrr vrrr.
(Short pulses) Vr vr vr vr vr vr vr vr vr vr vr.
(Pattern of alternating short and long pulses) Vr vr vrrrr vr vr vrrrr.
CHAOS MODE. v v v v v v vrrrrrrrrrr vvvvr vvvr vvvvr vvvr vrrrrrrrrrr vr vr vr vr vr vr vr vr vrrrrrrrrrrr.
This last one I was, obviously, not entirely sure about. I tried to transcribe the vibrations and occasionally I could spot a pattern in there, but most of the time it just felt to me like the vibrator was spitting out pulses at random. Hence: chaos mode. That's what it feels like and honestly I found it extremely wankable.
After writing this I checked the instructions on the Doxy website and apparently there's method to the madness of pattern 7, but to be honest by the time it reaches halfway through the cycle my brain is already scrambled and therefore I see no pattern there. This is more than possibly just my own inexperience though: I don't tend to use patterns that often so it came as a surprise to me. A nice surprise though, like if a hot guy rocked up on my doorstep bearing a dozen red roses, a four-pack of Thatcher's Gold and a couple of tickets to Diggerland.
Is the Doxy bullet good?
Here we fall into the trap that pretty much all my sex toy reviews end up in: I don't really know how to compare it to other stuff on the market because I don't test toys on a regular basis. I try out the ones my sponsor companies send to me, then I write about them if I like them, and you buy them if you like the sound of what I write. But I can't tell you how this bullet compares to all the others on the market because I don't own loads of other bullets. I can tell you that – like the Hot Octopuss Amo – it made me come, and that is not a feat that many bullet vibes can manage because – partly thanks to my beloved original Doxy – my clit is a power-hungry bitch and needs a lot of intensity to get me over the finish line.
Unlike some other bullets, I have felt more than comfortable whipping it out during a fuck for some extra clit stim. This is because, pathetic though this makes me seem, I want to show boys my silvery metallic vibrator because I think it looks badass. Boys please weigh in on the comments about whether this is the sort of thing you'd actually be impressed by. Literally my entire life revolves around impressing men, I'd like to know if I'm on the right track if at all possible.
I can tell you that the Doxy bullet is more powerful than most other bullets I've tried, and the fact that it has a pinpoint tip but a hefty body means you can do precision or breadth of stimulation depending on your preference. It's waterproof, rechargeable, blah blah. The case it comes in is an absolute thing of beauty – very similar in style to the heartstoppingly gorgeous storage cases for the Doxy butt plugs. It's bigger than some of my other bullets (most notably it's bigger than the Hot Octopuss Amo, which I fucking love and which fits neatly into the little bag I use for my slut kit), but it's not so big that you can't chuck it in your bag/pocket/slut kit if you're going out for the evening to be ruined by a hottie.
Are you a drooling Doxy fan?
Let's be really honest with each other here though: you know whether you're going to buy the Doxy bullet already, don't you? At this point in the launch cycle of a product, the Doxy bullet isn't one of those sex toys that most people will studiously read reviews of, weighing up the pros and cons and deciding if it beats others on the market. At this stage in the game, you're either a Doxy fan or you're not. You either read the title of this post and shrugged, thinking 'meh, a sponsored blog, I can't be arsed with that,' or you read it and leapt out of your chair in delight when you learned that the best sex toy company in the world had turned its excellent skillz towards making compact, powerful bullets.
You're either a normal consumer or an excitable Doxy fan like me.
So if you're the former, feel free to wait just on the off-chance that my write-up here is coloured by my intense love for everything Doxy. If you're the latter? Get on their sale right now and pick up a Doxy bullet: normal price £64.99/$79.99, but use the code GOTN15 for 15% off and free shipping. This code works on all products.
You can (and should) also use this code on their beautiful butt plugs. Oh, and the original Doxy wand. Or the mini rechargeable version that nevertheless still packs a punch. Or the die cast! Which now comes in a whole range of different beautiful prints, something else Doxy didn't mention to me! I will have to spend far more of my time stalking them on Twitter now, tut.
Hear ye hear ye: Doxy has a bullet out. And it's exactly as good as you'd hope. Come be an early-adopting wanker with me, and tell all your mates. Doxy has a bullet vibe. There is good in the world after all.
Doxy provided me with the bullet for free because they sponsor my website, and I emailed them to ask for one. Frankly, I was pathetically gutted that they hadn't sent me one the moment it went on sale, but I know they're very busy people and I am not nearly as important as I sometimes like to pretend I am. Still, I was so devastated at being overlooked that I almost did the one thing I absolutely never do with sex toys: bought one myself. Then I remembered that I'm famous and I don't have to do that sort of thing. I did have to swallow my pride and actually ask for it though: everything has its price.