If you want more in-depth advice on sex blogging, come to Eroticon
Ever wanted to start your own sex blog? I don't blame you – it's really fun. Every now and then people email me and ask how to start one, so in lieu of a guest blog this week (I'm behind on guest blog editing, really sorry – if you've sent me one bear with me and I'll get back to you asap!) I thought I'd put my top tips for starting a sex blog in one handy place. So without further ado, here are some frequently asked questions about starting a sex blog, along with my answers and advice.
If you have any more questions, stick 'em in the comments and I'll try and add to this when new things come up.
UPDATE 2018: The absolute best way to learn about sex blogging is to come and hang out with sex bloggers. We're a shy bunch, though, so it's hard. But the one guaranteed way to meet us and suck all the wisdom out of our pervy brains is to come along to Eroticon – a 2-day event held in Camden on March 17th/18th 2018. This was the conference that helped take me from hobbyist sex blogger to full-time peddler of filth. Meanwhile, below are my top tips on starting a sex blog.
How many posts should I start with?
This is totally up to you, but I'd say begin with at least three posts (ideally five or more) when you go live. This is for a couple of reasons, but the primary reason being you don't want to launch your blog with one post that says 'hey I might write some stuff here' – have a few, showing the range of stuff you want to talk about. That way people get a feel for your blog. If your first post is about pegging you'll gather an immediate following of pegging enthusiasts, who might be disappointed if this is the only time you write about it, so show a range of some kind. You can see the first posts I ever wrote here, which leads me neatly on to point 2…
Don't expect to be awesome
I'm not awesome, and I have never really thought I am. But what I do know is that I'm a better blogger now than I was when I first started in 2011. Never perfect, often haphazard and incompetent, but I have more of a feel for what people want to hear and what I actually want to say.
How do I do domains, hosting, all the techy stuff?
This is not my forte, to be honest – I tend to just muddle through. You need a few things:
domain name (this is the address i.e. sexblog.com or what have you). The main thing to consider here is anonymity (if that matters to you). If you want to be anonymous, you need a .com domain, not a .co.uk – that way you can also buy domain protection so people can't do a WhoIs lookup and then turn up at your house in their pants. If you're super-careful, you can get someone you trust to register the domain for you to their address. Make sure they're not a douchebag, though, or the sort of person who'll switch it to point at cat pictures for a laugh, thus killing your blog traffic.
hosting (this is the place where your blog will 'live' – like on a server or something or in the cloud I don't know I'm not a fucking genius). I know nothing about this, but it's relatively easy to set up – you can often buy your domain and hosting from the same place. BEWARE hosting companies who are massive arseholes, and have terms that prohibit adult content. I had one of these and one day they just ditched my entire blog and I had to cry and panic a bit before I could make it exist again, but on a different server.
a platform. This might be wordpress, like my blog, or something else. I'd advise you focus more on what it does than what it looks like, but I am shit at visual stuff, so what do I know?
For more info on this, you should check out this great step-by-step guide that Molly produced a while back. It's great, and will guide you through some of the steps to setting up a sex blog.
Here's a piece of more personal advice: if you're not very techy then bear this in mind when you set up your site. There are some bloody lovely people who will help you and give you tips etc when you're setting it up, but remember that if you ask for something really complicated (or have a site set-up that requires more understanding of code than you're comfortable with) then know that if something breaks you won't be able to be your own tech support. I have help with my site, and it's fantastic, but it's also frustrating sometimes because I just want to change this TINY little thing, and I have to wait for the person who helps me to become available and it turns out he's not omnipotent, which is a bummer.
How do I promote my sex blog?
This is less a 'how long's a piece of string?' question than a 'what the hell do I do with all this string and oh my God now I'm tangled in string and I can't escape' question. There are a million and one different ways to promote your sex blog, of which here are a tiny few:
Get on social networks (see below for more on this). And go be funny. And sexy. And whatever else you want to be. But don't just go 'oh look here's a link' because people will think you're boring. Also, because social networks are supposed to be FUN, not just places where everyone goes to shout their names into the ether. You wouldn't go to a networking event and just shout 'HI I'M BOB SMITH AND I AM LOOKING FOR CONSULTANCY WORK' would you? No: you'd eat the free croissants and bitch about crappy powerpoint and THEN say you're looking for work. Way better.
Promote your posts more than once. There's fierce debate amongst social media ninjas about how often you should promote any individual post. Once? Twice? Ten times? The answer is: as often as you think you need to without fucking everyone off. I generally post each link on Twitter twice, at different times of the day, and on Facebook once. But that's not the whole story because I also use Facebook and Twitter to promote older posts. A blog post doesn't disappear just because it's a year old, and remember that much of your audience (if you're building it) won't have seen your earliest stuff. Feel free to chuck the links out there again months or even years later.
Guest blog for other people. Pick a bunch of bloggers who write about similar things to you, and offer to write guest blogs for them. Most of them will say 'hell yes' and – if they're big bloggers, some of them will pay you (I will pay you, please pitch me). More importantly, when you write a guest blog, make sure that you've got some great content ready when your guest blog goes live, so people arrive at your site and go 'wow!' If you get a guest blog published and suddenly hundreds of people descend on your site, you don't want them to be confronted by a 'sorry I'm taking a blogging break this week!' post. If you care a shitload about traffic, pick your guest blogs carefully. You don't want to spend two hours writing something that only gets you a few visits. How many visits can you expect? Depends on the audience that blogger has, and how popular your post is. Most people who guest blog for me will get 2-300 clickthroughs from their post within the first couple of days, and if their post is popular with search they'll keep getting clicks indefinitely.
Get linked from other, bigger publications. This might include pitching them articles (and if you want to find out more about this, come to Eroticon and listen to my as-yet-unwritten talk). If you don't want to pitch articles, then follow lots of journalists/people who talk about sex, and watch out for when they request quotes. Give them a quote/opinion (and make it interesting/unique) and ask them to link to your blog when they quote you.
Get on people's blog rolls. I have no idea how to do this, but I can tell you that it makes a huge difference if you're recommended by popular sites. The biggest site that lists me on their blog roll sends me over 1,000 visits per month, but I have never asked them to put me on there, they're just nice. If you add people to yours, you can always email saying 'hey! I added you to my blog roll!' and that might prompt them to check out your blog. But I'd advise against directly asking for it, because it can seem a bit pushy. I get overly stressed about seeming impolite, though, so I might be overthinking it.
Comment on other people's blogs/join in with blogging memes. Again, I'm shit at this but it works well for other people, and it's a great way to meet new bloggers. If you want to join in with a blogging meme or two, check out Sinful Sunday, eLust, Wicked Wednesday… there are loads more but I can't remember off the top of my head – it's been a busy day and it's nearly gin o'clock.
Measure EVERYTHING YOU CAN. This means getting Google Analytics on your site (other analytics programmes ARE available but they're not very good. But Google is evil. But it's better. But it's up to you). You can also get stats from Facebook and Twitter about what gets shared most and clicked most and all that bollocks. Don't just keep rewriting about the most shared topics, but do be aware of how you're framing/promoting your stuff so you give it the best chance of getting read when it's out there.
Give people a way to subscribe. FUN FACT: UK Data protection law means you're required to include an address at the bottom of any email newsletter you send, so that if you spam people they can turn up at your house and shove flaming bags of dog turd through your letterbox. If you don't want to publish your address (and you don't have an alternative 'business' address you can use) then you're best off using a feedburner type thing that auto-pings people when you do a new post. It's not ideal, in my opinion – having an ACTUAL newsletter that you write yourself, which you can curate, is massively valuable and if I were able to do it I would, in a heartbeat. But the address thing fucks me over. If you've a solution to this any advice would be welcome.
Check out your keywords. Search is the fucking daddy of most of my web traffic. Since January this year, 62% of my traffic has come from search. This isn't because I look at Google Keyword planner and go 'oh I should pretend to have something to say about double penetration', because that would be lame and people would get to my blog and go 'well this is some bullshit' and leave immediately. But if you're writing about double penetration, you can bet your fully-penetrated ass that Google Keyword planner will have something to tell you that'll help you frame it. For instance, if you wanted to write about porn which is targeted at a female audience, what would you call it? Feminist porn? Porn for women? Female-friendly porn? I've looked this up on Google Keyword planner and I can tell you that one's FAR more searchable than the others. Obviously don't be a dick with this stuff, though: if people were searching for 'kitten-stamping is ace' you wouldn't use that phrase in your blog posts, so watch out for super-pornified phrases that are often problematic in other ways. You should also check out this great SEO for sex bloggers series by blogger Aceinthehole – handy bitesized tips and useful info on search engine optimisation.
Promotion – whether it's social media, search, or anything else – is an absolutely fucking MASSIVE beast, and if I gave you all my tips and advice here then you'd never get round to doing all the important things, like writing your own awesome posts. But I'd strongly advise you to go and read (and keep perusing) SEO blogs like Moz and useful webby stuff that has fuck-all to do with fucking: while some things will exclude you because you've got adult content (damn you, Google AdWords) most SEO tips are useful for everyone.
And, on a tediously practical note: digital marketing (because that's basically what you're doing when you promote a blog) is an actual job that people have. Like, they do it for a living and it takes a fair bit of time to get really awesome at it. You can spend as much or as little time on it as you like, but don't expect to be a super-ninja and have a million billion hits in your first year, and don't give up if some of this stuff doesn't work out for you straight away. If it did, then a hell of a lot of people (me included, probably) would be fired.
How do you stay anonymous?
With a lot of patient, discreet friends, a big dollop of paranoia, and a fair bit of pissing about.
If you want to stay anonymous, the first thing to note is you'll never truly guarantee it. No matter how hard you try and hide your real identity, mistakes will always happen and there's always the chance you might get outed. This keeps me awake at night and sometimes – after a particularly terrifying email or something – it makes me sweat with fear. I'm not saying this to put you off – anonymous or not, the world always has room for more sexy writers – I'm just saying it so you know.
If you want to be anonymous the main thing to remember is never to cross the streams. Setting up a facebook page? Don't do it from your normal facebook account – set up a separate facebook profile (Jane Doe or something) and then use that to administer your page. Facebook WILL recommend friends to you based on email addresses, so obviously have a sex blogger email too. If you want to also protect the anonymity of people who contact you (because so many people don't realise that although their email might be genericdude61 [at] gmail, if they use the same for facebook you'll be able to put a name to the dick pic) then do what I do and register a separate email that you use only for facebook. Also check out the advice at the bottom from Molly, who's had bad experiences with facebook before.
Resist any urge to 'friend' your real friends on facebook, or follow your real friends on Twitter. Keep everything separate. Twitter for mobile is a pushy twat that will repeatedly ask you if you want to tag your tweets with location, or import friends from your contacts. Beware accidentally clicking the 'yes' button. To be super-tight on this, have two phones if you can. I'm not joking.
To be even closer to watertight on this, check out Belle de Jour's excellent anonymity tips. I don't do all of this, but I do have two laptops, two Google accounts (Chrome will try to 'add' another profile to your main account, and I have no idea how this works with contacts so to be safe I use Firefox for one life and Chrome for the other).
Avoid giving people info that they could use to fuck you over. If you're meeting people and they know your blog name, do they really 100% need to know your real name? Some people will nag you and say 'but is that your REAL name, though?' to which my answer is always 'if you shout it in a crowded pub I'll turn around – how much realer do you need?' I'd also, if I were you, be wary of meeting people just for the fun of it. It's lovely to see people in person, but bear in mind that in doing so you're handing them an extraordinary level of power: they could take photos of you, they could tell people your real name, any of this stuff. Make sure if you do this it's someone you really trust.
As an aside, if you've got a really ill-thought-out blog name like 'Girl on the net', be aware that hardly ANYONE will be happy just calling you 'girl' – if you want to have interactions with journalists, sex toy companies, and most other people, they'll be more comfortable if they can call you something that sounds like an actual name. Pick one, pick seven, pick twelve – as long as they can say 'Hi [Thing that sounds like real name]' they're less likely to probe further. I have a few different pseudonyms that I use, one of which I'm now so comfortable with I prefer it to my actual name, and I rarely ever go by my actual name any more, unless I'm with close family/mates.
How much traffic should I be getting?
Piece of string territory again, but to give you a rough guide, here's some sample traffic data from my first year (bear in mind I'd about 600 Twitter followers so I wasn't starting from total scratch). Measured in unique users per month, via Google Analytics.
Month 1 (Sept-Oct 2011): 3,142
Month 3: 3,429
Month 6: 4,111
Month 9: 9,662
Month 12: 11,028
I have absolutely no idea if this is typical, but if you're another sex blogger and you're willing to share your blog traffic data, I would fucking LOVE to be able to put together some more info on this, so other bloggers can get an idea of what to expect and also because I love stats and graphs and all that jazz. Please please please get in touch if you're happy to share your data.
Other ace sex blog resources
Despite the waffly rant above, my most important advice is to never take my word as gospel. Your best bet is to get info from as many places as possible, and here are some great places to start:
Eroticon, as mentioned above, is a brilliant way to get advice and guidance direct from other sex writers. I'm biased, because I help to run it. But it's held in Camden on 4th/5th March 2017, and it's the event that helped me launch my career as a full-time sex writer. If you buy a ticket I'll give you a free high five when you get there.
Epiphora and JoEllen Notte are running an online course in how to be a sex blogger. Again, not paid to promote it or anything, just thought I'd add it in because it's run by two incredible bloggers and they're bound to have some great advice. Use GOTN10 for $10 off the course fee.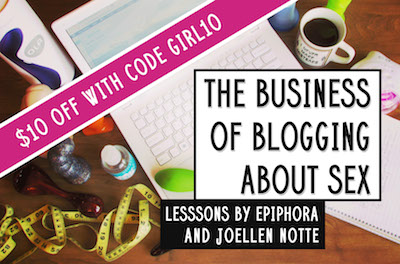 There are more – there are always more. But every time I want to recommend people I end up shying away from it for fear I'll miss people off the list and they'll be angry. So I'm just going to stick this up here and say that if you've got some great advice and you'd like me to add you, let me know and I will.
Want to start a sex blog? Write something now
I promise I'll sod off soon, because it's 5 o'clock on a Friday and I'm not in the pub yet, and if I don't get there by 6 then it will really screw with the natural order of things. But before I go here's a final piece of advice:
Write something now. Well, soon at least – while this is fresh in your mind and you're interested and keen. It's more than possible that some of the stuff above has put you off and the whole thing sounds like too much work, so write something quickly. Even if you haven't got the blog yet, you can start creating posts, drafting ideas, and putting down all the thoughts that scratch around in your head screaming WRITE ME I PROMISE I'M GOOD JUST GIVE ME A CHANCE.
I can give you sex blog tips, but no amount of advice from a twat like me will compete with those ideas, thoughts, and words that are genuinely unique and worth reading. And nothing in terms of set up is more important than the actual words you write.
Go. Write words. Have fun. And good luck.