Wankers unite! There is a revolution upon us and it's important that you're part of it. Wipe up the jizz, pull up your trousers, and join your brethren in the march for acceptance.
A while ago I wrote about male sex toys, and a desperately judgmental article at Jezebel that described the guys who used them as 'lonely fucks.' But it's not just Jezebel – I'm frequently coming across examples of the double-standards we have around what men and women do to get off. The overall narrative goes a little something like this:
Men masturbate loads as a matter of necessity, and hence their wanking is something filthy and sordid that should be done behind closed doors, like defecation or voting UKIP. Women don't really need to wank, because they don't need sex, so female masturbation is empowering, yet also gentle and feminine and pink. 
From this narrative, a lot of bullshit flows, of which the following is just a tiny snippet:
Female sex toys must be pink and sparkly and 'unintimidating' and should mainly be used to 'enhance' a woman's sex life with a partner.
Male sex toys are a bit shameful and dirty, and must be hidden in a drawer so no one ever finds out.
Porn for women is basically a romance novel with a bit of shagging in it. Which men will never read.
All these things are bullshit, but it can be hard to discern that they're bullshit because so much of our culture plays along to this tune. But even the most basic of research (and I cannot stress enough just how basic my 'research' is) shows that sexuality – male, female, or not-easily-forced-into-a-gender-binary – is clearly far more interesting than that.
Male and female sex toys
How many times have you read a mainstream sex advice article that recommends straight guys include vibrators during sex to please their partner? Loads, right? And now count up the number of sex advice articles that recommend women use a masturbator when they give hand jobs because holy Jesus they're amazing and they make it way more fun? I bet you could count those articles on one hand, and at least two were written by me.
Similarly, guys using toys during solo masturbation is only just beginning to get talked about – traditionally our culture told the dude buying sex dolls and wanking sheaths that he was a lonely, desperate perv. So what's the deal – are male sex toys only bought by lonely dudes? Or are they, in fact, bought by a significant number of people?
It's the latter.
Thanks to sextoys.co.uk for giving me some info – here are the most viewed toys on their site.
To be fair, they have recently been doing some research and surveys into sex doll use, so it's possible that's what's bumped 'Brad' and the 'sisters' up the list, but of the three remaining one could be used by anyone, and two are specifically designed to be used on a penis. Taking a peek at the top five search terms…
See? The search terms are delightfully universal – some of these toys can be used no matter what configuration of genitals you have. And as for the top toys, most are aimed at people with dicks. I appreciate this doesn't prove that every guy has a Fleshlight in the cupboard, but I think it shows that male sex toys are not – as the general narrative has us believe – things bought by the few to sate loneliness or desperation. Male sex toys are, in fact, exactly the same as female sex toys: fun, optional additions to your sex life, whether you're with a partner or on your own.
Men reading erotica
If you've been reading my blog for more than a post or two then you have read erotica. I don't call it erotica, though, I call it filth. And there's a bloody good reason for that: as soon as you call writing 'erotic' people file it away in the 'just for women' bank. As if men can't cope with porn that's told via this mysterious medium of 'words on a page.'
I've lost count of the number of times someone publishing-related (not my publisher though, natch) has told me 'oh but men don't buy books, and they definitely don't buy erotica, so we make the covers to appeal to women.' Can you see the flaw in this? Course you can – covers designed to appeal to women may well put men off, because men are human and therefore influenced by their peers: they're less likely to buy a book with a cover they interpret as 'female-friendly' because someone has effectively painted a barrier around it saying 'this isn't for you. If you buy it you'll be the odd one out.'
I've used Google stats for the following, and it's worth noting that Google's demographic info can never be 100% accurate (and it also forces people into a gender binary, which naturally is a flaw in and of itself). But anyway. Here are my gender demographics – blue is male, green is female: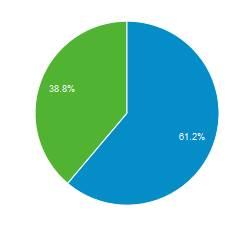 Sexuality isn't simple
The info above doesn't conclusively prove anything, so don't go showing it to a proper journalist or anything. But what it does show, I think, is that sexuality is far more complicated than we're tricked into believing.
I frequently talk about how women like sex too, and that it isn't just a currency with which we barter for money or love, despite the constant stream of depressing sex advice that seems to assume it is. I think that male sexuality falls victim to the same assumptions. This idea that men are sex-obsessed, and only after one thing, is one of the foundations on which the original bullshit story is built. If sex is such a grotesque necessity for men then everything they do with it must be disgusting: the porn they watch, the toys they use, the dirty things they get up to alone behind closed doors, etc.
But actually that's just as crap as the claim that women lie back and think of England. Not only does it paint every single man into the same sexual corner, but it spectacularly fails to understand the vast differences between individual sexuality (not to mention those who don't identify with one side or other of the gender binary). It also fucks with morality, assigning moral actions to things which are at best amoral (such as wanking) and painting men as creatures incapable of making moral choices when their sexual desires are involved.
This started as a light-hearted blog, aimed at showing men that they're being short-changed by society's views on how they should and shouldn't wank. It's turned into something much more depressing. But it doesn't always have to be this way. As women have gradually changed society's views on female sexuality (Women can wank too! And watch porn! And be the architects of our own sexual fulfilment!) I think we can change what people think about men as well.
We can start by not giggling when guys buy sex toys, or read erotic stories. When we've mastered that, perhaps we can move on to the idea that men – like women – are unique individuals, whose sexuality can't be easily generalised about or packaged. Then comes the wankers' revolution. If you don't want to join in then please step aside: it might get a little bit sticky.