Two things I believe to be true in the wake of the #MeToo movement. Firstly, that many men have been put in positions of power over women, which they have abused to varying degrees. Secondly, that this is at least partly a result of the way our society teaches men to behave. The former statement is accusatory: there are men who have done bad things. The second is explanatory: here is a reason why they do those things. The former sounds like a blanket condemnation, while the latter feels uncomfortably like an excuse. But if I believe both these things to be true, how do I go about having a conversation with men I love about sexual violence and consent?
This post will naturally discuss consent, sexual assault and other similar things. I've tried to avoid going into gruesome detail and simply linked out to full accounts/reporting where possible. 
I wrote this blog yesterday, just hours before the Financial Times published their exposé of the Presidents Club Charity Dinner – a 'men only' event where rich arseholes stroke their own egos by bidding on charity lots while aggressively groping young women who have been hired to host the event. Having had their phones confiscated and been uniformly dressed in tight, short black dresses, these women were then thrown to the lions. And by 'lions' I mean rich arsehole men. Many of the women were frightened, most were not told that it was in their job description to allow themselves to be pawed and stroked and groped. And this is just one example among many of women being treated as if what we want doesn't matter. We are not there to take part in the world – to bid on charity lots or network or even maybe do our jobs. We are decoration. We are toys. We are tight black dresses and high heels and fear but we should suck it up because, well, what did we expect?
The answer, my friends, is 'better.' We expected better. If #MeToo means anything to me, it means that we expect better of the men in our lives.
These expectations are not being met, so now it's time to demand.
Monsters and men
When I talk to men I love about Weinstein, they are universally horrified. How did this man – this monster – manage to get away with it for so long? They sympathise, and make the right noises, and listen as I regale them with similar tales: creepy men on night buses, or dudes pushing themselves on women on the tube, or friends of mine touching me up when I was passed out drunk at Uni. They tut and sigh and say how bad it is. In the wake of the FT investigation, many will make the same noises.
But when we talk about Aziz Ansari, and Grace's story about the date she went on with him which involved coercion and stepping over boundaries, many of them are ready with a 'but.'
"But… that's not the same, is it?"
"It's not 'as bad.'"
What they often mean is: we've all done something like this, haven't we? We've all misjudged a situation, or pushed too hard then regretted it? We've all been bad at 'seduction'?
If I genuinely believe – as I said at the beginning – that men (and especially straight men) are given truly awful messages about sex and dating, then I need to also believe that many of these men genuinely don't understand what the problem is here.
That's a tricky thing for me to do. It hurts, because I cannot quite get my head around a view of the world which would read Grace's account of her date and see absolutely nothing wrong (just as I would struggle to get my head round a view that called for Ansari's head, but that's by the by: no one's trying to persuade me to outright despise him, but plenty of people are trying to persuade me to brush off his behaviour as if it doesn't matter). Trying on this perspective is uncomfortable for me, and it's not something I expect everyone to do. It's the reason why this whole blog post is going to be framed as 'I will' rather than 'you should.' This conversation is a difficult one to have because it means telling our good friends and lovers (and often, too, ourselves) that they have behaved badly. It's equally difficult because every step taken to try and understand why this is such a vast problem risks looking like it's an 'excuse.' Because, let's face it, I have met men like this. I have fucked men like this. I have coached men like this out of spectacularly bad ideas when they've been desperate to 'woo' a woman whose affections they thought they deserved. I've talked them out of anger and into flattery if I'm the one who has had to reject them.
Just as men have learned to navigate the world based on shitty narratives about 'the thrill of the chase', so I have learned to navigate the world based on shitty narratives about letting them down gently lest they get angry at the thought of rejection.
We are all thrown together in this world, and some of us are very frightened about what the others might do. So how exactly do we have this conversation? Well first I think we need to admit that there's a problem, and that the problem is not going to be fixed by a quick and simple monster-hunt, or immediately declaring that some kinds of behaviour are off-limits and shouldn't be talked about.
Carsie Blanton's 'The Problem With Panic'
Some people aren't really keen on the direction the '#MeToo' conversation is going – where we say 'OK, look, Weinstein is a shit, but Weinstein-level shittiness is not the only problem here. We need to talk more broadly about the sexual scripts that we use, which harm people, and move towards a conception of sex and relationships that doesn't rely on assumptions, power-abuse and a lack of consent.'
Understandably, when you say that, a lot of people raise their hands and point out that we shouldn't go 'too far' with these things. That there's a world of difference between rape and 'bad dates.' That the current climate means our outrage could easily be directed at the 'wrong' target, with overreactions meaning we will not only destroy the lives of individual men but we'll also roll back all the progress we've made in terms of sexual liberation.
This is the broad (ish) thrust of an argument put forward by Carsie Blanton in a blog post that lots of people on my twitter feed have been sharing. In it she argues quite a few things, but at the heart she seems to be saying that while it's good for us to talk about abuses of power, and Weinstein, we need to be very careful when extending that conversation to talk about people who have not committed outright crimes, and that the danger when expanding our discussion lies in erasing (or denying, or outlawing) some inevitable aspects of human experience.
She talks a lot about context and nuance, and I agree that both of these things are important. But I also think that in this conversation, highlighting the value of context and nuance is trivially true: I haven't seen many people entirely ignoring the nuance of different examples in favour of simply piling all sexual predators into one bin marked 'evil.' In fact, one of the things I find exciting about the #MeToo movement is that it is allowing us to have a broad and nuanced conversation about all the different ways in which power is abused in sexual contexts.
In the past, we've been stuck with the 'bad guy in an alley' narrative of rapists, or the 'monster' narrative when a celebrity is found out to be an abuser. Now, though, we have identified that our gendered narratives impact our sexual advances in our everyday lives as well as in those incidents which are outright criminal. These things are not all receiving the same degree of outrage or being treated with the same degree of severity – anyone who argues that is, I think, mistaken. But if we're going to tackle the root of the problem we need to accept that they come from the a similar place.
The Weinstein's, the 'bad dates' who pressure you into sexual activity, the men who donate to charity because they'll get to cop a feel of a woman who just thought she was there to serve drinks: these all spring from a place of male entitlement to sex, and a total lack of care (or understanding) about female consent. How do I know they come from the same place? Partly because there's a pattern to the stories themselves, and there's a pattern to the responses too.
Response 1: Let's not be anti-sex!
One of the criticisms I have heard a lot in the wake of #MeToo revelations is that we risk throwing the 'sexual liberation' baby out with the bathwater. Carsie Blanton argues that by holding people to account for low-level shitty, coercive behaviour we're potentially ushering in a new wave of 'sexual moralism'. She points out that sexual moralism is usually the domain of the Christian right, and is in part responsible for laws limiting access to birth control and abortion, or banning sodomy. I think this is a bad argument: it relies on the 'slippery slope' idea, which is ironically a favourite argument of the Christian right itself. But more importantly it sets up another straw man: the idea that what the #MeToo movement is trying to do is instil a level of prudence or temperance – to try and prevent people from fulfilling their sexual desires.
This argument comes back time and again in Carsie's blog post. When discussing the idea of 'shaming' men who have behaved badly in sexual interactions, she explains that:
"we already have plenty of evidence that shaming people about their sexual urges and behaviors doesn't work. Instead, it drives those urges and behaviors deeper into the closet, where they get nastier and uglier and meaner."
Again, I can agree with the point in isolation: shame rarely works as a means to prevent people enjoying their kinks and quirks – and I wouldn't ever advocate it's used this way! But we're not talking here about 'urges' in that sense: we're talking about power. No one that I have seen is using #MeToo to argue that men should not feel sexual desire, or seek to fulfil their sexual urges with women they fancy: we're arguing that the current narratives around the way men are taught to fulfil those urges are wrong, and harmful. Sexual urges: good. Power abuse: bad.
This 'we're becoming puritans!' argument is found wherever you find a call-out or complaint about a consent violation. Why, here's an example from the FT's President's Club story: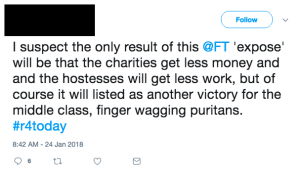 Let me be crystal clear on this, horny dudes: no one is telling you that you won't be able to touch women any more. That you won't be able to have sex, get blow jobs, or fulfil your kinks. What we're saying is that you need to make sure that the person you're doing it with actually wants to be there. If you don't understand why this should be so simple, let's look at the other side of it: if you're arguing that 'puritans' will prevent this event from happening in the future, have a think about what you're actually calling for. You are in favour of women being deceived in order to staff an event at which many of them were frightened, purely for the casual sexual gratification of a group of strangers. The gratification is not the problem: the deception and fear is.
(And sidenote – the 'charity' excuse is appalling too – how much do I have to give to charity to pop round your house and kick you in the balls? A grand? Two grand? How many Polio vaccines do I need to buy to make up for the hurt I've caused you?)
Wrapped up in the 'puritan' argument there is also one that purports to be supportive of sex workers. If we examine this kind of behaviour, or make consent a top priority, then we make it impossible for sex workers to make a living. This is absolute bullshit on a par with the idea that 'if men are abusers, they should go and take their frustrations out on someone who is paid to take it.' Sex workers are people: they deserve exactly the same respect as all other people. That includes not being subjected to harassment at work. If all the women working the Presidents Club dinner were sex workers who would happily negotiate touches and hand-holding and raucous fun for a set fee, guess what? What happened that night would still not be OK! Because the issue here isn't 'paid sex' or 'paid touches', it is the fact that many of the women had no idea what they were being paid for. Men felt entitled to touch them because they had paid to be there. They frightened women who did not know what was happening, and who had not agreed to do these things with them: it would no more be OK to do this to a sex worker than it would be OK to do this to anyone.
Response 2: The 'mistaken mob'
Point two made by Carsie Blanton (and we'll get on to how this point is used by arseholes later), is that we need to be wary of false (or mistaken) accusations. Carsie argues that we should avoid catch-all terms like 'sexual misconduct' because of the risk of demonising people who have simply made mistakes. I can come on board with this, for a short while: where we legislate on sex, we need to be very careful not to make laws which criminalise consensual sexual behaviour or disproportionately affect vulnerable people. Carsie uses the example of sex offender registries, which she explains:
"include large numbers of people whose "crimes" do not come close to qualifying as abuse, many of whom ended up on the list when they were teenagers, or even children themselves (according to Human Rights Watch, children as young as 9 have been placed on the registry, and Juvenile offenders account for 25 percent of the 800,000+ registrants)"
This is absolutely a problem. But I don't think it is a problem that comes from us talking about sexual misconduct – I'd argue that it's a problem because we put too much emphasis on sexual acts and not enough emphasis on consent. Nor is it really about a lack of evidence – it's about bad laws, and poor implementation.
Again, she offers a rather drastic hypothetical problem, and I fail to see any evidence that we're actually going down that route. Very few serious commentators are calling for the arrest of Aziz Ansari, or for him to be put on an offender's register. What we're asking is that our conversation about consent includes not just the obvious examples which we've previously been frightened to speak up about, but the less obvious examples which we've previously been unable to discuss because we simply didn't have the words.
And while Carsie surely means well when she's making these points, I can't help but notice – because it's TODAY NOW and I've learned about the President's Club bullshit – that this is one of the favoured arguments for those who think this kind of entitled harassment is OK. Either 'oh but we need to carefully examine the evidence' (read: ignore the accounts of women who have been harassed) or 'actually most of the men there probably did nothing so we should be wary of lumping them all in together.'


For what it's worth, there's plenty of evidence. And that 'vast majority' of people (where's your evidence, sunshine?) who apparently did nothing still attended an event where all of this was going on. They were either all blindfolded and wearing noise-cancelling headphones, or they wilfully ignored what was happening around them.
Carsie's right on one point – we absolutely shouldn't treat all instances of sexual misconduct in the same way. It's hard to find words for the things which are not criminal, but which harm us anyway. Even as I write this, I'm struggling to find the words. Carsie doesn't like catch-all terms like 'sexual misconduct', and I'm the same, but I don't like loaded terms like 'bad date' or 'coercive seduction' either. Yet all of these could potentially be used to talk about the more common examples of this behaviour, and at some point we really are going to have to talk about it. Because it's one thing for us to nod along while someone says 'Weinstein is a monster', but quite another for us to examine those times when we put on our metaphorical headphones and blindfolds while abusive shit was happening right in front of our faces.
In my opinion, if #MeToo only talks about things which can directly be prosecuted, we will have failed. Just as we will have failed if every single person mentioned in connection with the movement is immediately arrested. Because that is not what we're talking about here: drawing a line between 'goodies' and 'baddies.' In my opinion we're doing exactly what Carsie is arguing for in other sections of her post: examining the nuance and context behind a whole range of bad behaviour, and asking 'why does this happen?'
Response 3: Why don't women just leave/say no/refuse to do that hostessing job?
I'll tackle one more of Carsie's points before leaving this – and I hope she can forgive me for using her as the go-to example. You'll know, I hope, that I'm not doing this to try and get her to stop talking, but because her thoughts echoed lots of other discussions I've had elsewhere, but with the addition of being well-argued enough to be persuasive to many, so going through her blog post is a neat way to try and present some of my counterpoints and thoughts.
The final point I want to tackle falls under what I'll loosely call 'why didn't she just leave?' In an ideal world, where we haven't been taught to behave in certain ways because it's 'impolite' or awkward, anyone who is being coerced into sex could – and should – walk out of the door. But that is wildly unhelpful in a world where we are subject to certain pressures.  As we need to ask the question 'why do many men behave like this?' so we also need to ask the question 'why do women feel they can't say no?' That's a really important question, and answering it is going to take a lot of time and analysis. Here's what Carsie has to say:
"To my ear, the standard of verbal consent – requested by the male partner, granted by the female partner – seems to further the "women are powerless victims" narrative. It focuses only on the male actor, gives him full responsibility for the sexual interaction, and fails to provide any guidance whatsoever for how we, as women, can have better sex, or avoid traumatic sexual experiences.

If the conversation ends with "men should get our consent", we have only succeeded in giving away our sexual agency, and inviting men to treat us as passive recipients of sex. Instead, it should be our goal to enter a sexual interaction as a full participant, which must necessarily include a measure of responsibility for pursuing what feels good, and changing or stopping what feels bad."
Again, I find myself agreeing with a lot of this, which I suspect is partly why her blog post is so persuasive. No, the standard of verbal consent absolutely shouldn't be one that is "requested by the male partner, granted by the female partner." But this much is obvious, and I don't think many people involved in #MeToo would seriously suggest a consent standard that simply made men ask a tickbox question which women can acquiesce to – it's this misconception of consent that leads to people making ridiculous apps that seek to lock consent answers down before you've even got started on foreplay.
What I understand about consent is that it is an ongoing thing: it is about constant communication, and checking in, actively communicating your own needs as well as listening to the needs of your partner. This should happen on both sides, no matter what the gender of your partner. It should happen in all sexual interactions – professional as well as personal. But in order to work with this model of consent, we need to understand what the barriers are to people being able to articulate their needs. If it were this simple, we'd have been doing it already: so why is it that so many interactions don't use this model? Carsie's answer seems to be that women aren't taking on responsibility for articulating what they do and don't want: my answer is that there are many reasons why we feel like we can't.
And again, let's turn back to the grotesque Presidents Club charity auction: surely the women in this scenario had agency? The responsibility isn't all on the men – why didn't the women leave?



Do I even need to do this? Perhaps. The women who worked at the Presidents Club charity auction were:
not told exactly what the night would entail. Euphemisms like 'irritating' were used to describe the men, and they were told they might be 'boisterous'. So the idea that they 'knew what they were getting into' is patently false. Even if they did…
all the women working were issued with a 'uniform' – a tight black dress. It's quite hard to leave a situation you're being paid for, even harder if you don't have your own clothes to wear home.
all the women working had their mobile phones confiscated.
Yes technically – possibly – someone could have left when they got frightened. They could have left, unpaid, potentially without their clothes or their phone, and made their way home from the West End of London in the middle of the night wearing a tight, short black dress and heels. I find myself struggling to find words other than 'don't you SEE?'
The reason I'm pulling in these examples is because I want to highlight that usually in any instance of sexual coercion, there are barriers to someone leaving. They may not all be as obvious as the ones above, but they are often still there:
one person in the interaction has power over the other (the power to sack them, for instance)
one person in the interaction has been taught that they shouldn't be rude/a pricktease/frigid/etc
one person in the interaction has previously been hurt by someone they rejected, and they are frightened of that happening again
And more. So many more. The point is not that 'bad dates' are the same as 'bunch of rich arseholes get drunk and grope women', the point is that these things are both symptoms of the same problem. The effects are different, but the causes are the same, and what do you know? The excuses are broadly the same too.
In order for this conversation to have value, we need to understand that the behaviours we're discussing are symptoms of a huge problem, and we need to understand the significance of all those symptoms. That doesn't mean we throw all men in jail or treat all women as if they are delicate creatures incapable of saying 'no', but it does mean we have to ask questions: why is it that many men don't understand what coercion looks like? Why is it that so many women feel they have to perform a flattering dance of almost-but-not-quite-fucking because they're too frightened to say 'no'? And most importantly – how do we make sure that future generations don't have to play this horrible game?
Conversations about sex, power and consent
There are many conversations to have about this topic. I know that people I love are having those conversations right now – with friends and colleagues and family. Some of us are deeply hurt by the incessant 'but's and the excuses and the attempts to stop us from talking about it at all. Others are hurt by the thought that they may have done something that they never knew was wrong and are now going to be ripped to bits for it. More are frightened because they know that they have done serious harm, and they're busy trying to justify it in their head or turn the conversation to something else because they really don't want to get found out. This conversation involves all of us, so it will involve some heroes and villains, sure. But it will also involve far more people who sit somewhere on the spectrum from 'saint' to 'monster'.
I'm up for having that conversation, I think. For talking to men I know about what I think coercion looks like. Listening to the ways in which they've been told they should behave, and unpicking the good advice from the bad. But not everyone's going to want to do this. Some people will hear the first 'but' or counterargument and feel physically ill that their pain – the hurt they've been caused – is no more than a sidenote in a chat that ends with excuses. They will feel like discussions about reasons and degrees of hurt are slaps in the face. And I'm not going to tell those people they are wrong, that they're going too far, or that they should shut up.
Let's go back to the two things I believe. Firstly, that many men have been put in positions of power over women, which they have abused to varying degrees. Secondly, that this is at least partly a result of the way our society teaches men to behave.
I really want to engage on the latter point – with men I love and other people in my life. I want to have those conversations about consent, pick apart the ways (both gendered and not-gendered) that humans are taught to either override or ignore consent, or work to turn a 'no' into a 'yes.'
But when I've tried to have this conversation with people I know, I've often struggled. Sometimes to the point of just bursting into tears and having to leave, and other times to the point of shouting 'why are you so incapable of GETTING IT??' because while they may agree with me on point two, they're intent on distancing themselves from point one. 'Yes, men are taught to behave in these awful ways but no, those abuses of power are not linked to that, and they're certainly nothing to do with me.' It's 'not all men' or it's 'you're overreacting' or 'he's not as bad as Weinstein.'
They want to retreat into the narrative that would see some women (victims) being abused by some men (monsters). They're happy to enter into the discussion when we talk broadly about the ways different genders are taught to behave, but as soon as the conversation starts to touch them, they want to 'but' themselves out of the conversation. 'But it's not the same!' 'But it's just a bad date!' 'But she should have just said no!' I don't think Carsie Blanton is doing any of these things, FYI, but her arguments are very similar to ones I've often seen used to try and shut down any discussion of bad behaviour, on the grounds that we need to avoid taking things 'too far.'
To me, they look like barriers which prevent this conversation from going where it should. Roadblocks and diversions to keep us away from the dawning realisation that this shit is not just done by 'monsters', and it is not just a few 'bad apples' – it is everywhere. They are arguments I have heard from men I love who are worried that we mean them. They're worried that #MeToo means #YouToo – you've behaved badly, done harm, are a monster. And naturally they want to distance themselves from the monsters, so they put forward arguments about intent and degree, on the false assumption that we want to arrest all of them.
I give ground in all these discussions, because I really want men to join in – consider their actions, and what they might mean. So I point out that it's 'not all men' and that 'most men are good' and that there are societal reasons why people behave the way they do, examine my own bad behaviour (because there very clearly is some) and the ways in which I have been complicit in many things that were not OK… all of that. In doing so, I almost certainly piss off a lot of people who think (understandably) that we shouldn't concede any ground at all – that the answer to all this is to say 'fuck you, we're not done here.'
The world needs people sharing their stories – their hurts and outrage and pain. But if those are the only people who join this conversation, the people who really need to hear this won't hear it. And if the only stories we hear are the ones we can all agree are 'monstrous', then the other symptoms of this massive problem will still be there, and the problem will fester. We need everyone in this conversation, including men. But I can only really do that if they accept that there is a problem. That the problem is not just limited to those who commit crimes, it's there in the way we talk about sex and relationships, in the gendered assumptions we make about who 'should' be in charge of approaching, and the notion that a 'no' is magic and will always be respected.
This is a complex and difficult conversation, and I am willing to have it. But in order to do that I need the men I love to give some ground. To show willing. Demonstrate that they give a shit. I can't just sit silently through 'but's and excuses and arguments about degree, and I certainly can't have this conversation if it begins with all the 'nice guys' trying to quietly sneak off out of it.
We expect better than the Presidents Club bullshit. We're demanding better than pushy dates who keep pushing even after you've said you feel 'forced'. Whether men or monsters, we deserve better than this. And if you want to show that you are better, you had better not start with a 'but.'