Random selection of sex toys, arranged in a graph of how many of them I have in my 'quick access' drawer. From left to right: Zumio, Uberrime, Fleshlight, Satisfyer, Tenga, Hot Octopuss, Doxy, Godemiche. Lying on sheet by Sheets of San Francisco.
People often ask me for sex toy recommendations, so in this wildly boring but nevertheless helpful post, I'm going to tell you the top sex toys I'd save if my house was burning down and I only had time to grab a few. The main reason for me writing this post is because I am short of both content and cash, but I appreciate that sex toy recommendations are far less interesting than stories about having dildo orgies or watching my other half do a sexy genderfuck striptease. So here's my offer: I will tell you about the best sex toys I own (i.e. the ones I use most often), you go buy them if you want, I'll get some money, and then on Sunday I'll publish some Halloween erotica story that isn't trying to sell you anything at all. Deal? OK.
Naturally selecting the best sex toys relies heavily on you experiencing the world the way I do – enjoying the same things, seeking out the same sensations, etcetera. My personal list is naturally going to be limited, too, by the fact that I can only recommend sex toys I have used myself. But I can't help that, and besides – while I don't have infinite time and every single sex toy on the market, I've certainly tried out enough that I'm reasonably confident I can point you in the right direction.
Here are the sex toys I use most frequently. Most of the links in this post are affiliate or sponsor links, which means that if you buy these products I'll get a small cut of the money or kudos from sponsors who'll hopefully renew their ad slots, thus keeping me in black ankle boots and tequila. Their support doesn't influence which toys I recommend, it just means that before I hit 'publish' on this post I make damn sure I've included the right tagging codes so I can make bank off what you buy.
The Doxy
If you've been reading this site for a while, and you haven't yet bought a Doxy, then I don't expect my own experience to persuade you. I've said time and again that Doxy make the most powerful, intense, fantastic wand massagers and that if you have a clit and you like rumbly vibrations, Doxy will be your bestest ever friend.
But let's put that to one side for a moment. Instead let me tell you that I recently performed the greatest act of self-sacrifice of my life to date, and parted with my Doxy Die Cast. I don't use the Die Cast that often (preferring instead the original Doxy or Doxy Number 3), so although it broke my heart to say goodbye to it, I figured it would be better in the hands of a good friend of mine who wanted to experiment with vibrations. That friend has a dick, so I wasn't sure if Doxy's magic would work as well for him as it did for me.
Turns out not only did it work for him, it also worked for the many, many dudes he has wanked off with it since, and my eager heart flutters with genuine delight when he updates me on how many guys the Doxy has bowled over this week (during the week of writing: 4).
Get a Doxy. I get a cut of the sales, and you get 15% off and free shipping anywhere if you use the code GOTN15.
Zumio

I don't bang on about this often enough but it is the best sex toy I own for pinpoint clitoral stimulation. Remember all that stuff I said about the Doxy? I feel exactly the same way about the Zumio. It's different in terms of what it does (pinpoint stimulation as opposed to broad stimulation, much smaller and lighter, travel-able, rechargeable as opposed to plug-in) but it does them just as well, which is to say fucking brilliantly.
I love my Zumio so much that when I thought it was broken I literally bought a new one, despite being a sex blogger who could probably have wangled one for free if I was prepared to wait to liaise with a product rep. I literally couldn't wait for the week or so it would have taken, and instead I just immediately bought one. For over a hundred pounds.
Worth every penny, motherfuckers. Buy it.
There are two kinds of Zumio – the Zumio S (which I've written about in this blog post about why Zumio is magic) and the Zumio X (which is the same but without a silicone cover, so the stimulation is even more pinpoint and intense. I have a slight preference for the S, because it's dampens the sensations juuuust enough to put me in a deliciously dreamy edging state when the battery is running low, but honestly they're both fucking fantastic.
Ambit G-spot dildo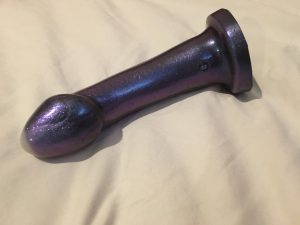 It's a dildo. It hits my G-spot. If you measure the best sex toys by frequency of use, this one's right up there: I use the Ambit (in combo with either the Doxy or the Zumio) every single time I wank.
Every. Single. Time.
Nuff said.
Buy the Ambit from Godemiche for the ludicrously cheap price of £32.99 – use code GOTN for an additional 15% off.
Hot Octopuss Atom Plus
On Sunday night this week I had a real hankering to ride his rock-solid dick, and I wanted the diamond hardness that can only truly be achieved with the Atom Plus. Unfortunately, because I'd been planning this blog post recently and taken a photo of a bunch of our sex toys laid out on the floor, I couldn't find the fucking thing. So the awesome fuck that I'd been hankering after all afternoon, which relied entirely on being able to lay my hands on the shiny, taut, impressive erections and rumbly, incredible vibrations of this cock ring, did not come to pass.
See that picture at the top of this post? The one which I took that caused me to misplace one of my favourite sex toys in the whole world? Shit, isn't it? Not fucking worth it, is it?
Buy the Atom Plus from Hot Octopuss for the lolworthy price of £69. Yes, I know that's quite a lot of money for a cock ring, but think about how many shitty, cheap cock rings you've bought that have caused you nothing more than abject disappointment. Add all those up and if it sounds like a lot of wasted money and materials, consider investing in a better one.
The Satisfyer (vague selection of any)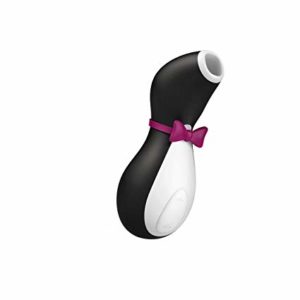 Yeah, I'm actually really pissed off that the Satisfyer is such a good sex toy. Partly because the first time I tried one (the Penguin, if you must know: I can never resist the opportunity to fuck a penguin) it gave me an orgasm but in such a weird way I wasn't sure I was entirely happy about it. Wanking with a Satisfyer is not, for me, a normal wank. I have to hold myself really still, with the clitoral suction bit rigidly in place, in order to get off.
But get off I inevitably do.
It's like those boyfriends who are absolute dickheads to you, and you wonder why you're with them, because they seem to belittle everything you do and are and care about, but when you get them in the sack they make you tear down the walls with ecstasy, then hate yourself the morning after as they bitch about the colour of tea you brought them in bed. Absolutely disgraceful, but I cannot resist.
Buy the Satisfyer Penguin (the one I have) or the Satisfyer Traveler  (which is exactly the same technology as far as I know, but not in the shape of a zoo animal). Those are US links but they're SheVibe, who'll deliver to the UK and also give you 10% off if you use the code GIRLONTHENET
Are these REALLY the best sex toys?
Well… yes and no. They're the ones I would rescue from a house fire, or take with me to a desert island (provided that island was equipped with electric sockets from which to power them), but by no means an exhaustive list. Go check out my sex toy page where I've collated a few more recommendations of things I either have already and love, or really want to get my hands on because I know for a fact they'll be good. You can also check out the Wankonomicon guest series by Luke, where he gives plenty of recommendations for the best sex toys, or click the sponsored ads at the side of this site. In the meantime, these are the toys I use the most at the current moment. If I had to choose 5 things to take with me to a desert island, it would be these. Not counting dildos or butt plugs, of course, because I need a separate list for those things. Oh, and another for bondage equipment and specialist amazing tools like ElectraStim and The Cowgirl. And one for lube. Don't @ me.
While arranging a bunch of sex toys to create the terrible image that accompanies this post, I also pissed around trying to recreate my avatar out of sex toys. I shall let you be the judge of whether it is a) perfect or b) an abomination that should be scorched from the face of the Earth.