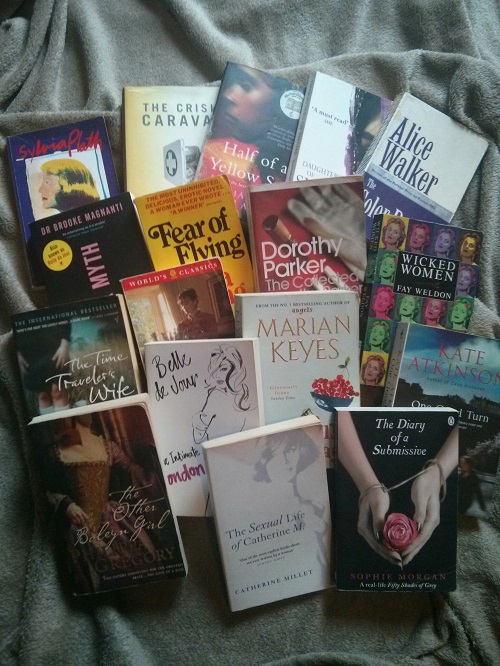 Yesterday on Twitter I spotted this piece of genius: Tegan (aka BellJarred) has a message on her Tinder profile that tells people to only message her if they've read five books written by women. Inundated, she is… but not with messages from guys who've read five books by women.
There are two things here that annoy me. Primarily the point that these people have obviously ignored the one criteria she stipulates. Regardless of whether you agree with the criteria, that's pretty frustrating, no? And secondly the fact that good books by women are not exactly hard to find. Here's the deal: you don't have to read books to be a good person. I bloody love a good book, but I'm not going to shit on you if you're not a reader. What I will be really fucked off about, though, is if you are a voracious reader and yet you can't name five books you love that are written by women.
In a rage after reading some of the messages sent to Tegan, I did a quick whip-round my bookshelves and picked the first few books I could see that were written by women.
Check out the lists below, recommend more awesome books in the comments (and you get to enter a competition in the process which is FUN), or go and read BookCunt's blog, because she's spectacularly funny and sweary and reads way more books than I do.
Some fiction written by women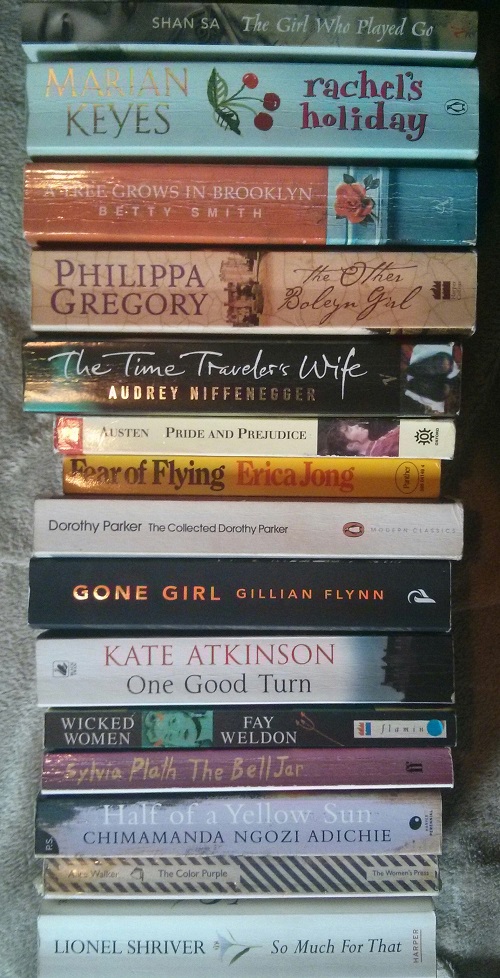 Shan Sa – The Girl Who Played Go. Incredibly moving and brilliant.
Marian Keyes – Rachel's Holiday. I fucking love Marian Keyes, and I find it bizarre that her books are so often packaged as fluff: she wittily and incredibly movingly on topics such as mental health, grief, love, and all the other things that are the fucking stuff of life. If she were called Martin Keyes they'd stick her books in dark covers. I have shitloads of her books, this one's about drug addiction.
Betty Smith – A Tree Grows In Brooklyn. One of my favourite books of all time, ta.
Phillippa Gregory – The Other Boleyn Girl. I have shitloads of her books. They're historical fiction popcorn, but really fucking delicious popcorn.
Audrey Niffenegger – The Time Traveler's Wife. Everyone either owns a copy of this book or has had it forced on them at some point, surely? It's bloody good. Contains an excellent hinted sex scene between a man and himself.
Jane Austen – Pride and Prejudice. OBVIOUSLY THIS BOOK IS GOOD.
Erica Jong – Fear of Flying. I haven't actually read all of this yet. I just pulled it from the shelf to balance out the popcorn ones.
Dorothy Parker – Collected Works. Four be the things I shall never attain: envy, content, and sufficient champagne. And enough Dorothy Parker poems.
Gillian Flynn – Gone Girl. File under 'Time Traveler's Wife'
Kate Atkinson – One Good Turn. I have lots of her books, she's great.
Fay Weldon – Wicked Women. This is a book of collected stories about women being fucking evil and it's amazing.
Sylvia Plath – The Bell Jar. I didn't think much of this, and I know you're not meant to say that. It's one of those you have to read though, probably.
Half of a Yellow Sun – Chimamanda Ngozi Adichie. Like TTW and Gone Girl, pretty much everyone either owns or has been lent a copy of this book at some point. For good reason because it's spectacular and heartbreaking.
Alice Walker – The Colour Purple. I have read this book about a hundred times and every time it's amazing.
Lionel Shriver – So Much For That. This book is better than 'We Need To Talk About Kevin', although that one's excellent too. See also 'Big Brother'.
Some non-fiction written by women
My arms were tired but I thought I should grab some non-fic too. It's a shorter list because, like I say, my arms were tired. Also as you can possibly tell I started in the 'sex' section.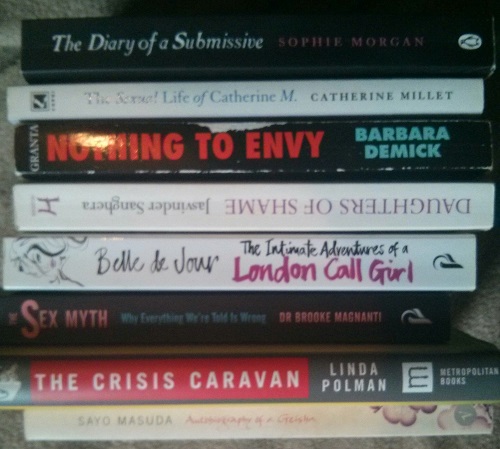 Sophie Morgan – The Diary of a Submissive. This book's underrated. Why didn't it become more popular than 50 Shades? I know not.
Catherine Millett – The Sexual Life of Catherine M. Another memoir. Total filth. Get on it.
Barbara Demick – Nothing to Envy. This is a journalistic telling of a bunch of stories of people from North Korea.
Jasvinder Sanghera – Daughters of Shame. Like the above, this book collects a whole bunch of stories – this time personal stories on forced marriage and honour-based violence.
Belle de Jour/Brooke Magnanti – The intimate adventures of a London call girl. I literally wouldn't be writing this blog if it weren't for people like Belle de Jour being amazing when I was young and easily influenced.
Brooke Magnanti – The Sex Myth. Oh look Brooke is as fucking brilliant when she writes about science as she is when she writes about her own sexual experiences.
Linda Polman – The Crisis Caravan. It's about how certain charities spend their money, and it's really interesting.
Sayo Masuda – Autobiography of a Geisha. I have about a million books about Japan, but this was the one that leapt out at me because it properly gripped me from start to finish.
COMPETITION
Why not, eh? Let's have a competition. Add a comment below, recommending a brilliant book written by a woman. In two weeks' time I'll pick one person out of the hat to be The Winner. The Winner can take their pick of five books from this list, and I will send them to you. I'll probably buy new copies rather than send you mine, because I fold pages and that might annoy you. But either way, you will get five brilliant books written by women. Ready to recommend? Go!
Terms and conditions
Entrants must recommend one book by a woman that they have read and enjoyed.
Deadline for entries: 27.08.15 at midday UK time.
Entries open to anyone over 18, anywhere in the world, although if it'll be tricky to deliver the books to you from the UK I reserve the right to send you a voucher or similar so you can buy the books in your country.
Winner will be contacted within 1 week of the competition closing, via the email address they use in their comment (emails will not be published but I need to have a way to contact you!). If you don't get back to me within a week of my emailing, I'll pick another winner, and keep doing that until I've found someone who gets back to me.

BONUS WTF
In case you're about to make comments on my taste, please know that I have many, many books. On my travels through my bookcase, I even found this gem: