Image by the brilliant Stuart F Taylor
"I don't really do phone sex," I say to him, as I shuffle across the bedroom with my trousers partway down, reaching for a dildo and my Zumio. He replies "yeah, I know," and in the background I can hear him beating away at his cock.
The conversation started very gently. How are you? What are you up to? Have you seen the latest episode of such-and-such? Audio calls are the best thing these days – not sitting awkwardly in front of a screen, constantly aware of angles and poor lighting. On an audio call I can put my headphones on, wander around. Sometimes even slip into the bath.
We're discussing content notes on porn: something he saw recently included a pre-roll content note. I'm not sure if it was this exact one, but it was something along these lines…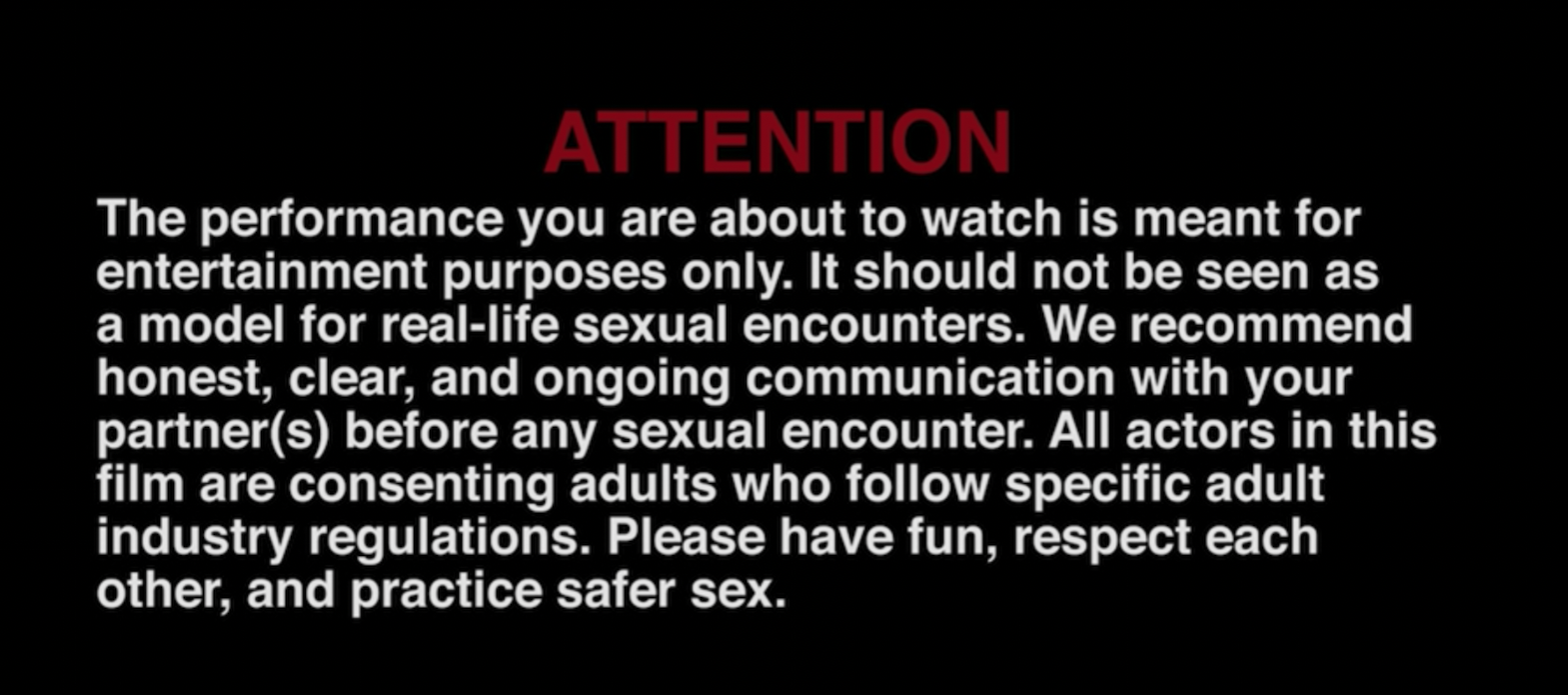 He thought it might be interesting to me, from a professional point of view. It definitely was. But from a personal point of view, I could picture him scrolling through porn trying to find the one that had it, and I knew that just looking at the thumbnails would be having an effect…
"I'm getting quite hard looking for this," he told me.
"I can imagine," I said.
And I could. I could imagine it really fucking well. It had been a long time since I last got fucked. Since I last got to see a really beautiful dick, ready and waiting to fuck me.
But I don't really do phone sex. I'm too awkward to pretend that I'm wearing anything sexier than jeans and a hoodie. Too bad at acting to pretend that 'you're taking down my knickers' when you aren't even in the same postcode. That isn't what phone sex has to be, though, and it's weird that I've assumed the script can only be written one way: him telling me what he's doing to me, me replying in character.
Instead, this time, I ask him:
"What's caught your eye?"
He starts describing the thumbnail of the scene that has drawn his attention. Who's in it, what she looks like, what position she's in and the title. I tell him "that sounds hot," and he asks if I want him to watch it.
"Yes. Please. Watch it and tell me what happens."
And that's how we start having phone sex. Just him, describing what's happening in the porn. Me asking questions as he goes: are you touching yourself? How hard are you? I know you're skipping forward to the best bits – what are you looking for? 
As the scene unravels, and the person in the porn starts getting fingered, then fucked, then messy, his voice starts to ache in sympathy with my cunt, and I reach into my knickers to touch myself too. I tell him I'm enjoying this, explain he should keep going.
I tell him what I want to happen next: I want someone to come. I want to hear you describe the way his dick twitches when he squirts spunk onto her.
"Patience," he tells me. "Have patience."
As I shuffle across the room to get my sex toys, I remind him that I don't do phone sex, and he tells me "yeah, I know." But this thing we're doing is probably phone sex anyway, isn't it?
At least, it is when we get to the point where I'm fucking myself with a dildo and using a Zumio on my clit, urging him "more, tell me more" as he rubs frantically at his cock. By now, his commentary has flipped from a measured description of what's happening to a babbled stream-of-consciousness that lets me into a private part of his brain – the one which hopes she does this, or wants her to get that. The clarity and urgency of someone so desperate to come that they lay their fantasies bare.
I join in: I want this kind of fuck, that kind of come shot. I wish I could see how hard you're squeezing your dick now. I want to know how desperate you are to come.
I'm close. I need it. I wish you were here so I could come inside your ass.
And at that, I'm done. Amping up the volume on my own orgasmic moans, I practically keen into the heaphones – clamping my cunt down onto the dildo and closing my eyes as I picture the scene that he's watching.
Shortly after, he comes too – turning up the volume exactly as I did on the grunts that escape from his throat.
I cannot hear his spunk raining down around him, but I picture it in my mind and that's enough.
We lie for a while in silence, the faint sound of grunts and moans echoing through my headphones from his TV. Both of us panting in unison. Me wondering how to hang up when my fingers are still wet with quim.
I don't do phone sex, except when I do.
This post is also available as audio, read by the author. Click 'listen now' above or head to the audio porn page for more sexy stories read aloud.