Image by the brilliant Stuart F Taylor
It's really fucking shit, let's start with that. Lockdown continues/escalates across the UK, to varying degrees of clusterfuck depending on where you are. One thing is certain: at some point you'll be trapped at home, bored and miserable and longing for the Before Times. To try and ease the misery, and plug the awesome companies who support my site, here's a quick rundown of some sexy things to keep you entertained through the oncoming horror show.
This post (which contains links to sponsor products) is partly inspired by the excellent Rosie Jones who, on Frankie Boyle's New World Order the other week, gave voice to horny people everywhere when she explained:
"If there is going to be a second lockdown, just tell me so I can buy gin, pretzels and a MASSIVE vibrator."
Let's do this – here are some sexy things to keep you entertained during lockdown…
Komodo ElectraStim dildo
I haven't yet told you about some of the reminiscence-wank fun I've had with the ElectraStim Komodo dildo as I while away the hours working out if I can be bothered to open up my OKCupid app again. But I will soon, I promise. And in the meantime, I'll just tell you that this dildo combined with the sound input mode on ElectraStim Axis means you can wank yourself through playlists of songs you used to fuck to. I KNOW RIGHT.
Use code GOTN for 10% off this or anything on the ElectraStim site.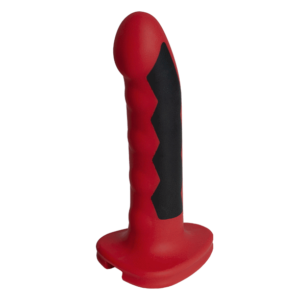 Halloween dildos from Godemiche
Halloween is coming up, as I know only too well having spent some quality weird-goth-sex-pervert time writing a filthy story about a werewolf (keep an eye out on Halloween for the story or support me on Patreon if you'd like a preview). But alongside weird gotn erotica, Halloween also brings in an opportunity for creative dildo-makers Godemiche to launch some special seasonal colours. If you want to get off and feel goth at the same time, check out their gorgeous Halloween collection.
Use code GotnShop for 10% off these or anything on the Godemiche site.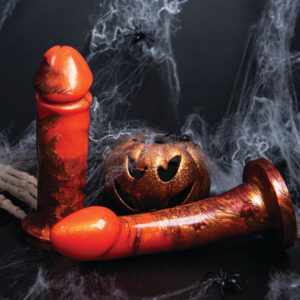 Read Halloween (and lockdown) erotica
While we're on the subject, another site sponsor – Literotica – is currently running a competition for the best Halloween filth of 2020. So if you're into scary stories, sexy vampires or succubi, check those out. If you're after something a little more lockdown-focused, then there's also a quarantine story contest that might be up your street: check out Love the One(s) You're With.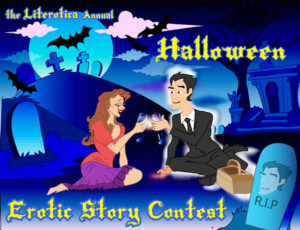 Satisfyer Pro Traveller
I gave one of my friends a Satisfyer Pro Traveller for her birthday a while ago, and as she opened it I explained 'it's fucking WEIRD mate but it does the job for me.' Having now received her enthusiastic feedback, I can tell you she concurred entirely. This little vibe basically latches on to your clit and sucks at it like a tiny, eager head-giving pixie. The first time I tried it I was baffled and even a little angry when it managed to wrench an orgasm out of me so suddenly and without fanfare. Since then I've dipped in and out of clit-suction for occasional play, and it's a bit like Doxy in that it can get me to come even when nothing else will. So hats off to it.
Pick up anything from SexToys.co.uk for 20% off using the code GOTN20.
Listen to some audio porn (or watch the movies)
One of the things I love most about FrolicMe – the fabulous porn site which sponsors me here – is that they offer their content in a variety of ways, depending on how you want to enjoy it. I don't think I've banged on about this enough, but I get asked a lot in interviews 'why do you think audio porn mostly appeals to women?' to which my reply is 'it doesn't.' Most of the people who visit my site (according to Google Analytics) are men, and most of the audio porn listeners are men as well. Audio doesn't appeal to a particular gender, people of all genders have preferences for how they want to consume porn. Some people like reading it, some watching, and some listening to the hot words whispered sultrily into their ears.
So, if you subscribe to FrolicMe, you get to enjoy the hot scenarios in whichever format you choose: video, audio or text. There are plenty of deliciously sexy scenarios to choose from, and even a couple of stories read by yours truly.

Doxy 3R rabbit attachment
Talking of Doxy, I wrote about the Doxy 3R rabbit attachment recently, so I'll keep this short and sweet: this lovely little thing has been keeping me very entertained since I got it, because using the power of Doxy on my g-spot is still a sparkling new experience for me. My rabbit attachment and I share a new relationship energy that I suspect may take a while to wear off. It's also a bargain, if you already have a Doxy 3 or Doxy 3R, because you can pick up this attachment for just £35. If you don't yet have a Doxy 3R, I recommend the matte black one, because it's exclusive on the Doxy site at the moment so you can get one before it's available elsewhere, thus making people you're having Skype sex with think you're super cool.
Get the matte black Doxy 3R for £149, and the rabbit attachment for £35. Use the code GOTN15 on anything on the Doxy site to get 15% off plus free shipping.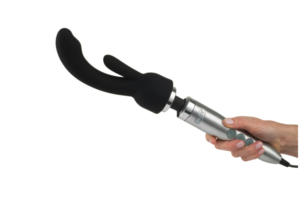 Tenga Flip Hole
I can't believe I've made it this far through the post and not yet mentioned wank-sheath style toys, but let's rectify this immediately with one of my absolute favourite toys for dicks: the Tenga Flip Hole. It's got incredible texture on the inside and unlike the vast majority of dick toys it also flips open which makes it super easy to clean. If you've ever got annoyed with the faff of having to rinse out jizz from the inside of a Fleshlight (sorry Fleshlight, I love ya but you are a ballache to clean out) and you have £99 to spaff on something better, consider getting yourself one of these lovely fuckers.
Grab it from SexTech.co.uk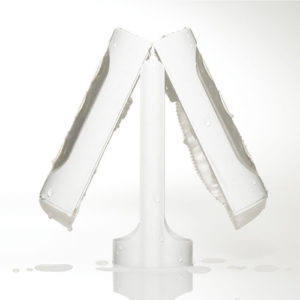 Gamified masturbation for climax control
Seeing as lockdown is going to be really fucking boring, now's the perfect time to remind you of a company I started working with this year who have come up with a way to gamify the process of learning to control your climax. If you've ever wanted to prolong your sex or masturbation sessions, but you find you're tipping over the edge a little sooner than you'd like, MyHixel offers a device plus app which – in combination – will help you train yourself to last a bit longer. Check out the MyHixel review CJ Brook wrote for me here, and grab one yourself if you fancy having a fun wanking challenge to give yourself over these long winter months.
Pick one up from MyHixel via this link and a 10% discount will automatically be applied.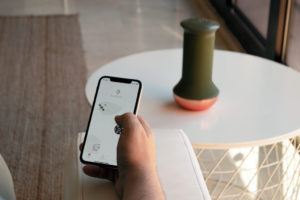 App-enabled vibrators
It wouldn't be a lockdown sex toy guide if I didn't include at least one thing you can control over a distance. Let's face it: many of us will be trapped a fair way away from the people we want to be with this winter. I've had a couple of fabulous guest blogs recently about connecting over a distance and using sex toys to keep BDSM dynamics over a distance, so it would be remiss of me not to mention WeVibe here. Many of their sex toys can be controlled by an app, so you can give your partner the means to tease and torment (or please and satisfy, depending on your dynamic) you over a distance. They're a bit of an investment, but worth it if you're saving all the money you'd otherwise be spending on petrol or train tickets to visit them.
Check out the range of app-controlled vibrators offered by WeVibe. Oh, and read my review of the WeVibe Nova 2.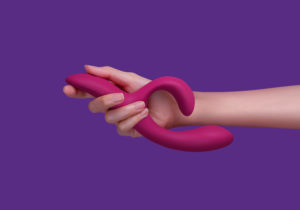 Kink equipment
Hot Octopuss (of Atom Plus and Amo and PULSE fame) have just started branching out into kink equipment, so naturally I have to include some of that. And naturally, because I really like things that look cute but are secretly brutal, I'm going to shout out these really pretty metal clothes-peg style nipple clamps. Seriously, gorgeous. Frankly writing this is making me even more frustrated that I don't really have anyone I can use them with right now, but if you do? Go get some. And if you don't, then bring yourself some solace in the form of trying to win a basket of kink stuff, so you'll be stocked up for when you're ready to play again.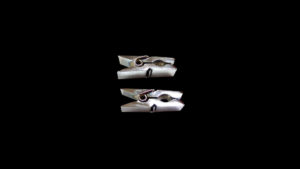 Beautiful dildos
If the Halloween-themed dildos didn't float your boat, how about something a little softer and more pastel-coloured? I recently wrote about the lovely, dinky, intriguingly-shaped Avant D14 Heart of Gold which is perfect for those who like their dicks slim and targeted to g-spot/p-spot play. In that same range, the Avant D16 Purple Haze has a more traditional shape and a little more thickness if you want to be more full up when you're wanking.
Grab the Avant D14 or D16 from my site sponsor StuffGoodies, and use code GOTN for 10% off anything on site.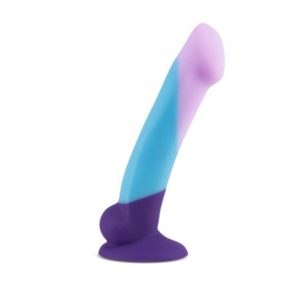 Fancy butt plugs
As you'll know, I'm a big fan of butt plugs. They're just so simple and neat and hot, and I miss doing butt plug play because as yet I haven't had the time to build up the kind of relationship where I can pre-lube and pop in a butt plug before we get down to fucking, so when I bend over for doggy the guy I'm with goes 'unngh'. But if you're in the market for new butt plugs, this one from Meo went down a storm when I ran a comp for it recently: not only does it vibrate, it also has an e-stim function. Or if you're after something a little more affordable, they also do a pretty range of cute, non-vibrating, jewelled ones which give the person who's railing you a lovely view.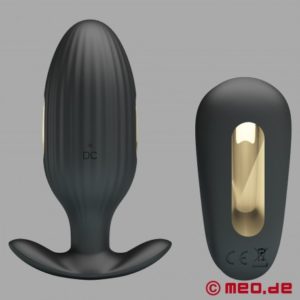 A really massive vibrator
The Doxy attachment mentioned at the top of this piece definitely fits Rosie Jones's criteria of being 'a really massive vibrator', but I thought I'd chuck in an extra one here too, to make sure I have definitely fulfilled her excellent brief. The Satisfyer Vibes Mr Rabbit, available from The Pleasure Garden, is a rabbit-style vibe that does dual-stimulation (internal and external), and has girth as well as g-spot-tingling length.
Grab the Satisfyer Vibes Mr Rabbit from The Pleasure Garden, and use code GOTN10 for 10% off.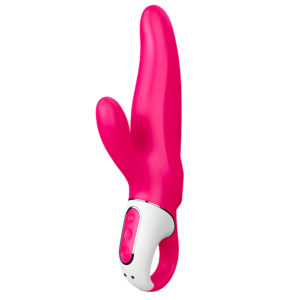 Don't forget the lube
I think I do you a disservice here because I don't mention lube enough. Send me to the sin bin of sex positivity, because lube is very very important and you shouldn't forget it like I so often do. I tend to use a decent water-based or hybrid lube, and in my research for this piece I emailed sponsors Eva Amour to ask them what's good right now. They have a new range called Orgie, which offers a whole bunch of different lubes: from good, non-sticky water-based lube to hybrid lubes designed for anal and even lube with hemp in that's aimed at increasing sensitivity (I haven't tried that one but please report back!).
Grab any of the Orgie lubes (or anything else on Eva Amour) and use the code GOTN10 for 10% off.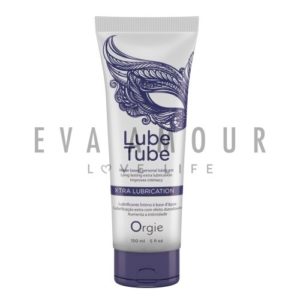 Lockdown sexiness (and horror)
BOSH. I hope that list has given you at least one or two things that tempt you, to help keep you entertained during the no-doubt fuckawful upcoming winter. I wanted to acknowledge here though that although I do the whole 'wank during lockdown! Yay! Buy these things!' posts, I don't expect everyone to maintain the kind of hardcore wanking schedule that I've been keeping over the last few weeks, because stress can be truly appalling for the libido and we all respond to this shit differently. I hope that wherever you are you make it through as in-tact as possible, and that you have good friends you can call on Skype/Zoom/Discord/whatever or nice people on the internet who'll keep you entertained and occupied while we weather this particular shitstorm.