Image courtesy of Godemiche
Hooray for science! This week's fantastic guest blog, by Jocket, has exactly the kind of wanking detail that a sex nerd like me gets ridiculously excited about. Not only has he tried out a bunch of different masturbation sheaths (across a range of brands), but he's done a deep-dive into one of the best sleeves (made by my site sponsor Godemiche) and ranked every possible textured iteration of their OffBeat toy based on what feels best on his dick. WHAT A HERO. Take it away Jocket…
Which OffBeat masturbation sleeve has the most wankworthy texture?
I hope it's not controversial of me to say… wanking is brilliant. So anything that enhances the wanking experience can only be more of a good thing, right? Which is why I don't understand why stroker sleeves have never quite reached the level of respectability of other sex toys. Catch a glimpse of a Doxy or a set of restraints in a friend's bedroom and you'll probably exchange a nod of professional respect; spot a collection of Tenga eggs, Fleshlights or Doc Johnsons on somebody's bedside cabinet and everything devolves into schoolboy taunting. Unless your friends are more mature than mine.
In my own collection, Tenga has the numbers. A few years ago I discovered the 3D collection with its amazing geometric twists and patterns, then the spinner with a built-in coil, and the eggs with a range of interesting textures. All of them guaranteed to spice up a wank or a handjob. But more recently a new number one has entered the frame, and it's changed my relationship with strokers forever.
You see, like all cocks mine is quite particular, and what it really likes is firm pressure. The kind of pressure under which the jelly-like material of most strokers deforms so much that much of the sensation is lost unless you spend your time carefully controlling your grip. When I discovered that silicone specialists Godemiche have begun making strokers, I was intrigued. Silicone stretches less so it hugs tighter, textures moulded into it are more pronounced, and a bonus Godemiche will make them in any colour you like, with optional sparkles. Sorry Tenga, the Godemiche OffBeat is now what I reach for more often.
The OffBeat is an open-ended stroker available in five textures and two lengths; the 2-inch Grande and the 4-inch Venti (all of mine are the Venti, which gives extra stimulation to the head). In my hand they feel the silicone they're made from is not as firm as Godemiche's dildos. I'm on the girthier side and this has caused problems with some sleeves designed for slimmer cocks, but with a little (water-based) lube and patience the OffBeat slides on and applies the perfect amount of pressure. Incidentally I find this firmness makes them perfect when my partner is giving me a handjob. They can focus on rhythm knowing the sleeve will handle the grip. Over the past couple of years I've been slowly filling out my collection to all five textures, and last month I finally filled in the last two gaps!
Testing all the Godemiche OffBeat textures – for science!
But which of the five textures does my dick like best? It was time to do some of the most fun research I've been involved in for a while. Here in reverse order are my findings.
Bumps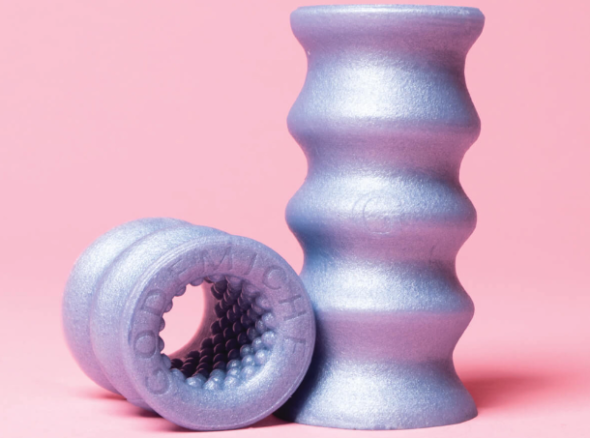 One thing that's immediately apparent with the OffBeat when you slide it over your cock is that some have textures that are receded into the sleeve, and some have textures that protrude. Bumps is definitely one that comes out, with lots of teeny-tiny nubbins that stroke against you as you move the sleeve. This makes the sleeve a little tighter, and with the size of the bumps it can feel a bit overstimulating. Good for slow handjobs but probably bottom of the pile for me.
Waves
Waves is another where the texture protrudes, this time in s-bends that go along the length of your cock. I find it a bit ho-hum for solo play but where it really shines is with a partner who can get a good twist on the sleeve as it passes over your head. Those ridges add intense stimulation that can be dialled up or down with your partner in complete control. More fun can be had by rolling the sleeve back and forth without stroking.
Kraken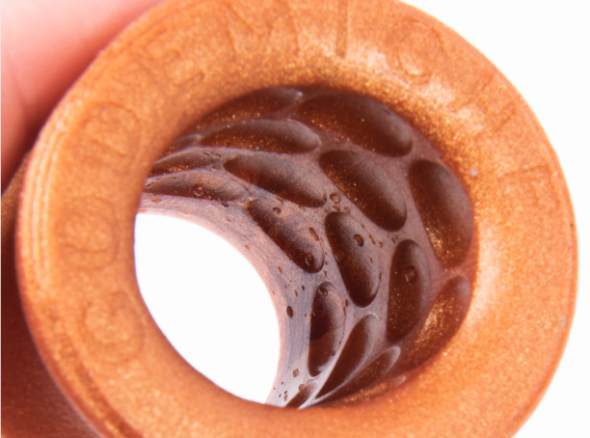 The Kraken has big recessed dots inside the sleeve which Godemiche claims is supposed to feel like a sloppy blowjob. I'm always sceptical of any sleeve that claims to replicate a blowjob, and it's no more true here than anywhere else. But this is still a great sleeve! This is the most subtle of all the OffBeat textures, adding just a touch of suction at the end of the stroke leaving your cock feel like it's getting little kisses over and over again.
Tantacle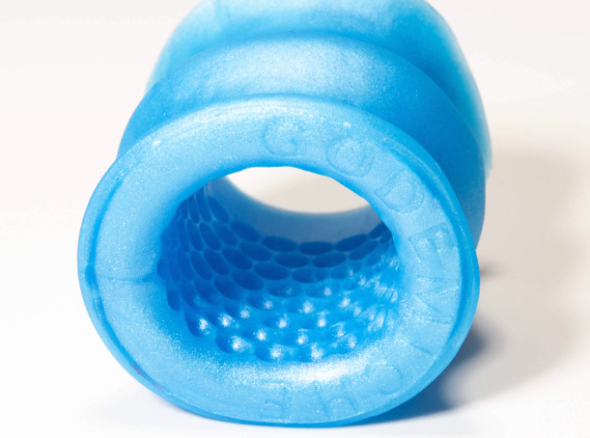 This is the Kraken's little brother, with much smaller recessed dots, but boy does it make a difference! The smaller dots add a curious micro-suction effect which can cross the line into overstimulation but also this is the only one of the set that's make me shoot cum past my own head. Something about the way that popping-candy stimulation swipes over the glans is magical.
Large bubbles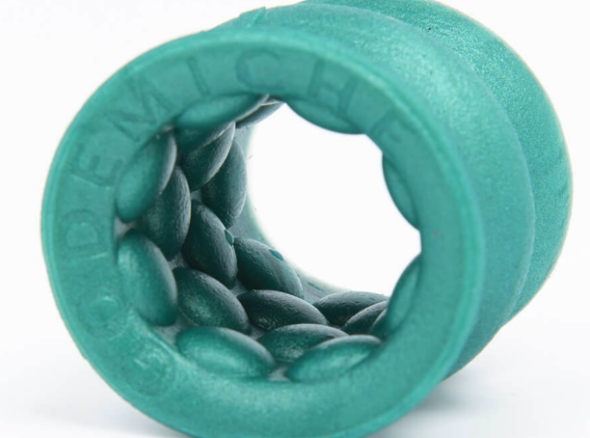 The one I reach for probably more than the rest combined, this is filled with raised dots about the size of bubble wrap. Big and firm enough to really enhance the sensation but not so intense that they overstimulate when you get a good rhythm going. For me this is the perfect blend of grip and texture.
As I pass the climax of this post it seems like the perfect time to mention one more benefit of silicone as a stroker material: cleanup. Because it's not porous like softer materials, cleanup is as simple as wiping the stroker down with a towel and giving it a quick wash and dry. No leaving it sat out to dry for hours so it doesn't go mouldy.
Which in some ways is a shame, mine are all the colours of the rainbow and their funky, grippy outside shape would look great on display.
Perhaps when I'm more mature.
If you'd like to try out any of the Godemiche OffBeat textures for yourself (and you should, they're very cool!) use the links in this page and the code GOTNSHOP to get 10% off your order. Why not throw in some sparkly dildos or butt plugs while you're at it? They're cool too.

This post contains tracked/affiliate links, which means if you buy through them you're directly supporting this site and my work, and I'm very grateful to you!