Image by the excellent Stuart F Taylor
Every year I try to write something about how Valentine's Day is mostly a bundle of gendered expectation and obligation wrapped in a parcel of guilt. That doesn't stop it being fun for some people (and nor should it), but hopefully it does help people who feel shit about the whole thing to feel a little less shit and a little more like it doesn't really matter. But I'm a sex blogger, so if I don't write anything about Valentine's Day I'll get letters. So, as a compromise I've written a guide to things you can buy as Valentine's Day gifts for yourself. Hoard them, enjoy them, publicly propose to them if you want to, just don't give them to anyone else: there are other gift guides for that.
Like my Christmas present guide, I'm going with MoneySavingExpert rules here: any links with a * next to them come from companies which sponsor my site (see those ads in the sidebar and at the top? Those people help me pay my bills – wooo!), which means I get kudos if you buy from them and they're hopefully more likely to advertise with me in future. But other sex toy retailers are available, of course.
If you like getting dressed up in sexy things
I figured the best way to begin a buy-Valentine's-Day-gifts-for-yourself gift guide would be to pick something that I would really like myself. So I went straight to sexy underwear, and picked out this absolutely brilliant bra-and-pants set which makes it look like someone has grabbed your boobs using hands covered in red sparkly paint.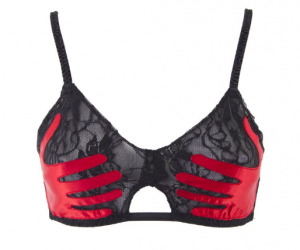 Honestly, this is what I would get me if I had the cash. If I can make any cash in the next month or so I'll buy it and see if I can do another Sinful Sunday.
Buy the Bettie Page red hand print bra, or Bettie Page red hand print knickers.
If you're a massive wanker in need of a boost
I fucking love Hot Octopuss toys. Partly because they appeal to the shiny-gadget-collector in me, and partly because they genuinely make things that are different. From PULSE which does a kind of fascinating down-the-shaft rumble using oscillating technology to Queen Bee which gives a rapid-tapping sensation broadly over the whole clit… I've just not come across anything else that's like them.
But I've talked about those toys before (click the links, innit), and they've got something new out now – the Pocket PULSE Remote. This is a palm-sized stroking device with a silicone arm that wraps round your cock. Slather yourself in lube, turn on the powerful vibrator that sits inside it (it's actually two vibrators working in tandem to give a kind of throbbing hum at certain settings) and away you go.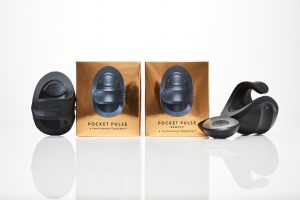 Buy Pocket PULSE or Pocket PULSE remote* (I'd recommend the remote one) – that link is an affiliate link so I get a bit of money if you buy direct through them
If you want to steal my job
Why not, eh? While I'm promoting stuff for Valentine's Day I might as well promote the thing which is taking up the most of my time at the moment – like a squalling, vomiting baby that you love to pieces even though it keeps you awake at night: Eroticon. Eroticon is an event for sex bloggers, erotic writers, and other brilliant creative types. If your job, side-hustle, or passion involves erotica or sex toys, you'll have a lot in common with the bloggers, writers, adult performers, campaigners and other great people who attend. You'll also meet a whole bunch of cool companies who do brilliant, sexy things. Treat yourself to a ticket if you're within reach of London, and see why I loved this conference so much that I foolishly agreed to help wrangle it, even though conference-wrangling is ridiculously stressful.
Buy an Eroticon ticket
If you like butt stuff and also bowling
It looks like a skittle, but it is not a skittle: the Doxy Don goes in your arse. And it is awesome. I have spent more than one happy night angling this thing just right while my other half fucks me in the cunt, and he can feel the power of it right through my skin so that it tingles through his dick. I recommend the Doxy massager All. The. Fucking. Time so I figured it was time for it's lesser-known sibling, the Doxy Don, to get a look-in.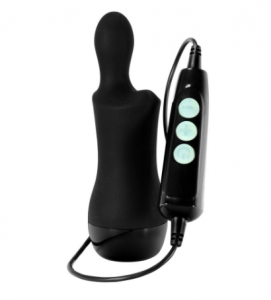 Buy the Doxy Don* and get free shipping (and 15% off) if you use the code GOTN15.
If you love beautiful porn and you want to support those who make it
Recently someone in my comments section accused me of 'promoting' porn, and I realised that apart from a couple of deeply critical pieces about porn megatwats MindGeek I hadn't even talked about porn for ages. Let's rectify that, and make sure that the next time someone accuses me of being 'pro porn' or 'pro sex work' I can fully confirm their suspicions.
So… who haven't I recommended recently? Ah yes – Four Chambered Heart. They make absolutely beautiful porn: watch the trailers here and get access to their videos by supporting them on Patreon.
If you want to pretend you are a cyborg
Regular readers will know that I love ElectraStim – their toys are amazing, and they make me feel like I have an electric cunt. I've banged on before about how much I love their flick pack and Jack Socket, so this one's on the list because I don't yet have it, but I'd like to: electric jiggle balls. You pop them up inside your vagina, turn on the electricity, and presumably then get to feel like you are channeling lightning through your pelvic floor. Like I say, I don't know what that would be like, but I am very keen to find out. If you buy them please do report back.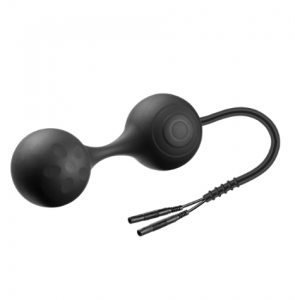 Buy Silicone Noir Lula Electric Jiggle Balls* from ElectraStim (and GOTN10 gets you 10% off)
If your idea of a fun night in involves buckets of lube
Brace yourselves because this one's pricey, but obviously I have to recommend it because not only did I have a ridiculous amount of fun with the Tenga Flip EV, having recommended it to The Big Gay Review he went and had a wild old time with it too. It's basically a souped-up masturbator, but that's a bit like saying a Mercedes is a souped-up horse and cart. It flips open for easy cleaning, has two powerful bullets embedded inside the toy, and a range of settings that go from 'gentle teasing' to 'what dick-based wizardry is this?'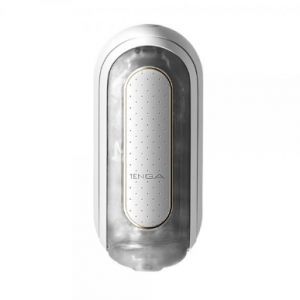 Buy the Tenga Flip EV from Kinkystreet* (and get 15% off with code GOTN15)
If you want to recreate that weird thing I made for my Fleshlight
Just before Christmas I had what I'm going to describe as 'a very productive day', doing some DIY with a sexy twist. Basically I built a custom mount for my Fleshlight Launch so that I could sit it securely on the edge of a table, restrain a willing guy, and then watch as it robotically milked the spunk out of him. So far, so 'average Saturday.' But one of the things I failed to mention is that when you're using toys like the Fleshlight Launch, you need to have compatible tools – not all masturbators will fit in the Launch, just as not all computers will take a VGA adaptor.
So if you're thinking of getting yourself a Launch for Valentine's Day, or you just want a masturbator to play with because you know that dick toys are brilliant, this is the one I used.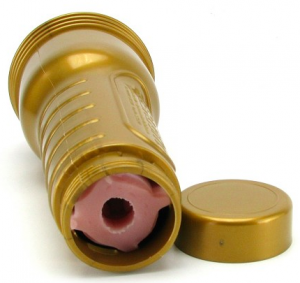 Yeah, I've given you a picture of the reverse of the toy because there's no getting round it: the front view of this sex toy is not safe for work. Click through for more pics.
Buy the Fleshlight Stamina Training Unit* from TooTimid in the US (and use GOTN15 for 15% off).
Or from The Pleasure Garden* in the UK.
If you want to do something similar to that Fleshlight thing, but you have a clit
Most of the time I browse sex toy websites with the air of someone collecting Pokémon: "got, got, need, got, need…" And every now and then a sex toy (or accessory) turns up that's like spotting a shiny, rare Pokémon that you realise you should have been keeping an eye out for your whole life. That's how I feel about this Liberator wand mount.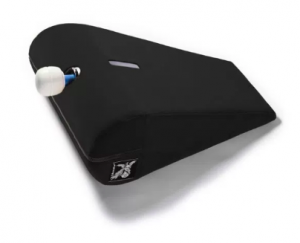 It's compatible with the Doxy, and it essentially provides a comfortable cushion to bend over while getting railed from behind, allowing you to grind your clit against the wand. Honestly, This Thing: where have you been all my life? If I had this kind of money (£147 – Liberator equipment is expensive but is well worth it because it's quality stuff) then this is exactly what I would buy for myself. And I would love it so hard, for so long, and so loudly that my neighbours would start writing strongly-worded letters to the council.
Buy the Liberator wand mount* from The Pleasure Garden in the UK.
A similar (not identical, but still well worth humping) Liberator wand mount* is available from Peepshow Toys in the US.
If you really want something for two people, I guess
OK, not everyone can embrace the joy of buying a present that's just for them. I am the same sometimes: I'll beat myself up over spending a quid on chocolate if it's for me, but if I know I'm going to share it I'll push the boat out and spend £2 more on a box of Cadbury's Roses. For those of you who feel the need to buy a toy to share, I've been looking for an excuse to mention this thing for ages: the Whale wearable stimulator by Satisfyer.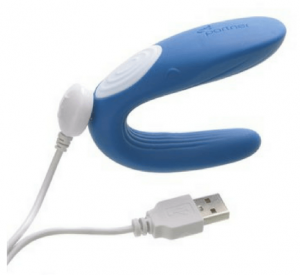 I got it for free when I went to Erofame (perks of the job, innit) and the first time I used it was when I uncharacteristically took control and insisted on going on top during a fuck. I rode my partner's cock, with this thing partly inserted and buzzing against both of us. I thought it was Quite Fun, he moaned like I was feeding him ambrosia straight from heaven then spaffed so hard inside my vagina I could almost taste it at the back of my throat. It's decent, fun, and cheaper than some of the pricier c-shaped vibes on the market.
But no, I've no idea why they gave it such a weird name.
Buy the Whale Partner Wearable Stimulator by Satisfyer* from Peepshow Toys (and use code GOTN10 for 10% off)
If you don't know what to get yourself, but you know you deserve something
Real talk here: if I ever have spare cash to spend, chances are it's not going to be enough to buy me a top-of-the-range sex toy or lovely set of lingerie. When I'm buying stuff for me it feels extraordinarily extravagant to spend more than, say, twenty quid. So what do you get yourself if you have just twenty pounds and a hankering for a treat? That's going to depend on you. But I've recently written myself a list entitled 'things I would buy all the time if I had spare money', and it includes things like:
nice nail varnish/nail art stuff (because fuck it, it's fun)
wine that I have chosen because it's nice rather than because it's cheap
Gü puddings
Appletiser
I KNOW, I am such a cheap date. But honestly, if you can't think of a good Valentine's Day gift for yourself, pick a budget based on what you can afford, write a list of life's little pleasures, then go out and buy as much as you can for within your budget. Clear your diary for the evening, stick on a brilliant film (or some beautiful porn), and enjoy the little treats that you totally deserve to have, but which you'd never have had the excuse to buy otherwise.
Valentine's Day doesn't have to be about romance. Sometimes it's a nice reminder that you're meant to love yourself a little too.